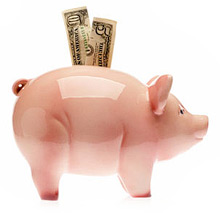 Careful planning will keep you from having to dip into the piggy bank for your kitchen renovation.
In step one of the design process, we contemplated how the layout, style, and purpose of your kitchen fits with the rest of your house. Step two focused on identifying priorities, seeking opportunities to optimize your budget, and pulling together a big picture plan. Step three helped you identify a kitchen style, and step four explained how to hire a designer.
Step five of the design process addresses working within your budget and making informed decisions. After you've spent some time working out the scope of your renovation and begun consulting with a designer to get a better feel for the overall cost, it's time to lock down your budget and put together a plan that gives you the kitchen you need without breaking the bank. It isn't the most exciting part of a kitchen renovation, but it's essential for identifying what is and is not realistic for your project. Some time spend on budgeting now will give you helpful rules for making decisions as you proceed and will keep your project from turning into a money monster.
Coming up with an estimated cost.
Your kitchen designer will be able to provide some average costs for remodels of your size and style. Note that national averages are just that - averages - and that costs in your area may vary drastically according to location, availability of labor, and even shipping costs. I've done kitchen remodels in a few dozen states, both on television and for private clients, and I can tell you that the prices vary wildly. Keep that in mind if you run across national averages, and be sure to seek out local numbers if possible. Talk to your friends and family who have undertaken similar projects. Speak to clients of your kitchen designer or contractor to compare notes.
What should I spend?
Take some time to examine your finances and establish exactly how much you can afford to spend. Then ask yourself, "How long do I plan to stay in my home?"
Ask yourself: "How long do I plan to stay in my home?"
Typically, if you plan on staying in your home for five or fewer years, then the renovation should be considered improvements on investment. If you will be there longer, your renovation should focus on what will best serve you and your family.
If you're trending towards improvements on investment, your renovation might focus on facelifting aspects of the kitchen - installing new countertops or repainting - but may be more extensive. Does your kitchen desperately need a renovation to be attractive to potential buyers? You may still find yourself undertaking a major renovation, but the choices you make and budget you set will reflect the goal of maximizing the bang for your buck and spending less on the little touches that you personally might prefer.
If you will be staying in your home, your budget is less a matter of investing in real estate and more investing in your enjoyment of the home. That doesn't mean, however, that you should run wild with the checkbook. You can give your family an amazing, personalized kitchen while staying on track with spending.
Regardless of when you will be moving, it makes sense to be familiar with similar renovation projects in your neighborhood. How did kitchen remodels affect the value of these neighboring houses? Is your neighborhood expensive or more modest? Would a large renovation project be well-matched to the value of the homes in your neighborhood or do you run the risk of over-improving your property?
Where to put the money.
A kitchen renovation brings along many places to spend your budget. It's smart to spend some time thinking about what items matter the most to you and which areas may be suited for cost savings.
Spend more on the things you don't want to replace again.
Do you need the highest-end lighting or would a lower-cost look alike work just as well at a quarter of the price? Should you focus on adding gadgets or on key elements that are hard to replace down the line? In general, I recommend that homeowners focus on the things you don't want to replace again. Quality cabinetry, good flooring, and professional tile work are three places that will impact the value and enjoyment of your kitchen, and - importantly - are really frustrating and expensive to replace down the line. In contrast, cabinet hardware, appliances, and lighting are far easier to upgrade in a facelift down the line. If you're tight on cash, focus on essentials and consider upgrading the easy-to-change items down the line.
Plan for the unexpected.
Don't rush to spend every dollar in your preliminary budget. You will undoubtedly encounter a surprise or two once walls and floors are opened up. While these unexpected costs can be frustrating, it usually means addressing and solving a problem before it becomes a disaster or risk for your family, so it's money well spent even if it isn't a lot of fun.
Beware of budget creep, where the list of items getting replaced or repaired slowly gets longer as you encounter more little projects. These add-ons can seem minimal at the time - "Yeah, we should go ahead and reroute that air vent;" "Why not move those light switches?" - but they add up quickly.
Establishing a budget isn't easy, and probably isn't the most exciting part of the remodel process. But having a plan will give you helpful guidelines for making smart decisions, and will ultimately help you get the kitchen that makes the most sense for your home and your family.
Kitchen Design Process Guidebook: