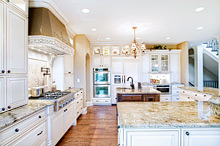 Looking for luxurious, ornate details?
In step one of the design process, we contemplated how the layout, style, and purpose of your kitchen fits with the rest of your house. Step two focused on identifying priorities, seeking opportunities to optimize your budget, and pulling together a big picture plan.
Step three of the design process focuses on identifying a kitchen style. Whether you're working with an interior designer or taking on the project yourself, you will need to spend some time researching your options in order to choose the look that works best for your home.
Zeroing in on a style.
In many ways, your kitchen should flow with the style and era of your home, but there are still opportunities to express your individuality.
Dozens of style names - country, cottage, modern, traditional, Tuscan, etc. - help define the specific style choices, but you can start with even more basic questions.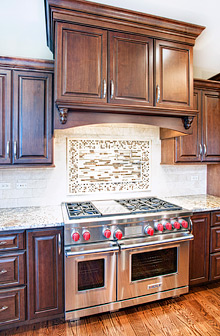 Do you prefer stained woodwork?
Do you like sleek lines or ornate details? Do you like natural woods or painted surfaces? Are you all about cool, or all about cozy? Does your home have a dominant style - arts and crafts, modern, Victorian - that your new kitchen will need to match or at least harmonize with?
While there are dozens of permutations, the core style decision comes down to the choice between a traditional kitchen or a contemporary kitchen. Traditional kitchens typically includes cabinet doors featuring detailed woodwork, natural wood colors, and a warmer feel. Contemporary kitchens have simpler surfaces, often bolder colors, and may place an emphasis on space and light over complex details.
Pick your color palette.
While finding a style that matches your space will go a long way towards determining your new kitchen's look, the choice of a color palette can have just as much of an impact. A traditional kitchen can take on a modern edge with the introduction of some painted cabinets, brighter wall colors, or colorful tile. Likewise, a contemporary kitchen can be made to feel cozier through the introduction of some natural materials and warm colors.
When selecting a color palette, I suggest starting from the floor and moving up. This is particularly important if you will be keeping your existing floors or matching the flooring elsewhere in your house. Because cabinets will be in contact with the floors, you will want to select wood or paint hues that pair nicely with the floor color. Countertops and back splashes should work with the base cabinets, but are buffered from the floor, giving you some flexibility. The number of combinations can be dizzying. While a professional designer will be able to help you sort through your options, finding example kitchens with a few color palettes you like will provide a helpful jumping off point.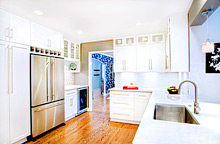 How about a fresh, white kitchen?
Resources to aid in your exploration.
Sound overwhelming? Fortunately, you have a number of great resources at your disposal to inspire you. Even before you get professional advice from a designer, you can familiarize yourself with popular styles. Start exploring Pinterest.com - like many designers, I regularly pin photos of kitchens that I find interesting - and Houzz.com, which contains thousands of neatly categorized photos - a search for "red galley kitchen," for instance, returned 6,967 results.
Every month on this blog, I create an inspiration pinboard that combines cabinet styles, countertops, fixtures, lighting, furniture, and accessories into a virtual idea board. I tackle different styles each month, so you may just find a style that speaks to you. Be sure to visit www.customcupboards.com for a library of door styles and colors, as well as photo galleries of finished kitchens.
Kitchen Design Process Guidebook: