Plan for the road ahead, and your kitchen will accommodate you in the future.
After carefully considering how the layout, style, and purpose of your kitchen fits with the rest of the house, it's time to define your kitchen renovation project by assisting your unique priorities, identifying the spaces that will be impacted by the renovation, seeking opportunities to optimize your budget, and applying the information you gleaned from Step One.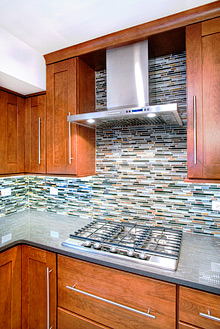 What kind of kitchen does your family need today and tomorrow?
Assessing current and future needs.
If you're preparing to renovate your kitchen, you already have a good grasp on your current needs. After living with your kitchen for awhile, you've discovered where traffic jams occur, which cabinets get cramped, and the spaces that go underutilized. While your mental wish list undoubtedly addresses the shortcomings of your kitchen for current needs, your remodeled kitchen should be designed serve you for years to come. Will there be changes in your family over the coming years? Are you planning to have children? Will kids be leaving the house? Who and how many will be eating, cooking, and working in and around the kitchen? Will your family have accessibility needs over the coming years?
Take time to carefully consider how your family's lifestyle may change over the coming decade. By planning for the road ahead, your new kitchen can easily accommodate your current and future needs.
Determining affected rooms.
Which rooms will be impacted by the remodel? Will you be opening up doorways or moving walls, affecting adjacent spaces like a family room, dining room, mud room, bath, or pantry?
Will you be changing the flooring in your kitchen; many times, the footprint of the cabinetry will change, necessitating replacing or patching the existing kitchen floor? If you do change your floor, you may want to continue the new flooring into neighboring rooms. Similar changes may be appropriate for trim, lighting, wall surfaces, and paint. Don't lose the positive impact of your kitchen remodel by neglecting the surrounding rooms. Besides, you may realize savings by tackling multiple rooms at once. Which brings us to...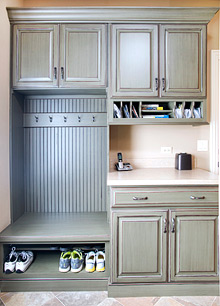 Is there an opportunity to improve adjacent spaces, like your mud room?
Looking for opportunities to save.
Any kitchen renovation will require certain things; demolition, cleanup, an electrician, a plumber, lots of workers on-site. Once you have a team at your home for your kitchen remodel, it may be cost-effective - and in some cases necessary - to utilize them for additional projects.
Walls will be opened up, water and power will be shut off, and skilled labor will be in your home, so consider making upgrades to bathrooms, electrical service, or other areas of the house now. Rather than postponing additional smaller renovations, talk with your contractor about combining the projects. Because contractors prefer taking on larger projects over multiple small ones, you should realize cost savings by bundling.
Applying what we learned from Step One.
Step One helped you understand the role the kitchen plays in your house, including for which tasks it sees use, how its style and scale are influenced by the remainder of the home, and its physical position within the floor plan.
Are your assumptions about how the kitchen is used compatible with your list of needs for the future? Will you be expanding the role that the kitchen plays in your day-to-day life? Are there opportunities to improve upon the design by making changes to a neighboring room as well?
The goal of these thought exercises is to encourage you to look at your home with a fresh pair of eyes. Our next step will cover identifying the kitchen style that works best for you. After that, we will discuss working with a professional kitchen designer, making informed budget decisions, and dealing with contractors and renovations.
Kitchen Design Process Guidebook: