Successful kitchen designs stay in harmony with the rest of the house.
What's the first step when planning a stylish, functional, enjoyable kitchen? Most people would start by creating a wish list, compiling clippings of design ideas, or perhaps establishing a budget. While these are all great ways to get your kitchen remodel rolling, I believe it's important to back up and look at the big picture. Let me explain.
Going overboard with a "dream kitchen" can become a design nightmare.
Have you ever walked into a home and, upon entering the kitchen, felt like you had been teleported into a completely different house? Perhaps the homeowners went wild with color and texture, but failed to extend that throughout the remainder of the home. Or they expanded the footprint dramatically, creating their "dream kitchen" at a size completely out of scale with the rest of the floor plan. Failing to understand and work within the boundaries of a home's pre-existing scale and style can create a space that - while it may be lovely as a standalone - takes away from the home as a whole. This can be off-putting to the homeowners, their guests, and - when it comes to sell your house - potential buyers.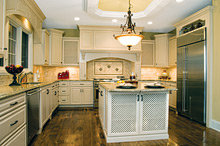 Understand how the kitchen interacts with the remainder of your home.
Before jumping into wish lists or design concepts, I like to start by assessing the current home and kitchen according to four criteria - scale, layout, style, and purpose. Call it "Step Zero" if you like, but following these steps for evaluating your house will make your design decisions easier and help you to avoid creating a kitchen that is at odds with the rest of your home.
Establishing Scale
Most of us want more space in our kitchen, regardless of how much storage, how many square feet of countertops, or how many power outlets we have. If you are contemplating a major renovation that would dramatically expand the size of your kitchen, take time to consider the scale of other rooms in your home. Will it now be out of proportion when compared to your dining and living spaces, or are you bringing an undersized kitchen up to par with the rest of the house? If you are upsizing the room, can you extend the usable space of adjacent rooms as well? If your kitchen feels cramped, is it possible to open up a wall into another room to create a more open feel without having to move exterior walls?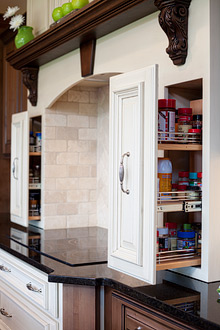 Pull-out spice racks provide storage where you need it.
Evaluating Layout
Where in the floor plan does your kitchen sit? How does your family walk in to, out of, and through the room? Do you have traffic flow issues related to tight walk spaces or doorways? Improving flow and creating a more open feel can start with simple adjustments. Do you have a door to the kitchen that is never closed? Even without changing the coverall size of the door way, removing the door and trim will gain a few precious inches.
Determining Style
Does your home have a dominant style? Whether it's classic colonial or mid-century modern, it is important to take the ingrained style of your house into account when planning your kitchen remodel. What kind of trim work, flooring, and other details do you have elsewhere? There may be opportunities to build room-to-room consistency by repeating the trim styles and colors used in other parts of the house. Remember that, when creating a custom kitchen, the cabinet style need not impact functionality. For example, frameless cabinets ? which increase storage capacity and accessibility but have appeared most often in modern-styled kitchens ?are now available with door styles and finishes that suit a traditional home.
Defining Purpose
Kitchens aren't just for cooking. Does your kitchen play a role that might typically be performed by another room? How does your family use the space? Is it a spot for meals? Conversations? For homework or working from home? What gets "dumped" in the kitchen? Backpacks? Laptops? That gigantic 48-pack of paper towels you couldn't resist?
Spend time thinking about how you currently use the room, paying attention in particular to the uses that don't relate to cooking. Every custom kitchen designer will understand how to optimize your space for typical tasks - food prep, cooking, baking - but providing them with details on how you currently use the room will result in a new design that is more tailored to your family's needs.
Kitchen Design Process Guidebook: