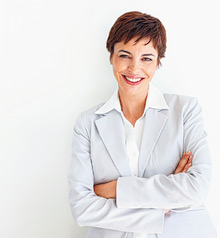 Finding the right kitchen designer doesn't have to be challenging.
In step one of the design process, we contemplated how the layout, style, and purpose of your kitchen fits with the rest of your house. Step two focused on identifying priorities, seeking opportunities to optimize your budget, and pulling together a big picture plan. Step three helped you identify a kitchen style.
Step four of the design process focuses on selecting a professional kitchen designer. Hiring a kitchen designer in most cases will be money well spent. Beyond just assisting you through the myriad of decisions related to your remodel, a designer can introduce fashion-forward colors and finishes that will keep your kitchen looking fresh and up-to-date for years to come. Even better, professional designers are experts at assessing the needs of homeowners and planning out spaces that provide the storage, functionality, and configuration that will make their renovation a successful one. Their contributions can help bring the project to completion on time and within budget.
When you hire a kitchen designer, you have two choices: A designer who focuses just on design, or one who works as a contractor and will handle the entire project. If you choose a designer who specializes in just design, you will be responsible for choosing a contractor to implement the design - although the designer may be able to provide a list of recommended firms.
Don't be afraid to ask questions!
Don't be shy. Interview a number of designers, and don't be afraid to ask questions about their experience, working process, and qualifications. The following are some key pieces of information you should know about your kitchen designer.
Determine qualifications.
Not everyone who claims to be a kitchen designer has the experience and credentials to back up that statement. Many professional designers have certifications from trade organizations focused on providing training for kitchen and bath specialists. A good designer is a knowledgeable designer, so look for someone who regularly attends education sessions and industry trade shows to keep up-to-date with the latest techniques, products, and styles.
Chat with past clients.
If you have friends or family who had a great experience working with a kitchen designer, fantastic. If not, ask the designer if you can speak with a recent client or two about their experience. This isn't just about verifying that the designer performed his or her duties; it's a helpful way to get another perspective on how the process and interaction worked over the duration of the project.
Identify your role.
I always tell my clients that the ideal design for their home isn't what is best for me, but what is best for them. It's important that, even though you're handing off some of the planning and design choices to a professional, you remain an integral part of the planning process.
The ideal design isn't what is best for me; it's what's best for you.
An experienced designer will spent time talking with your family about your needs, tastes, and how you anticipate using your kitchen not just today but in the coming years. They will then use this feedback to tailor a design around you, not their own preferences.
Get a feel for the budget and timeline.
While any talented kitchen designer should be capable of working within your budget, it makes sense to give them an idea of the scale of your project early on. Not all designers work in the same range. For example, some specialize in high-end kitchens in mansions while others are more experienced working with mid-sized homes and budgets. Find out what constitutes a typical job for them, and see if this matches up well with your project.
Everyone wants their kitchen renovation to be over as soon as possible. But one essential service that a designer provides is ensuring that the project rolls along at a reasonable pace. This means helping homeowners make decisions without making them wade through the thousands of options, selecting materials that can be delivered in a timely fashion, and coordinating the sequence of tasks. Perhaps most helpful, a talented designer will help manage expectations by giving realistic timelines. This will allow your family to plan ahead and minimize the disruption of your project.
Discuss the design process.
Every designer works differently, but it's helpful to understand how they will work with you. Will you receive multiple design proposals? Will they include options in the designs? Will they offer suggestions for materials and finishes at varying price points to stay under budget? Get a sense of their working process in advance and ask if they can describe how this process worked for a previous client.
Finding a qualified kitchen designer who will take the time to understand your unique needs is well worth your effort. Their expertise and product knowledge will prove invaluable when it comes to maximizing the impact of your budget.
Kitchen Design Process Guidebook: