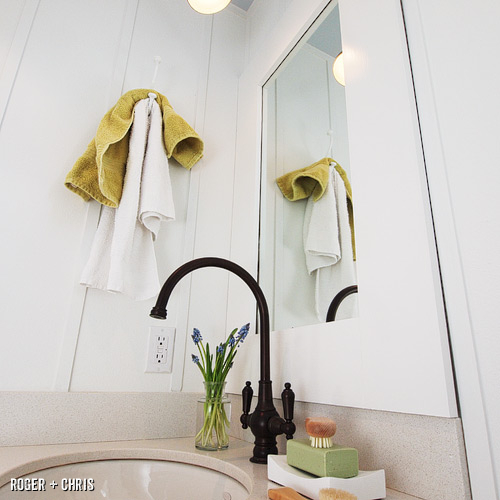 Framed mirror in powder room of the Modern Farmhouse project.
Roger,

On a segment of Sell This House, you added molding to a bathroom mirror that was just a plain mirror. I have two and 1/2 baths and everyone in the neighborhood has plain mirrors without molding. Could you please tell me what you used to add the molding to the mirror and what you used to attach it? I need something that will stand up to heavy steam from the shower. The mirror in the master bath is 70" x 36" - that's one big mirror and it's plain, plain, plain!

Thanks!

Lauri W.
Summerville, SC
Dear Lauri,
Dressing up your mirrors can make a huge difference. Adding a simple frame constructed of MDF (medium-density fiberboard) is an inexpensive and easy way to add interest and value to any frameless mirror.
You will need the following supplies for this project:
MDF pieces, pre-cut to the proper dimensions.

MDF is available in varying thicknesses and widths. For the mirror above, we used pieces that were half an inch thick and five and a half inches wide. Keep in mind that the appropriate frame width will change depending on the mirror size. Using too wide of a board on a small mirror will look silly, and too narrow of a board on a large mirror might not look sufficiently substantial.
Measure your mirror beforehand and be sure to take into account the space on the wall around the mirror as some bathrooms have back splashes and other features that cut into the space around the mirror.
Your local home improvement store can pre-cut the pieces to your specifications.
You can choose two types of cuts for joining the boards. A miter cut is typically made at a 45-degree angle and is more traditional. A straight cut is simpler and is appropriate for a shaker or more contemporary style. We used shaker cuts for the Modern Farmhouse mirrors.

Primer and paint. For the paint, a glossy oil-based paint works best. It will stand up to bathroom moisture, water spilled on it, and general wear. It will also make the mirror look more polished. We used white oil paint for the mirrors in the Modern Farmhouse, which adds a bright and clean feel to the bathrooms. If you want to make more of a statement, a mirror frame can be a good place to add an accent color. Just remember that it will not be easy to change the color after the frame has been affixed.
Liquid Nails® glue.
Painter's tape.
Prime and paint the boards prior to affixing them to the mirror. Make sure they are completely dry - and remember that oil paint can take longer to dry than latex. Apply the glue in a squiggly line on the back of each board, starting with the top and bottom boards. After each board is in place, affix painter's tape to hold them in place for at least 12 hours. After the glue is dry, remove the tape and apply touch-up paint if needed.
Here's a quick tip for preventing steam from building up on your bathroom mirrors: Apply a small dab of dishwasher liquid to a damp rag and rub it all over the mirror. This will leave a clear film on the mirror, which will prevent fog from building up. Clean and reapply as needed.
Roger
Dealing with your own design hazards? Submit your question to Roger and he will answer it in an upcoming post.