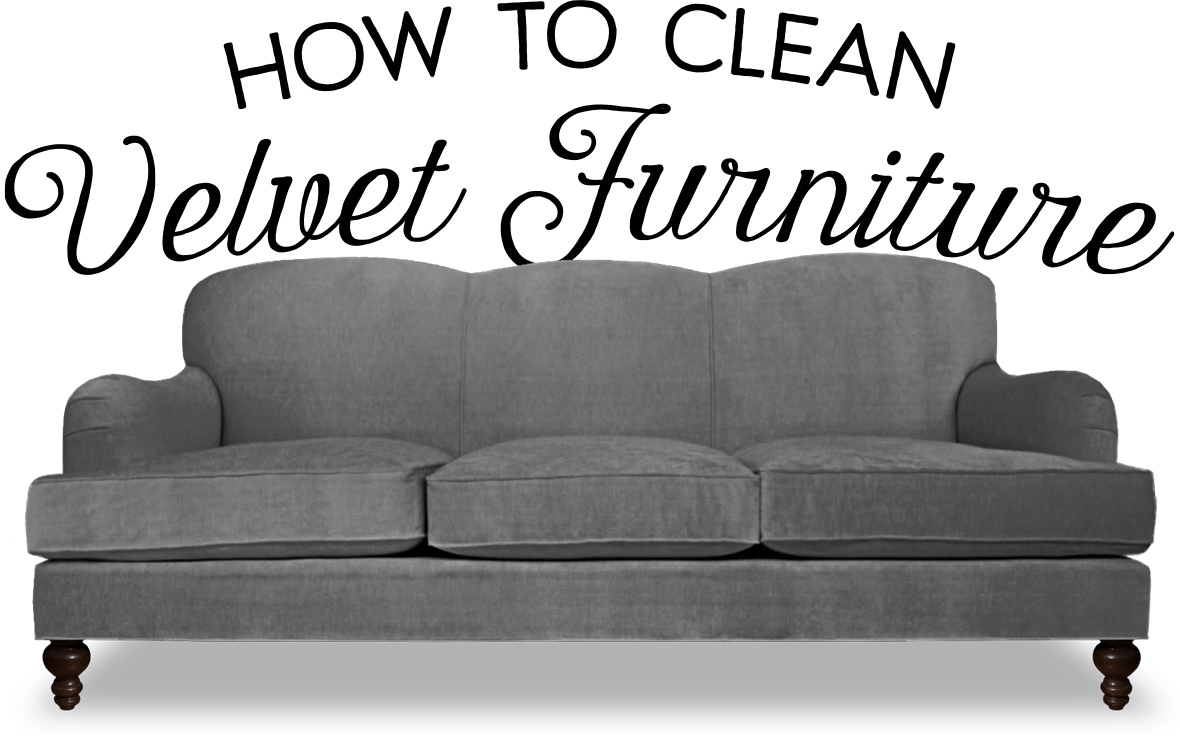 Velvet fabric can be a bit trickier to clean than other fabrics because, in addition to removing the stain, you must take care to avoid "crushing" the nap of the fiber. Here are some tips to help you successfully remove stains without damaging your beautiful furniture.
It is important to verify the type of material on your furniture before cleaning it. At Roger + Chris, we most regularly use cotton and polyester velvets. Professional cleaning is recommended for larger or more prominent stains, but cotton and particularly polyester velvets can be cleaned at home with care. Do not attempt to clean acetate, rayon, or silk velvets. They are very sensitive and easily damaged during cleaning. Some cleaning specialists warn that cotton velvet fabric may kink during cleaning, so use caution and wet the fabric no more than necessary.
Cleaning Velvet Furniture with Upholstery Cleaner
You can use upholstery cleaner like Woolite to clean cotton or polyester velvet. Test the cleaner on a discrete area, like the back or underside of the sofa. Check to make sure it does not discolor the material or damage it in any way. Carefully apply the upholstery cleaner to the velvet with a soft sponge, leaving the velvet's pile undisturbed. After it is clean, be sure to vacuum and brush the velvet a number of times to keep the velvet looking neat. Note: Woolite also has a foam product with integrated brush designed for cleaning furniture that may prove useful.
The Wet Method for Cleaning Velvet Furniture
If liquid has spilled onto the velvet, soak it up with a paper towel or cloth. Make sure there is no food or debris left on the cloth. Combine a small amount of dish soap and water in a bucket, mixing it until it becomes sudsy. Soak the cloth in the sudsy water and apply it gently to the stain. Use the sudsy cloth to blot the stain until it disappears. It is important for the velvet fabric to dry quickly. Use a hair dryer or fan to accelerate the drying process.
The Dry Method for Cleaning Velvet Furniture
If the fabric is wet, use a paper towel or soft cloth to soak up the liquid. Apply dry cleaning detergent to a sponge and blot the stain repeatedly. Let the cleanser dry entirely on the fabric, using a hair dryer or fan to dry it as quickly as possible. Use a soft brush to unmat the velvet if it appears matted.

Hot right now on Roger + Chris
Restyling a Garden House: Paint It Black
A cute, 160-year old Italianate Victorian had the potential to be a stunning garden house - but only after taming the garden, adding style to the porches, and applying some unexpected new colors.



RELATED POSTS

Kitchen Inspiration Pinboard: Funky City Loft
Lofts in cities like New York and Chicago bring comforts to industrial spaces. Cavernous spaces, huge windows, and great surfaces like old wood floors, brick walls, and exposed-beam ceilings create an environment perfect for fun, funky colors and interesting layouts. Here?s a concept for a wild kitchen tucked into a small space.

Stuff That Happened: Carolina Road Trip
We drove for 45 hours and put some 2,700 miles on the car last week as we headed to Charlotte, NC to meet with one of the manufacturing partners of our furniture company. The decision to drive halfway across the United States and back within a work week made plenty of sense before we actually did it. After the fact? Did I mention that I did all the driving? And that it rained most of the drive home? Yeah.