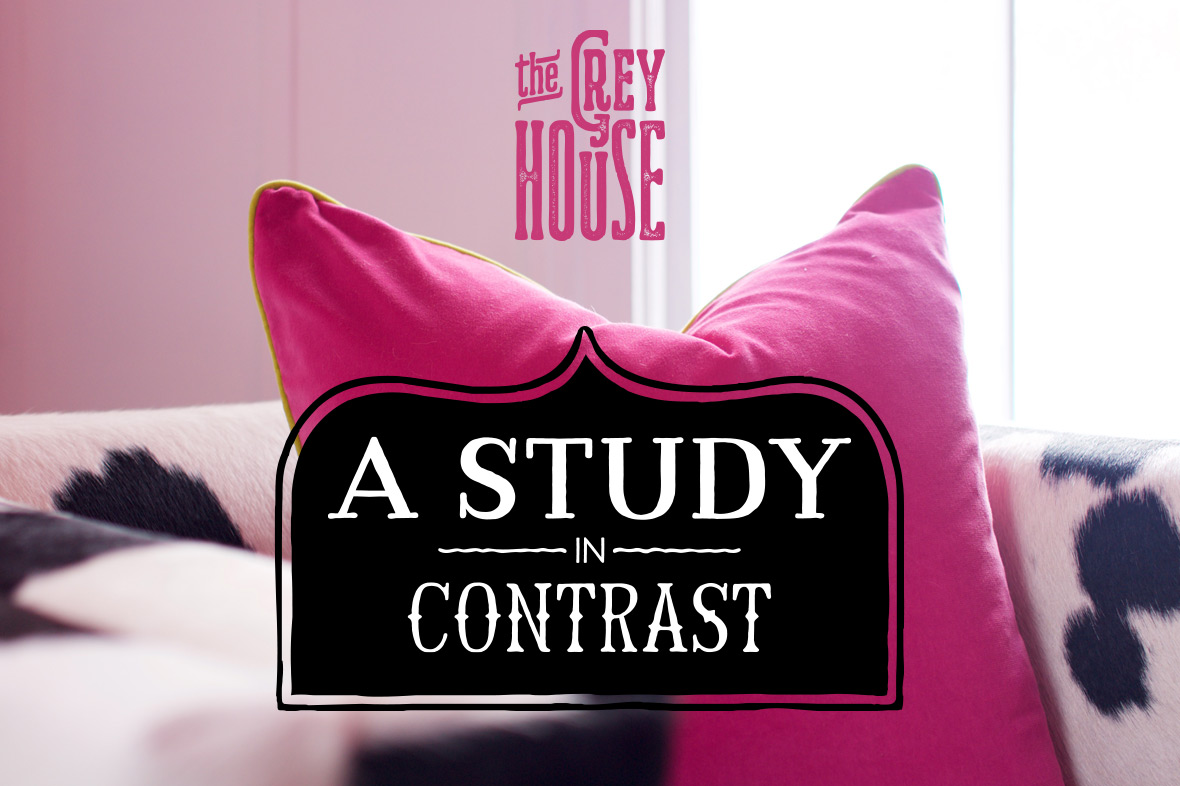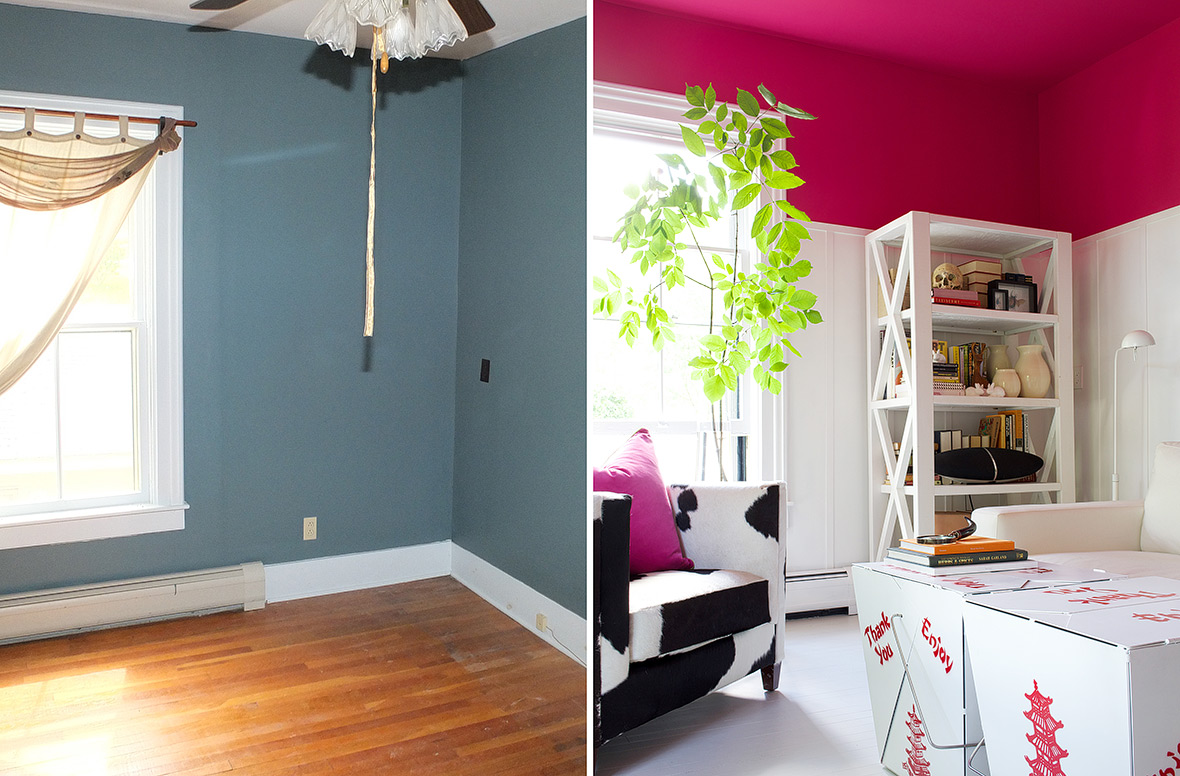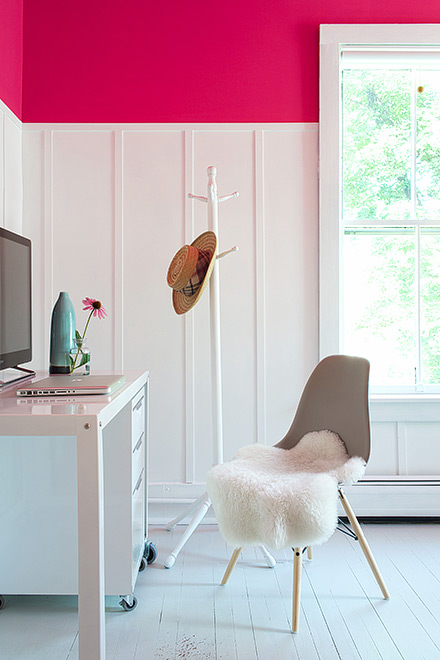 Removing the useless closet provided space for a desk and filing cabinet.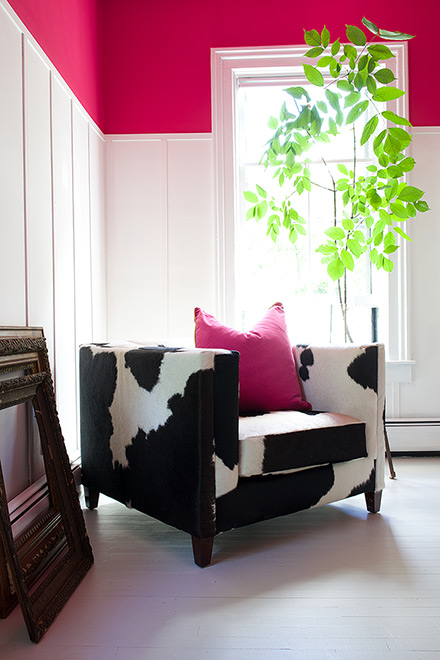 Our compact Atticus armchair offers a sunny seat.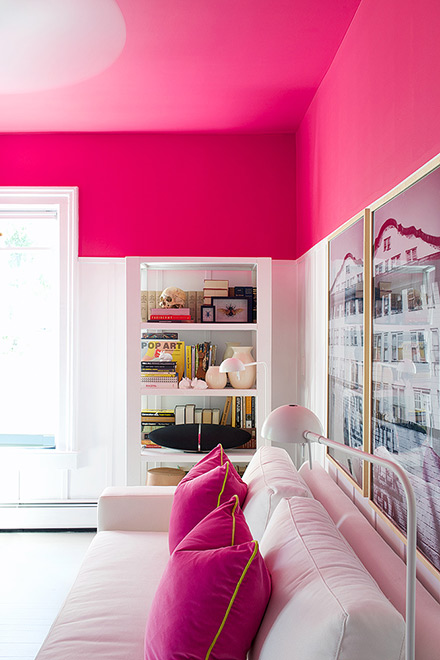 Carrying the ceiling color down the walls disguises imperfections.
We turned a gloomy spare bedroom into a bright and happy home office.
Ugh...Winter. We moved to a tiny rural village in Upstate New York with the intention of immediately renovating our 160-year old Italianate Victorian home. But we got distracted with starting up our company and filming a design show. Life gets in the way.
The unanticipated upside of delaying the renovation was experiencing a winter in the house. Winters here are cold, dark, gloomy, gloomy, and also gloomy. The room we had pegged for our office / den was on the northeast side of the house.
The paint scheme included bluish charcoal walls, blue-grey window and baseboard trim, a dingy white ceiling, a tan door, and taupe baseboard heaters. Yes, that's five colors in a small room, none of which actually worked with one another. The wood floors were spotted with water stains and an add-on closet consumed more floorspace than it provided in utility. Rough walls, cracked and peeling paint, and some truly hideous granny drapes finished it off.
After experiencing the darkness of winter - because of our village's location in a valley, sunset in December starts before 4 P.M. - we decided that our home office needed some serious pop to combat the gloom.
Our goals for this project
Kill the closet. This early twentieth century add-on was in rough condition and offered little usable storage space. Removing it would free floor space for a desk.
Fix the walls. A leaky window had resulted in window trim in need of repair, while walls full of cracks and holes needed patching.
Integrate the ceiling. We call the ceiling "the fifth wall" - it's an opportunity for color and interest, particularly in smaller rooms that lack compelling details.
Provide workable comfort. Yes, this would be our home office. But because we both work on laptops and like to move around through the day, it needed a variety of casual seating options.
The Fifth Wall
We started by removing the useless closet. Because we didn't intend on using this as a bedroom and the closet was too small to be of any other use, we opted to reclaim the square footage. This gave us enough space for a desk along with a sofa and armchair in the relatively compact room.
Our color palette for the study would use a few tricks to enhance the space. First, we were treating the ceiling as a wall, applying Benjamin Moore's bold Peony to it. The walls, trim, and baseboard heaters would all be painted in Sherwin-Williams' High-Reflective White. Because nothing in our house is level, painting the ceiling fuchsia and the walls white would have highlighted the wavy and sloping lines of the ceiling. By dropping the ceiling color down to the upper walls, we were able to disguise this and improve the appearance of the room dramatically.
Tip: Looking for paint that will help brighten a space? Pay attention to the LRV, or Light Reflectance Value. This number should be listed on any paint chip and will indicate the percentage of natural light that is bounced back into the room by the paint color. Our go-to white, High-Reflective White, scores particularly well on this measurement.
The beat-up walls and trim needed repairs prior to painting. CertaPro Painters carefully prepped the surfaces, refloating walls to smooth out roughness and cracks, filling cracked trim, and patching holes in the floor from the demoed closet. The floors - which, like those in the rest of our house, were too worn to survive another refinishing - received a coat of porch paint in Repose Gray.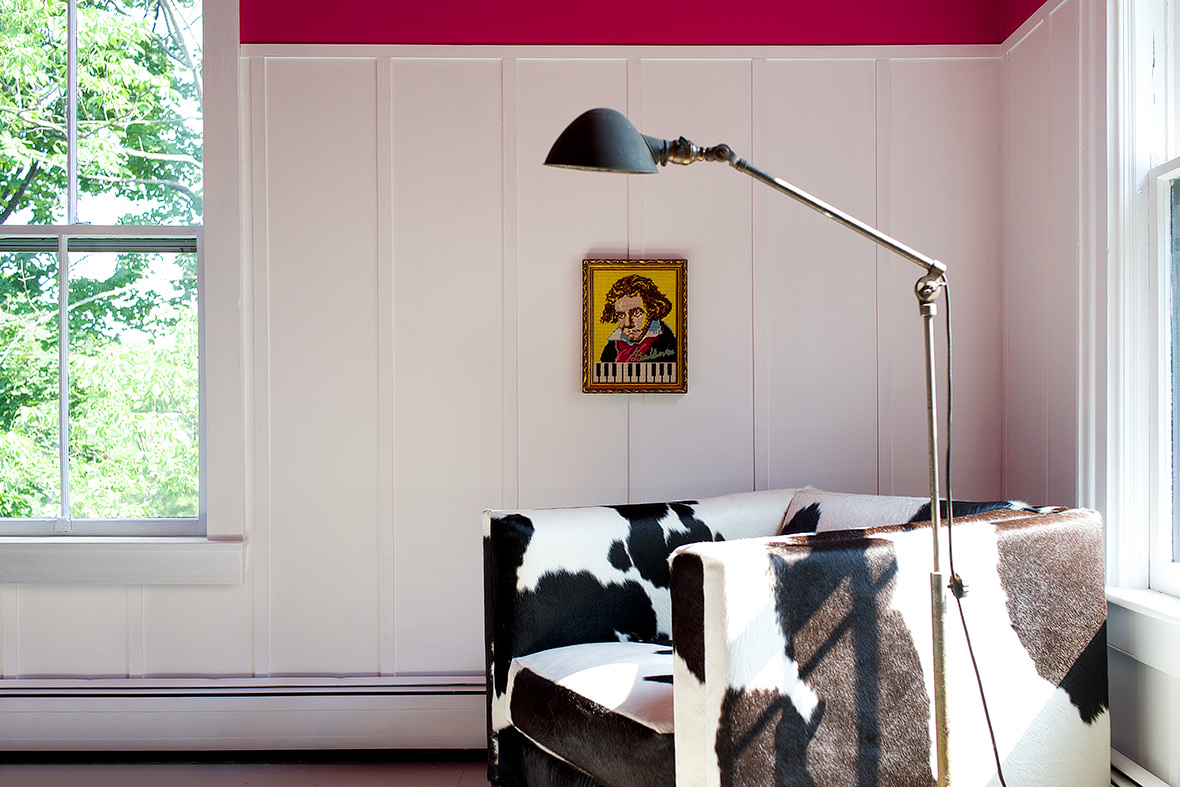 This was yet another room in our house with boring sheetrock. Our solution was to create a board-and-batten effect using inexpensive lattice strips. We established a stopping point for the white paint and created an interesting graphic line. The effect serves to visually raise the ceilings and greatly enhances the feel of the room. This technique can be done in a day and costs at most a couple hundred dollars in supplies. Check out our step-by-step instructions for creating a board-and-batten effect.
Tip: When positioning strips, take into account the location of outlets, doorways, and other obstacles. You can "cheat" the layout left or right an inch or so, which will minimize cutting around objects. No one will notice.
Tailored Furnishings
We wanted this to feel like a lounge more than an office. While we occasionally work at a traditional desk, we're far more likely to move around through the day. Fitting a variety of seating choices into this small room required some creativity.
We started by designing a new sofa just for the room. Our Ashley sofa's modern lines and low-profile back cushions give it an understated presence, but it's the bench cushion that maximizes the usefulness of this compact 81-inch sofa. Because we have a big white dog and have been known to eat snacks on the sofa, we opted for stain-proof Sunbrella fabric. Our Atticus armchair in bold Holstein hair-on-hide sits in a sunny corner. It has the plush comfort of a club chair despite its trim footprint, and is positioned to offer a great view of the garden.
A simple metal desk and file cabinet offer a more traditional work surface and storage space. For more storage, we used two of our laser-cut steel Takeout Tables. They work as coffee tables and laptop stands, but have ample storage space inside for everything from fabric swatches to digital doodads. And they're just a little bit fun.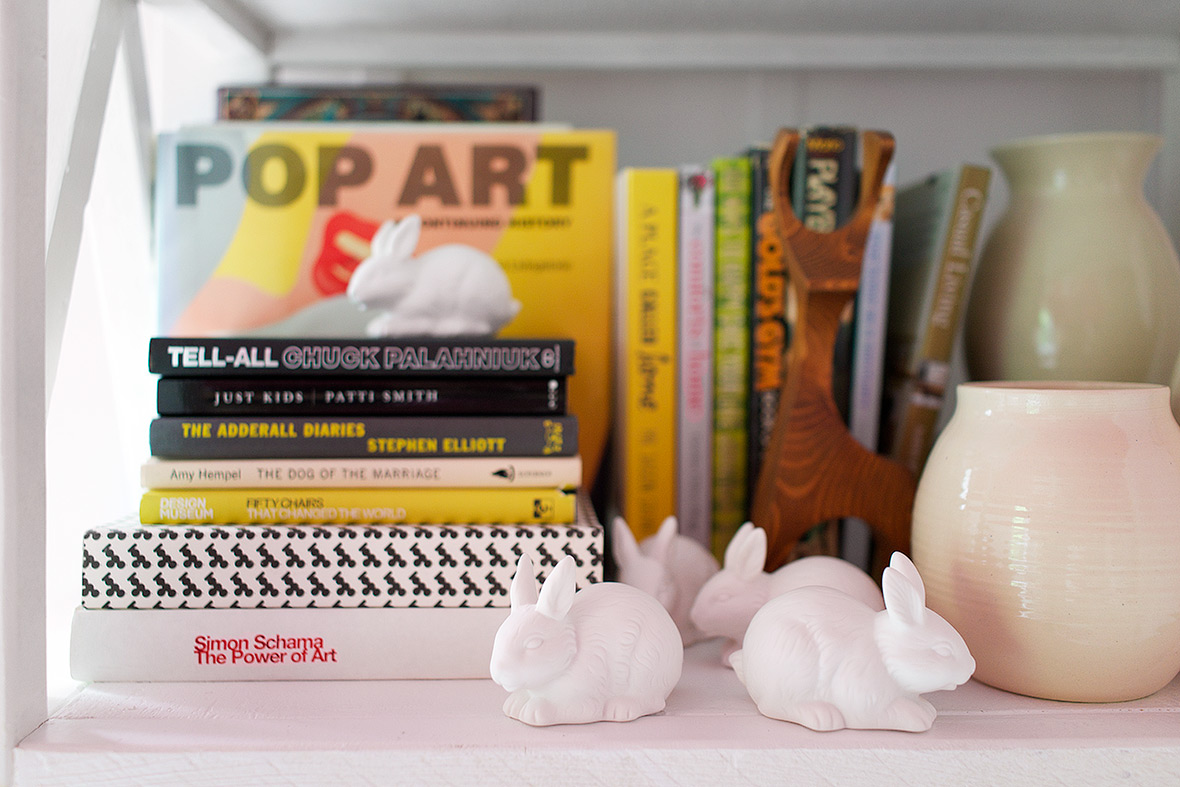 The final piece of furniture needed to be built. Chris worked off of plans from Ana White's terrific DIY blog to build a Rustic X Bookshelf. He built it on the summer's hottest day, resulting in a pretty fantastic sun burn. We painted it before dark and brought it into the room a few hours later. Fast turnaround and less than a hundred bucks in supplies - that's tough to beat.
Tip: One benefit of custom-made furniture is tweaking it to fit the space. The floor where the bookcase is located slopes dramatically. To make it stand level, Chris simply cut the back legs shorter. Perfect!
Finishing Details
Light control was a unique challenge in this room. Because it's at the north side of the house, the room can be very dark. At the same time, the morning sun does come in strong in the summer and, in winter, the bare trees don't offer any privacy from the road behind the house. We chose traditional opaque roller shades from Smith + Noble. Roller shades can be opened entirely, quickly disappearing to offer an unobstructed view, while still providing terrific light control. To add a little character, we selected the natural wood pull knobs. The shades are charming when we want to see them, and nearly invisible when we don't.
Because this room would be used as an office, we knew the door could always remain open. To free up floorspace and create a cleaner look, we removed the door from its hinges. Bonus: Our hallway gets bathed in morning sunlight.
Chris' poster-sized black-and-white photographs depict one of our historic spa village's abandoned hotels (which, coincidentally, is visible from the room). Roger found fuchsia velvet pillows with chartreuse welting, combining them with a few neutral throws during winter months. We arranged the bookshelf with art books, novels, our pottery, a Bowers & Wilkins Zeppelin stereo connected to our home system via Apple's AirPlay, and some adorable porcelain bunny nightlights. Oh, and a skull. No...not a real one.
Sources
Colors
SW 7757 High-Reflective White, Sherwin-Williams
2079-30 Peony, Benjamin Moore
SW 7015 Repose Gray, Sherwin-Williams
Professional painting, CertaPro Painters
Furniture
Takeout Table
$790, Roger + Chris
Eames Molded Plastic Dowel-Leg Side Chair (DSW) in Stone
$399, Herman Miller / DWR
Go-Cart Desk in White
$149, CB2
TPS Filing Cabinet in White
$159, CB2
Window Treatments
Roller Shades in Elements White with Natural Ball Wood Pull
$135, Smith + Noble
Art & Accessories
Hotel Adler Spa Prints
$379, Roger + Chris
Woodland Bunny Nightlight
$10, Land of Nod
Magenta velvet pillows with contrasting chartreuse welting
$75, PopOColor
Handmade pottery by Leslie Green Guilbault for Roger + Chris
$72-$124, Roger + Chris
Lighting
365+ Brasa Lamp
$69, IKEA
Akari 1N Lantern by Isamu Noguchi
$105, Circa 50
We absolutely adore spending time in this room. Even during the gloom of winter, this study remains cheerful and fun. During the day, it is a functional workspace. And at night, it offers a cozy retreat for curling up and watching Netflix.
What do you think of the transformation? Have questions about the projects or where we found supplies? Share your comments and questions below!