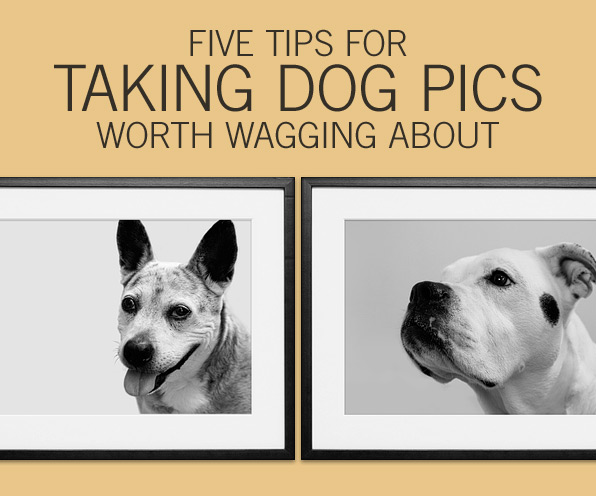 Our pets are part of our family, so adding photos of them to your home can be a fun way to personalize your decor. But if you think getting good photographs of your kids is difficult, you'll soon find that dogs are an even greater challenge.
Here are five tips that will give you a better shot at capturing great images of your furry friends.
1. Get down on all fours.
We've seen our friends and family post an endless stream of dog snapshots on Facebook, but almost all of them are from the same perspective: A camera pointing down at a dog sitting on the floor. This results in predictable and unflattering images. Instead, get down to your dog's eye level. The resulting photos will capture your pup's character and highlight his eyes. It will also help your dog relax, as it will feel more like play with his master. Warning: It's likely that you will end up with puppy kisses on your camera lens.
2. Avoid distracting backgrounds.
Busy backgrounds are the scourge of quality portraits. If you have a high-end camera with a good lens, you may be able to combine sharp focus on your dog's face with a nicely-blurred background. If not, try staging the portrait in front of a neutral wall. This will prevent details like your dog's fur from getting obscured by distracting elements behind him.
3. Bribe, bribe, bribe.
Dog treats or bits of kibble are a dogtographer's second-best friend. Go for small, pocketable treats that can be eaten in a single gulp. Keep them coming for a bit to ensure he knows it isn't a one-time treat. He'll be more focused on you and more likely to look at you while you photograph. If your dog is good at waiting for treats, try holding the snack very close to the camera lens to ensure he is looking right into the camera.
4. Lots of light, but not lots of flash.
Find the brightest room in your house - or even go outside. Your dog will be squirming around, so you need a well-lit location to ensure your camera can use a sufficiently-fast shutter speed to capture sharp photos. Avoid using your flash - it tends to make dogs look a little ghoulish - unless your camera has an especially good fill flash that can be controlled manually. If that all sounds like gibberish...just stick with the well-lit room.
5. No middle ground - either play up color or remove it.
To really create a fun photo, you'll be happiest (and your pup will look his best) with one that either includes bold colors or is in black and white. If you want to work with color, consider finding a brightly-colored background that contrasts with the color of your dog's coat. You may find that your camera or image editing software offers a contrast boost option to add punch to the photo. Otherwise, try black and white. Regular B&W might look a little dull, so look for an option that boosts highlights and shadows for a more distinctive look. These little tweaks can take your photo from looking like a simple snapshot to something worthy of wall space in your home.
To see how we used dog photos in a home makeover, watch the pilot of our new show Roger That!