Kitchens 101: Trends and best practices in kitchen style, layout, and functionality.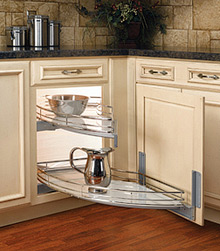 Restore easy access to hard-to-reach spaces with a Lazy Susan.
Blind corner cabinets - tucked in the corner of two converging walls - contain a tremendous amount of storage space. Unfortunately, getting access to that space is a challenge.
Kitchen designers have a number of solutions to this problem, but one of my favorites is the Blind Corner Lazy Susan. Typical Lazy Susan options spin around a fixed axis and require an awkward and fragile bifold cabinet door. Corner drawers can create a unique look but have limited capacity.
The Blind Corner Lazy Susan can store large, awkwardly-shaped kitchen items with ease. Even better, the dual shelves pull out independently, making it easy to retrieve items without having to crouch down and reach into the cabinet. Chrome side rails prevent smaller items from falling off the shelves, and a rubberized surface means objects stay put.

Roger Hazard
· Founder · Roger + Chris · Sharon Springs, NY
Roger Hazard is TV's original home stager, as well as designer / producer on the international, Emmy-nominated "SELL THIS HOUSE," "SELL THIS HOUSE: EXTREME," and "MOVE THIS HOUSE." MORE ABOUT Roger Hazard
Hot right now on Roger + Chris

Best Blue Velvet Sofas
We've gathered some of our favorite sofas and armchairs in gorgeous blue velvets, along with design inspiration from around the web.


RELATED POSTS

Deconstructing a Kitchen: Bold Color
In a world filled with beige and taupe, sand and putty, I'm always excited to see a homeowner embrace bold color and take their kitchen in a different direction. This kitchen is undeniably bold, and it's fun to see a monochromatic ? though not unsophisticated ? color palette taken to an extreme. Is this right for every home? No way. Do I think the home owners love having a one-of-a-kind kitchen? You bet.

Deconstructing a Kitchen: Hajdu Kitchen
Amy and Chris Hajdu purchased this West Austin home just over a year ago. The house, built in the early 1960s, had been well cared for but had received minimal updates over the decades. The Hajdus purchased the house from the original owner with the goal of respecting the existing architecture, while modernizing the systems and styling.