Kitchens 101: Trends and best practices in kitchen style, layout, and functionality.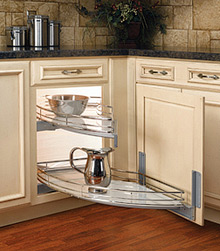 Restore easy access to hard-to-reach spaces with a Lazy Susan.
Blind corner cabinets - tucked in the corner of two converging walls - contain a tremendous amount of storage space. Unfortunately, getting access to that space is a challenge.
Kitchen designers have a number of solutions to this problem, but one of my favorites is the Blind Corner Lazy Susan. Typical Lazy Susan options spin around a fixed axis and require an awkward and fragile bifold cabinet door. Corner drawers can create a unique look but have limited capacity.
The Blind Corner Lazy Susan can store large, awkwardly-shaped kitchen items with ease. Even better, the dual shelves pull out independently, making it easy to retrieve items without having to crouch down and reach into the cabinet. Chrome side rails prevent smaller items from falling off the shelves, and a rubberized surface means objects stay put.

Roger Hazard
· Founder · Roger + Chris · Sharon Springs, NY
Roger Hazard is TV's original home stager, as well as designer / producer on the international, Emmy-nominated "SELL THIS HOUSE," "SELL THIS HOUSE: EXTREME," and "MOVE THIS HOUSE." MORE ABOUT Roger Hazard
Hot right now on Roger + Chris
Best Blue Velvet Sofas
We've gathered some of our favorite sofas and armchairs in gorgeous blue velvets, along with design inspiration from around the web.

Restyling a Garden House: Paint It Black
A cute, 160-year old Italianate Victorian had the potential to be a stunning garden house - but only after taming the garden, adding style to the porches, and applying some unexpected new colors.


RELATED POSTS
Guidebook, Step Seven: Renovation Challenges
Step seven of the design process addresses some of the challenges you may face during your renovation. While most problems can be avoided through careful planning, all kitchen renovations are bound to uncover a surprise or two. Here are a few of the most common challenges faced in kitchen renovations, and some suggestions on how to minimize them through careful planning and fact-finding.

Guidebook, Step Four: Hiring a Kitchen Designer
Step four of the design process focuses on selecting a professional kitchen designer. Hiring a kitchen designer in most cases will be money well spent. Beyond just assisting you through the myriad of decisions related to your remodel, a designer can introduce fashion-forward colors and finishes that will keep your kitchen looking fresh and up-to-date for years to come.