Kitchens 101: Trends and best practices in kitchen style, layout, and functionality.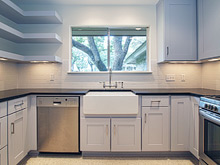 Open shelving opens up space in this U-shaped kitchen.
A U-shaped kitchen configuration encourages high-efficiency cooking. The range, sink, and refrigerator are all just a pivot away, creating an obvious "work triangle" with a minimum of obstacles.
The U-shape configuration is particularly common in smaller kitchens. This is an efficient use of the available space, because base and upper cabinets can be placed on all three walls, wrapping around the workspace.
But while such a layout maximizes storage in a small kitchen, it creates problems from a design perspective. Surrounding the workspace with upper cabinets can create a claustrophobic feel. The solution is to take away a few of the upper cabinets. This breaks up the repetitive pattern of the cabinet doors and allows us to see a section of wall. The visual balance of the kitchen becomes less top-heavy, reducing the sense of claustrophobia and expanding the space.
While some may use this newly opened space to showcase artwork, I think that open shelving is a fantastic way to retain the lighter feel, add interest, and sneak in a bit of storage. Open shelving makes a wonderful home for frequently used glassware (If your drinking glasses are a jumble, consider picking up a dozen that match for maximum impact). To that, add a few large, bright mixing bowls to introduce color and free up valuable space elsewhere. You can add a decorative accessory or two, but don't go overboard - you'll be happier with the look if you don't fill every available inch of shelf space.

Roger Hazard
· Founder · Roger + Chris · Sharon Springs, NY
Roger Hazard is TV's original home stager, as well as designer / producer on the international, Emmy-nominated "SELL THIS HOUSE," "SELL THIS HOUSE: EXTREME," and "MOVE THIS HOUSE." MORE ABOUT Roger Hazard
Hot right now on Roger + Chris


Restyling a Garden House: Paint It Black
A cute, 160-year old Italianate Victorian had the potential to be a stunning garden house - but only after taming the garden, adding style to the porches, and applying some unexpected new colors.

RELATED POSTS
Guidebook, Step Five: Making Informed Budget Decisions
Step five of the design process addresses working within your budget and making informed decisions. After you've spent some time working out the scope of your renovation and begun consulting with a designer to get a better feel for the overall cost, it's time to lock down your budget and put together a plan that gives you the kitchen you need without breaking the bank.


Deconstructing a Kitchen: Bold Color
In a world filled with beige and taupe, sand and putty, I'm always excited to see a homeowner embrace bold color and take their kitchen in a different direction. This kitchen is undeniably bold, and it's fun to see a monochromatic ? though not unsophisticated ? color palette taken to an extreme. Is this right for every home? No way. Do I think the home owners love having a one-of-a-kind kitchen? You bet.