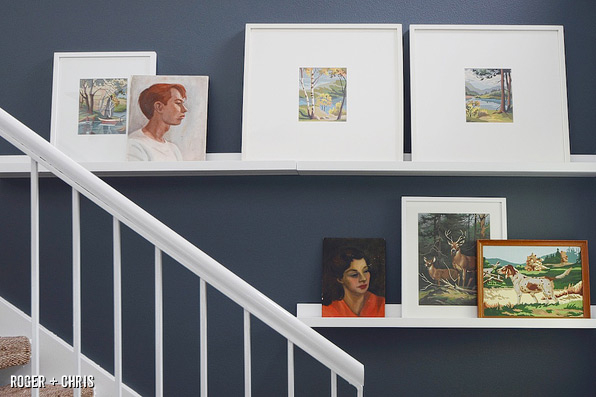 Homes without art on their walls are more common than you might think. Though I believe that quality artwork is an essential ingredient for creating a welcoming, stylish environment, I can understand why many homeowners run into trouble.
Many are wary of the high cost of original art, and even prints can be pricey when you consider the cost of framing. Those who move often or frequently reconfigure their home's furniture arrangement are worried about getting "stuck" with large pieces that can't be repurposed. Finally, many homeowners struggle to find interesting pieces and are disappointed with the options they've seen at home goods stores and major retailers.
As Marshall McLuhan famously said, "Art is anything you can get away with." That's true for artists, and it's also true for decorating your house.
The majority of us who are not serious collectors should focus on objects that inspire, challenge and please us. Though you might prefer a traditional oil painting on a canvas, your personality might lean toward items as varied as vintage signage, scientific materials, abstract photography or paint-by-number pieces.
Find unique artwork that fits your budget
Homeowners without artwork often tell me that they don't have the budget to get the original pieces they want. Even away from the stratospheric prices at a Christie's auction, original work by lesser-known artists can command a substantial sum of money. Here are a few suggestions for finding affordable artwork:
Seek out up-and-coming artists. Take advantage of Austin's dozens of galleries showcasing lesser-known talent to find artists with unique perspectives and styles. Check out stores, restaurants and coffee shops with rotating exhibitions. Finally, several auctions are held by nonprofit organizations each year with art in a wide variety of formats and styles. You might have an opportunity to purchase original work that moves you at a reasonable price.
Consider vintage, repurposed, or "found object" artwork. Some of my favorite pieces of art were found in flea markets. For a few hundred dollars, I assembled a large collection of vintage paint-by-number pieces by scouring markets, garage sales and online auction sites. Some of my artwork was initially created to serve another purpose - signage for a business or a magazine advertisement, for instance. I repurposed these items as art by hanging them like fine oil paintings. Found objects can be almost anything - rusty industrial pieces, old scientific equipment, antique cameras - that are beautiful to you. Treat these pieces like sculpture, and they will be perceived as such.
Tricks to arrange and display your new art
In some cases, the distinction between "art" and "junk" is in the placement. With care, you can arrange your artwork to maximize its impact, complement your home's layout and avoid the creation of visual noise.
Boost your art's impact with clever placement. Tradition would suggest that a sofa placed against the wall in a living room demands a large landscape above it, and a small wall should receive a scaled-down piece to fit. Guidelines like these contribute to predictable art placement, and predictable reactions. I prefer, instead, to play with contrast to keep the space feeling fresh and to place a greater emphasis on the individual pieces. Instead of using your smallest piece on your smallest wall, consider placing a much larger work on the wall to magnify its size. Try a smaller piece on a large expanse of wall for a similarly dramatic effect.
Create an editable gallery wall. If you have gathered more artwork than you want on display at any one time, create flexible spaces for displaying pieces. To accommodate varying sizes and shapes of frames, use a wall-mounted display ledge. Your pieces can be easily rearranged as you see fit, with no time spent on hanging or filling nail holes. Have a desk or table that is flush against a wall? Lean a large piece against the wall rather than hanging it. This also works well against a large mirror in the bathroom.
Establish harmony between your home and your artwork through frames. I'm not a purist with regards to framing artwork. Instead, I think that the artwork and environment should inform which color, size and style of frame is appropriate. In my home, I have mixed white, cream and birch frames for the majority of the artwork. I did this because darker wood or black frames would create too much contrast against the light colors used in much of the home. That said, I still included a few pieces with simple black and even ornate gilded frames; they were appropriate for the pieces, and, used sparingly, added enough contrast without fighting with their surroundings. When possible, I've avoided frames altogether, simply hanging the unframed canvas on the wall.
More bang for the buck
Large pieces can be quite pricey. If you are having trouble staying on budget, purchase a smaller piece and place it in an oversized frame. The expanse of matting will place dramatic emphasis on the artwork, and the large frame will fill the intended space.