The Modern Farmhouse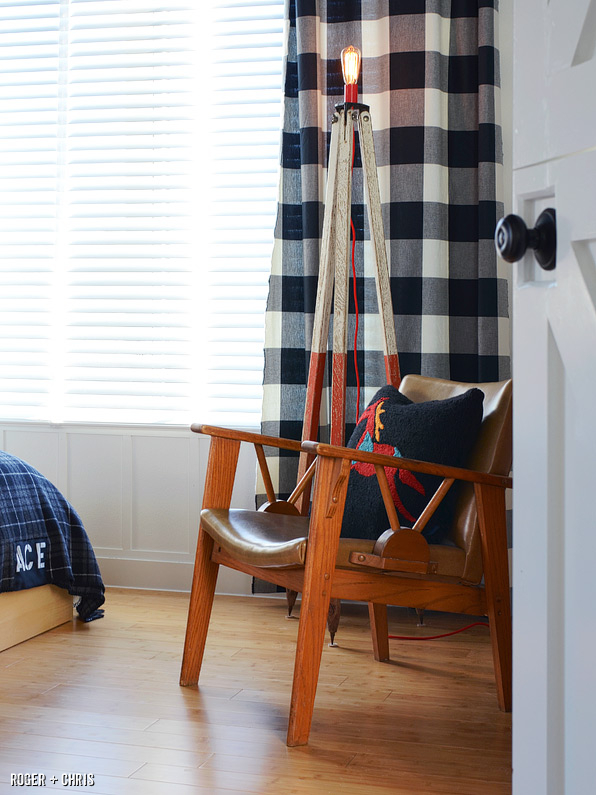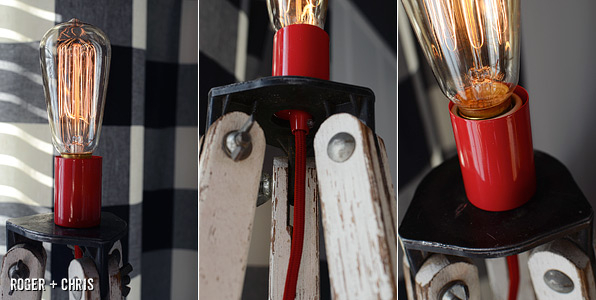 This beautiful antique tripod was a gift we received from Roger's production company. We thought it would make a wonderful lamp, so I threaded an attractive pendant socket through the top of the tripod and completed it with an Edison "squirrel cage" lightbulb. It makes for a stunning accent piece in our guest bedroom.
Tip: These squirrel cage lightbulbs are increasingly popular in decorative lamps. If your primary goal with the lamp is to create an accent piece rather than light a room, consider adding an adjustable lamp dimmer. By dimming the lamp by 50% or more, you will save electricity, extend the life of the bulb, and allow your guests to see the detailed of the historic filament.
Sources:
Antique wooden tripod - Seattle flea market
Single socket pendant in red with red fabric cord - West Elm
40W Edison squirrel cage lightbulb - Amazon.com
Lamp dimmer - The Home Depot

Hot right now on Roger + Chris

Restyling a Garden House: Paint It Black
A cute, 160-year old Italianate Victorian had the potential to be a stunning garden house - but only after taming the garden, adding style to the porches, and applying some unexpected new colors.

Best Blue Velvet Sofas
We've gathered some of our favorite sofas and armchairs in gorgeous blue velvets, along with design inspiration from around the web.

RELATED POSTS