We just completed a whole-house renovation project, and wanted to share some photos of the project. This project was for a family in Austin, TX who had recently purchased a fifty year old house. The house was in good structural shape, but had received only minimal updates through the years. Our team stripped the interior to the studs, replacing all electrical, plumbing, heating, and air conditioning equipment. New flooring, ceilings, walls, doors, and cabinetry was installed. Walls, ceilings, and doorways were modified to provide a more open-feeling space.
For more information on the services we offer, contact us.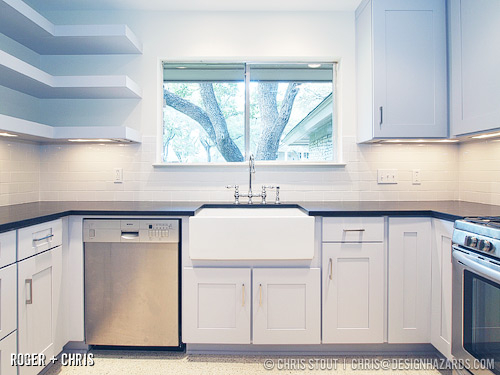 Almost every surface in the kitchen was replaced, with the exception of the original terrazzo floors, which were polished. New custom cabinetry, countertops, tile work, lighting, and fixtures were installed.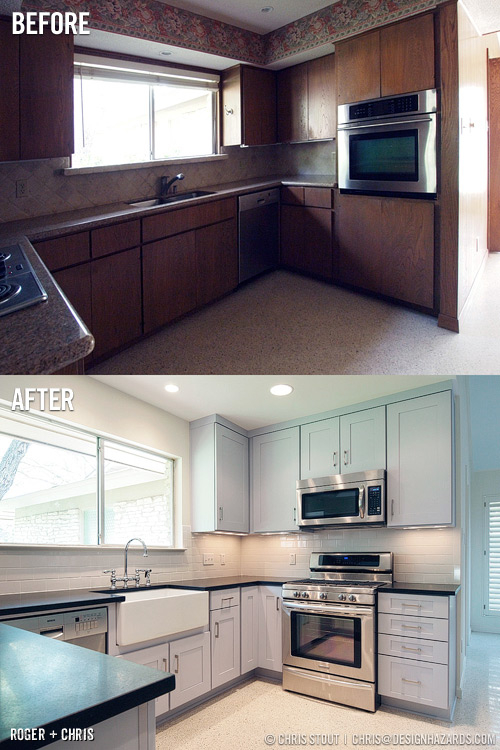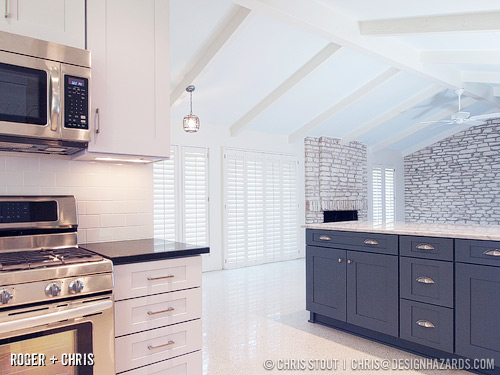 The new marble-topped peninsula provides a bar for casual family meals and additional workspace without dividing the kitchen from the family room.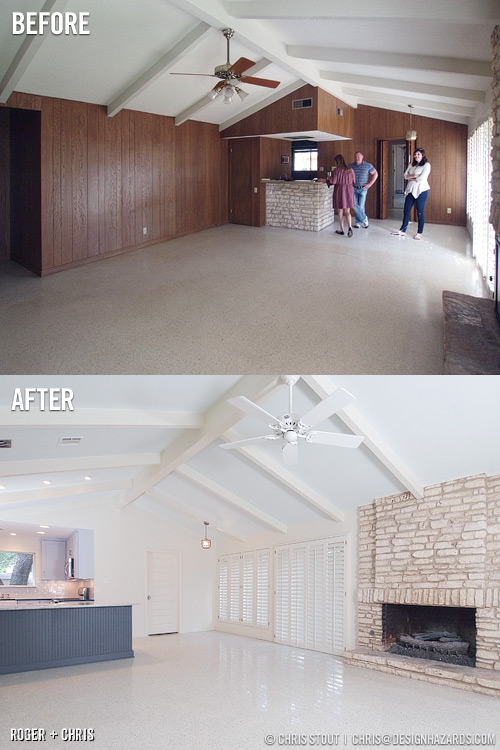 Rerouting ventilation and eliminating soffits opens up the kitchen, bringing light and continuity from this generously-proportioned family room.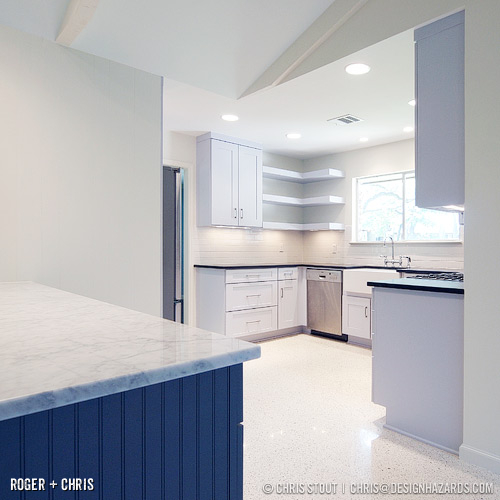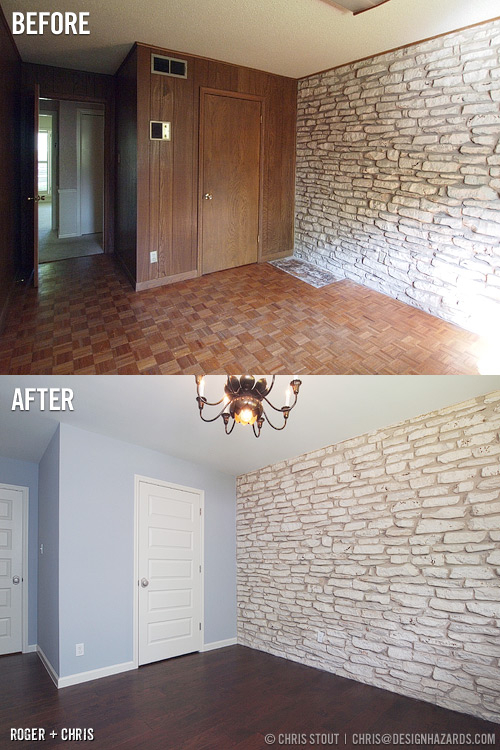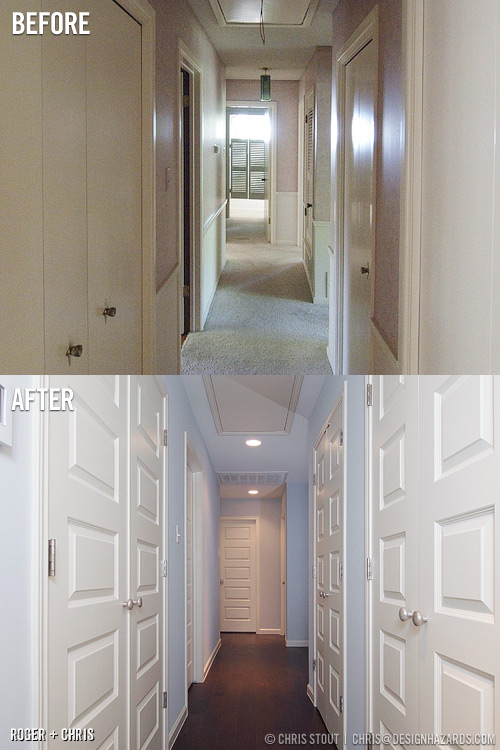 In addition to replacing doors, flooring, and lighting, this hallway was opened up relocating the furnace to the attic.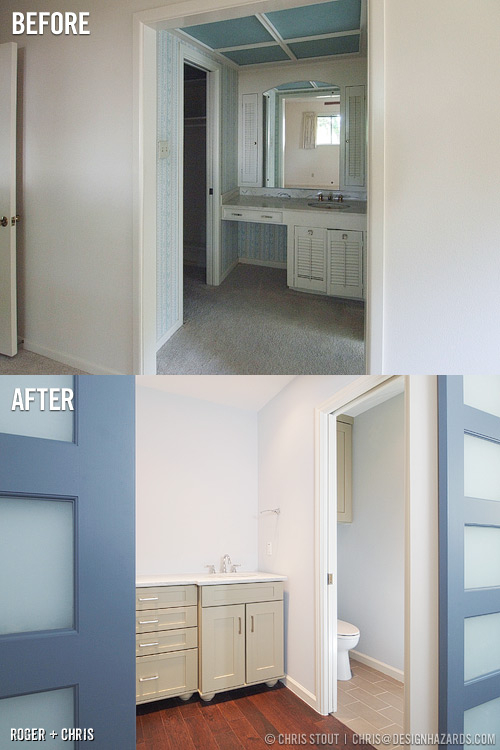 Barn doors with frosted glass panels slide open to reveal a new master bath.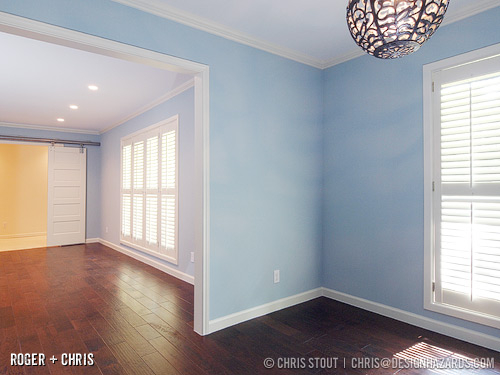 The dining and living rooms were freshened and received a new set of barn doors leading towards the entry way.
We provide design and renovation consultations for homeowners in the New York area and beyond. For more information, contact us.

Roger Hazard
· Founder · Roger + Chris · Sharon Springs, NY
Roger Hazard is TV's original home stager, as well as designer / producer on the international, Emmy-nominated "SELL THIS HOUSE," "SELL THIS HOUSE: EXTREME," and "MOVE THIS HOUSE." MORE ABOUT Roger Hazard
Hot right now on Roger + Chris
Restyling a Garden House: Paint It Black
A cute, 160-year old Italianate Victorian had the potential to be a stunning garden house - but only after taming the garden, adding style to the porches, and applying some unexpected new colors.


Best Blue Velvet Sofas
We've gathered some of our favorite sofas and armchairs in gorgeous blue velvets, along with design inspiration from around the web.

RELATED POSTS

Living Room Color Dispute
Kari and her boyfriend can't agree on which color to paint their living room. She wants color; the boyfriend wants to keep it neutral to make their house easier to sell. What will Roger say?

Bad Days and Forward Motion
I didn't wake up on the wrong side of the bed, did I? Did a black cat cross my path? Did I walk under a ladder? No matter. Something happened, and the day got off to a rough start.