A whole-house renovation project I managed here in Austin is approaching completion, and I wanted to share a sneak peek of the completed kitchen. More photos of the entire project are coming soon!

- Roger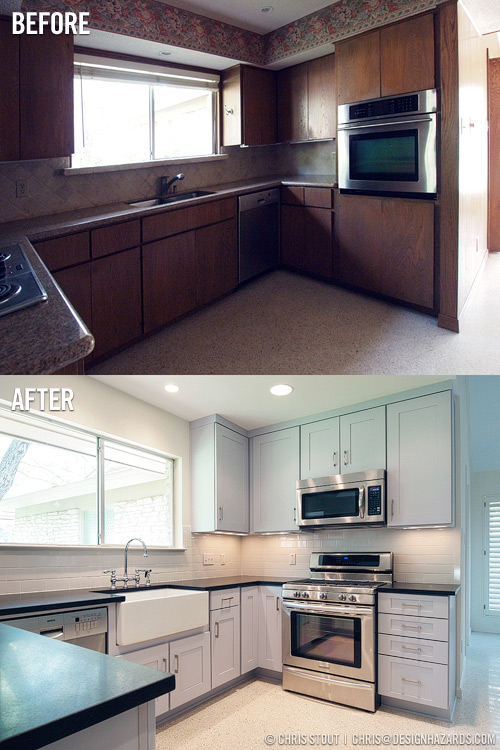 Almost every surface in the kitchen was replaced, with the exception of the original terrazzo floors, which were polished. New custom cabinetry, countertops, tile work, lighting, and fixtures were installed.
We provide design and renovation consultations for homeowners in the upstate New York area and beyond. For more information, contact us.

Roger Hazard
· Founder · Roger + Chris · Sharon Springs, NY
Roger Hazard is TV's original home stager, as well as designer / producer on the international, Emmy-nominated "SELL THIS HOUSE," "SELL THIS HOUSE: EXTREME," and "MOVE THIS HOUSE." MORE ABOUT Roger Hazard
Hot right now on Roger + Chris


Restyling a Garden House: Paint It Black
A cute, 160-year old Italianate Victorian had the potential to be a stunning garden house - but only after taming the garden, adding style to the porches, and applying some unexpected new colors.

RELATED POSTS
A Sleepy Afternoon At Home
A brief video shot on a sunny afternoon in our home here in Austin. The dog and the cat weren't interested in having their naps interrupted.

Guidebook, Step Seven: Renovation Challenges
Step seven of the design process addresses some of the challenges you may face during your renovation. While most problems can be avoided through careful planning, all kitchen renovations are bound to uncover a surprise or two. Here are a few of the most common challenges faced in kitchen renovations, and some suggestions on how to minimize them through careful planning and fact-finding.

Guidebook, Step Six: Dealing With Contractors
Step six of the design process addresses working well with your general contractor. A good working relationship with your kitchen renovation contractor can be the factor that determines the success of your project. Here are seven key tips for creating and maintaining a harmonious partnership.