A whole-house renovation project I managed here in Austin is approaching completion, and I wanted to share a sneak peek of the completed kitchen. More photos of the entire project are coming soon!

- Roger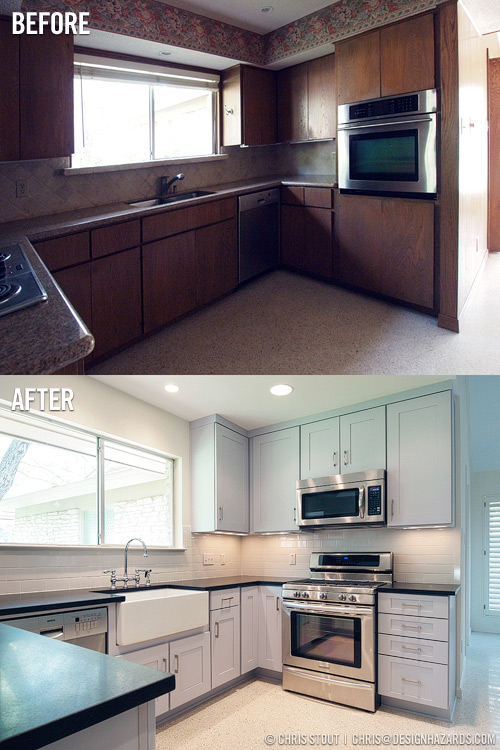 Almost every surface in the kitchen was replaced, with the exception of the original terrazzo floors, which were polished. New custom cabinetry, countertops, tile work, lighting, and fixtures were installed.
We provide design and renovation consultations for homeowners in the upstate New York area and beyond. For more information, contact us.

Roger Hazard
· Founder · Roger + Chris · Sharon Springs, NY
Roger Hazard is TV's original home stager, as well as designer / producer on the international, Emmy-nominated "SELL THIS HOUSE," "SELL THIS HOUSE: EXTREME," and "MOVE THIS HOUSE." MORE ABOUT Roger Hazard
Hot right now on Roger + Chris
Restyling a Garden House: Paint It Black
A cute, 160-year old Italianate Victorian had the potential to be a stunning garden house - but only after taming the garden, adding style to the porches, and applying some unexpected new colors.



RELATED POSTS
Sto Very Frustrating
Our house has no fireplace. It may seem strange that a home built in the 1800s and nestled between two snowtastic mountain ranges wouldn't have one, but, as a formal village house, it likely served as a secondary summer home for wealthy folks who would venture up during the balmy season and wisely dash back to the city when things got chilly.


Best Blue Velvet Sofas
We've gathered some of our favorite sofas and armchairs in gorgeous blue velvets, along with design inspiration from around the web.