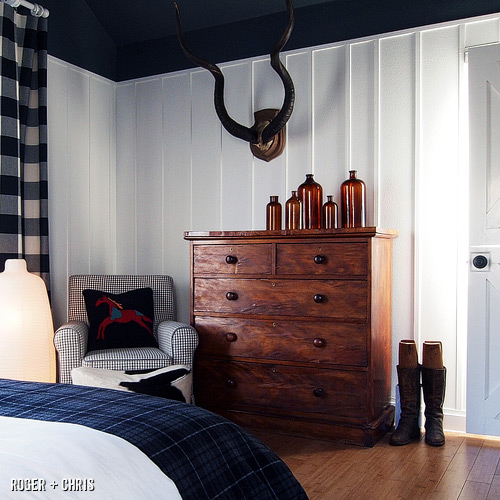 I picked up this dresser for $60 at Salvation Army. I think it would easily fetch over $1,000 in a New York vintage store.
By making wise purchases, you can use vintage furniture to introduce character, texture, color and whimsy to your home.
"Vintage" is a word with many definitions. If you pay attention to decorating shows or magazines, you've noticed that the word "vintage" keeps popping up. Vintage furniture can refer to many styles, including fine antiques, midcentury modern furniture, industrial pieces and rustic farm furniture. Items can range from 20 years old to 200 years old. Professional designers love to integrate vintage pieces into their projects because these pieces add character, history and texture in ways that newly manufactured furniture does not.
Why bother with vintage furniture? The primary reason is to add interest and uniqueness.
A room filled with only new furniture from a single store is rarely memorable. Integrating a weathered wood chair for secondary seating or an old trunk for a coffee table can instantly make a room more timeless and authentic. By selecting one-of-a-kind furniture, you can inexpensively infuse your home with personality and get a look that no one else on your block will have.
Another benefit is that vintage furniture is often built more sturdily than comparatively priced new furniture. Older items use hardwoods and steel instead of fiberboard and plastic. These pieces already have hung around for decades, so the odds are good that they will serve your family well in the years to come.
Start with a plan. When you go to the grocery store without a shopping list, it's easy to come home with bags full of mismatched items and junk food. Hunting for vintage furniture without a list can put you in a similar predicament: You might make great finds, only to discover that those finds don't fit in your home the way you'd imagined. Avoid this by starting with a list of the items you need most. This will keep you focused when digging through the clutter of a vintage store.
Measure the spaces you need to fill at home and bring your tape measure along when shopping; estimating the size of furniture by eyeballing can be tricky, and sales are final at most stores.
Be open-minded when hunting for pieces. For example, I wanted a compact wood dresser to place under the open stairway in my house. I wasn't able to find the wood dresser that I wanted, but I did find a steel unit that was the size and shape I needed, and - thanks to its weathered, rusty finish - mimicked the warm color of wood I was seeking. I never would have sought out a metal piece for that space but, by keeping an open mind, I came home with the perfect buy.
Look where others don't. Hip vintage stores and stylish websites can be a great source of items, but the bigger scores will be made in places that aren't as heavily trafficked. Remember that each time an item is bought and resold, it gets marked up.
Try seeking out obscure stores, estate sales, online classifieds and other places where the vintage dealers do their shopping. You might have to get your hands dirty, but you'll pay less and find more unique items.
When walking through a store, be sure to look everywhere. Most shoppers focus on things that are at eye level. Take time to look up, down, and behind large objects.
After walking through the entire store, make another lap in the opposite direction to catch anything you might have missed. Most stores use every square inch of space, and the best items could be hidden just out of plain sight.
Don't be turned off by dust, scuffs or minor damage. A good cleaning can brighten up any piece. Remember that you aren't always looking for pristine items. Furniture that's a bit rough around the edges will make your space more comfortable and intriguing.
Go for the deal. Unlike new furniture, prices on vintage items might be flexible. Be sure to ask for a discount - you might get anything from 10 percent to 20 percent knocked off the price. Dealers are more likely to discount pieces that have hung around the store a bit too long. If you see a piece that looks like it's been there awhile, consider returning a few weeks later to mention that it hasn't moved and to ask for a better price. You will have the best luck getting deals if you're purchasing more expensive pieces of furniture or a number of items from the same dealer.
Always be respectful and remember that the seller has put money and time into finding, transporting and cleaning the item. Their margins aren't huge, but they are often willing to accommodate serious buyers and repeat customers.
Get the story. One of the coolest things about vintage furniture is that it comes with a unique history. Ask the seller about the source of the piece, its age and any unusual aspects. Visitors to your home will undoubtedly want to know about the items you've found, and you will enjoy being able to share the stories.