Last weekend, I had the opportunity to meet Felicia Merritt, her husband Kenneth Sr., and their kids at their home in Omaha, Nebraska. Felicia is a fan of Sell This House and wanted my help with their home. Felicia is a working mother - a police officer - and she and her husband are raising nine children, seven that are adopted. Their family is growing, and they are eager to move to a larger house.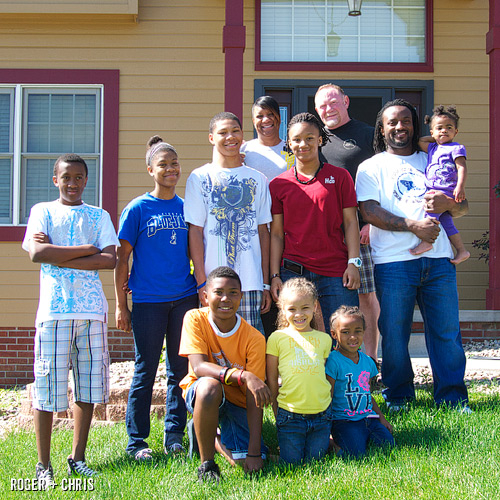 This is a house full of love - and I mean full!
Because Felicia is a fan of the show, I was curious to see if she had put my techniques into practice when it came time to sell her own home. I immediately saw that she has been paying close attention! A few of the steps Felicia and her family have used to increase the appeal of their home:
1. Minimizing clutter and personal items. I'll admit that it can be tough to reduce clutter in one's own home. Over time, it becomes invisible to us. Felicia and her family did a fantastic job of packing up inessential items and personal effects. This is still a family's home; our goal shouldn't be to disguise that but to instead allow buyers to see the home without unnecessary distractions.
2. Keeping "kid stuff" to a minimum. I frequently hear from homeowners that it's "impossible" to put away their children's toys when showing their home. The Merritts demonstrate that, even for very large families, this simply isn't true. Toys were organized and put away, allowing me to focus on the rooms and views instead of worrying about tripping over a stray Tonka truck.
3. Keeping an impeccably clean home. With Sell This House, I've discovered that many houses are downright filthy. Dust and grime are huge turn-offs to prospective buyers. By contrast, the Merritts have one of the cleanest homes I've visited in years. Clean homes sparkle. They look newer, smell better, and command higher prices. Keeping your home clean is a group effort: Everyone in the Merritt household contributes, and the results are impressive. Great job, team!
4. Staying in touch with what buyers want. Together with their real estate agent DeDee Oliver, the Merritts have reviewed feedback from potential buyers and taken steps to address potential shortcomings. Many buyers have expressed an interest in granite countertops. Rather than perform the upgrade themselves and run the risk of choosing the "wrong" color, the Merritts are instead doing what I recommend: offering a credit to the price of new countertops so that the buyer can make their own selection. Because many buyers looking in the neighborhood want four bedrooms but not necessarily five, their agent will be reclassifying the bedroom in the finished basement as an office with a prairie view.
If you've seen my show, you know it's rare that I can walk through a house without finding plenty to critique. But I came away thoroughly impressed by Felicia and Kenneth Sr.'s welcoming, well-cared for home. I'm confident that the effort they have invested into preparing the house for sale will soon pay off.
This 5 bedroom, 3 bath, Omaha, Nebraska home is currently listed for $257,000 by DeDee Oliver of NP Dodge Real Estate.