I've spent 10 years traveling the country for my A&E show "Sell This House," helping people stage their homes to get them sold. Almost all of these homes have been filled to the brim with possessions and saddled with dated finishes. Much of my job on the show revolves around decluttering and de-emphasizing undesirable features, all while trying to inject a little bit of style.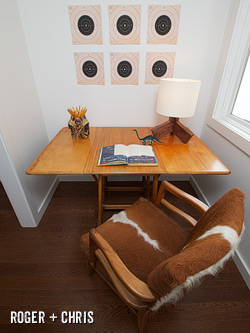 But staging isn't just effective for problem houses; it can have just as much impact on a home that's already beautiful. I recently had the opportunity to work with Austin architect Sean Guess of Faye and Walker Architecture. His latest project, Court Houses, comprises two interlocking houses built on a single city lot. The homes feature striking modern lines, private courtyards, beautiful interior finishes and generously proportioned spaces. The homes' numerous large windows are placed strategically to bring in generous amounts of ambient light, and the amply sized walls are perfect for an art collector. When Sean's project was nearing completion, he contacted me to help stage one of the homes.
Why would someone go to the trouble of hiring a professional stager to add furniture to a new house? One of the oldest rules of staging is that empty homes - even beautiful ones - don't appeal to buyers as strongly as furnished properties. Staging can be used to define the purpose of rooms; I added a writing desk to a bedroom's nook to create a child's homework area. Buyers have trouble estimating the size of empty rooms; I used a large couch and oversized coffee table in the living room to show off its ample size. The placement of furnishings and artwork calls attention to unique features; for example, a drape emphasized the view out of a window and an antique chair and painting at the top of the stairway brought attention to the attractive stair design.
One of the biggest reasons for staging is making an emotional appeal to the target audience, hinting at the lifestyle the house can provide. Sean and I discussed the type of people likely to be interested in Court Houses, and I tailored my furniture and art selections accordingly. Rather than simply filling the home with modern decor, I wanted to show buyers that a modern home can work in harmony with comfortable rustic and vintage pieces. I emphasized a sense of humor - hanging a 5-foot-long mounted tarpon in the dining room, for instance - to show that modern architecture can be playful as well as serious.
The staging has worked. Initial feedback from buyers and agents has been tremendously positive. Visitors are paying attention to the unique features of Sean's design that I wanted to emphasize, and they can easily see themselves in this home.
Many of the money-saving tips I used in the staging of this home you can use in your house.
I scoured online listings and thrift stores for cheap furniture. I bought two used queen beds for a total of about $100. Found at a thrift store, the living room couch had ugly fabric but great lines - perfect for covering with a dropcloth slipcover.
To dress up the simple beds, I built rustic box surrounds out of pine boards, providing the look of a pricey platform bed for $20 in lumber and wood screws. I stood a sheet of plywood on end to create an attention-getting headboard in the master bedroom. The guest bed received a plywood headboard as well, this time wrapped in a gray flannel sheet to add texture. Both beds were finished with crisp linens and handsome plaid blankets.
I kept the artwork playful and nontraditional. I found a set of vintage paper BB gun targets to place above the guest bedroom desk. Instead of framing the targets, I simply thumb-tacked them in a grid, saving hundreds of dollars. I needed something compelling for a living room wall but didn't have room in the budget to purchase large artwork, so I took photos of old toy cars and printed them out on an inkjet printer.
Fresh flowers must be replaced frequently. Instead, I used cuttings from the yard and dried greenery. The home is situated on a lot surrounded by bamboo, which Sean had incorporated into the exterior by crafting shading screens out of bamboo poles harvested during construction. I continued the look inside by adding large bamboo cuttings in the master bathroom. Dried fountain grass from my yard became a centerpiece in the dining room.
Vintage furniture was used throughout the house, but I modified some of the pieces. I found an inexpensive wood table with great lines, but the finish was a bit too dark. I brightened it up with a coat of glossy white paint, leaving the bottom half of the table's legs unpainted to add interest. After painting, I rubbed off some of the paint with sand paper to expose the wood and hint at natural wear and tear.
Court Houses are at 802 Cardinal Lane, Austin, 78724, and currently offered at $450,000 by listing broker Brian Linder of The Value of Architecture. Each house is approximately 2,000 square feet, with three bedrooms and 2 1/2 bathrooms. For more photos of the staging, click here.