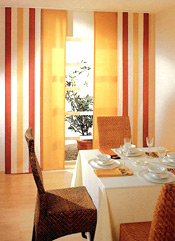 Hi Roger,

Thanks for all of the great ideas you share on the show! I'm trying to figure out what to do with my closet. I had to take the old, broken, oversized, mirrored doors off because I couldn't access the closet with them on. I don't like the idea of hanging big huge doors again and I'm thinking about a curtain. Do you have any ideas about the best way to hang a closet curtain or what material to use?

Robin H.
Anchorage, AK

PS. If you ever take the show to Anchorage again, I'd love to come and paint for you guys! I LOVE to paint!
Robin,

I'm not a big fan of drapes in the place of doors for closets, but I do understand your predicament. If you decide to proceed with drapes, there are two good options.
You could use a hospital track mounted in the door frame. It will feel more tailored and fit neatly within the door frame. This isn't the sort of thing you would find at a home decorating store, so you might have to resort to eBay or a medical supply store for the track and hooks. The drape itself could be fabricated from the material of your choice.
You could use panel tracks, which have become very popular and are now available in a wide range of colors. This would be mounted on the outside of the door frame. The fabric and hardware for these panels are usually sold together at home furnishing stores like IKEA.
As for your love of painting, I have plenty of projects you can tackle!

Roger
Dealing with your own design hazards? Submit your question to Roger and he will answer it in an upcoming post.

Roger Hazard
· Founder · Roger + Chris · Sharon Springs, NY
Roger Hazard is TV's original home stager, as well as designer / producer on the international, Emmy-nominated "SELL THIS HOUSE," "SELL THIS HOUSE: EXTREME," and "MOVE THIS HOUSE." MORE ABOUT Roger Hazard
Hot right now on Roger + Chris
Restyling a Garden House: Paint It Black
A cute, 160-year old Italianate Victorian had the potential to be a stunning garden house - but only after taming the garden, adding style to the porches, and applying some unexpected new colors.



RELATED POSTS