Grey House: Renovating a 160-year old Victorian.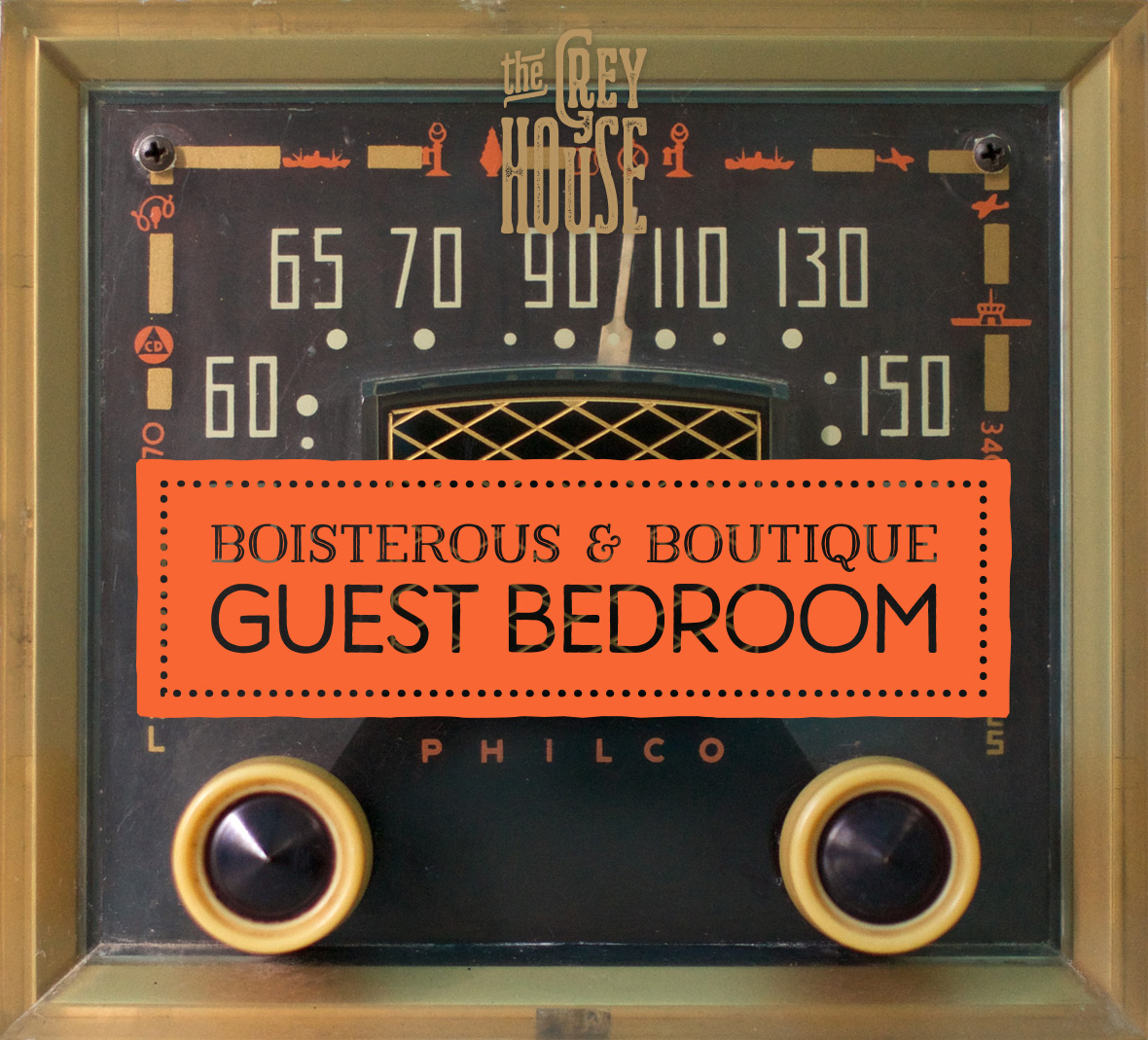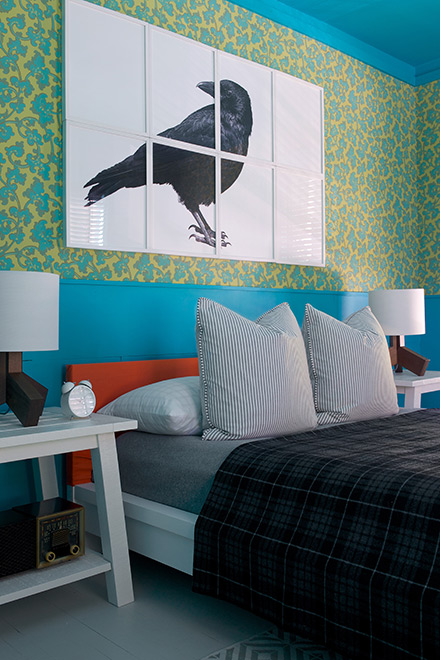 The finished bedroom is bursting with color.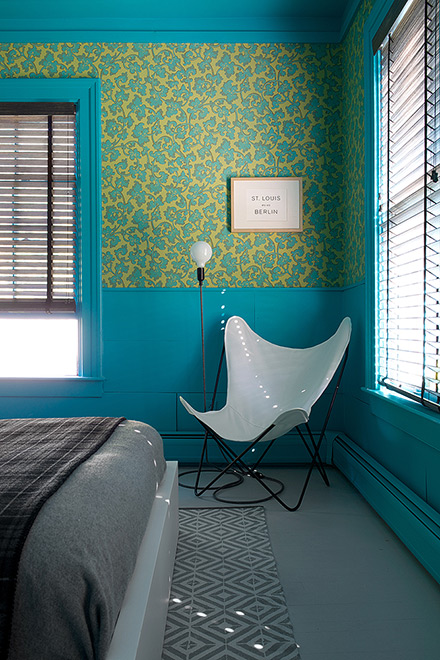 Neutral furnishings balance the strong wall colors.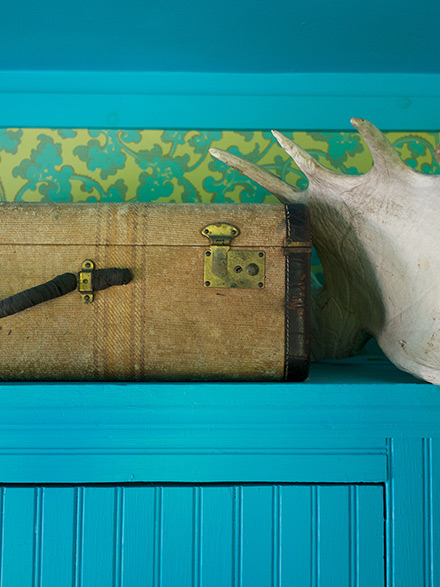 The small closet works well for guests.
We turned a rough, boring bedroom into an unforgettable space for our guests.
We relocated to a tiny village in gorgeous Upstate New York. What have we learned from every single relocation episode of "House Hunters"? That the guest bedroom is an absolutely essential room in the home, as an endless stream of house guests will begin arriving immediately upon closing.
Whether or not that proved true, we did want to create a memorable space for our guests with the spirit of a British boutique hotel. Besides, the odd layout of our home necessitated making changes to the guest bedroom early on in the renovation process. Our 160-year old Italianate Victorian had, after being abandoned for many years, received a quickie renovation in the 1990s. It probably saved the home from eventual demolition, but resulted in some questionable decisions - like, for instance, turning the only upstairs bathroom into an ensuite only accessible through the guest bedroom.
Our goals for this project
Address the weird layout. We planned to restore the bathroom entry in the hall, so the doorway inside the guest bedroom would be closed up to give more flexibility for furniture arrangement.
Fix the walls. We were starting with a room full of poorly taped and floated sheetrock. In addition to repairing all the cracks, lumps, and holes, we needed to add some details to the walls to break up the expanse of boring sheetrock.
Create a fun space. Our guests would mostly visit during warm months, so we aimed to create a room that was happy, bright, and summery.
Decking Out The Walls
Removing the bathroom door and repairing the hole in the wall was step one, and went smoothly thanks to our contractor, Drew Meka. We had custom wallpaper hand-printed by Adelphi Paper Hangings (whose reproduction papers grace the walls of the Lincoln Bedroom, and whose headquarters are conveniently located just down the street in our tiny village). The pattern is a historic volute dating from the time the house was built, but rendered in a wild and modern palette.
Sources
Paint & Paper: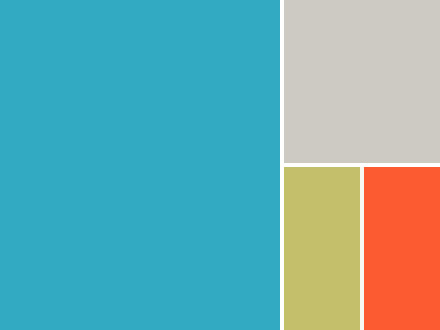 SW 6950
Calypso
SW 7015
Repose Gray (for floors)
Adelphi Volute wallpaper
Window Treatments: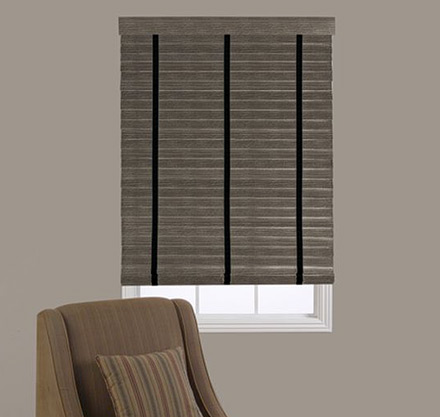 2" Wood Blinds in Vintage Ashen Finish with Black Twill Ladder Tape
, $210
Furniture: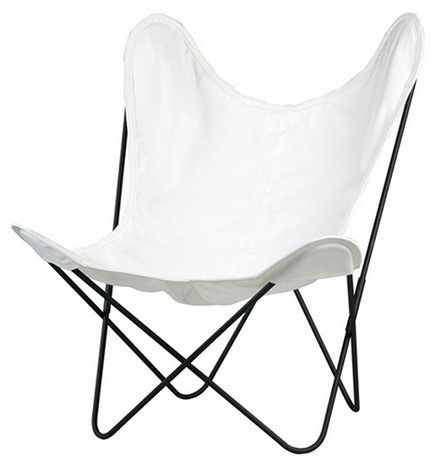 Hardoy Butterfly Chair
, $250
Malm Bed
, $149
Bedside Tables, West Elm (discontinued)
Lighting: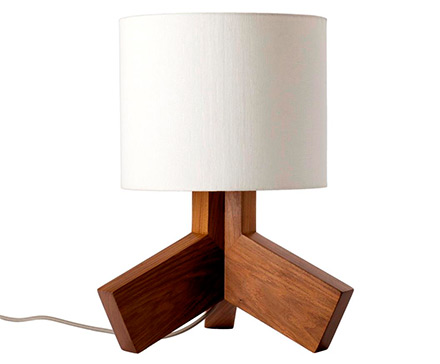 Rook Lamp
, $299
Cord Lamp
, $341
Bedding & Accessories: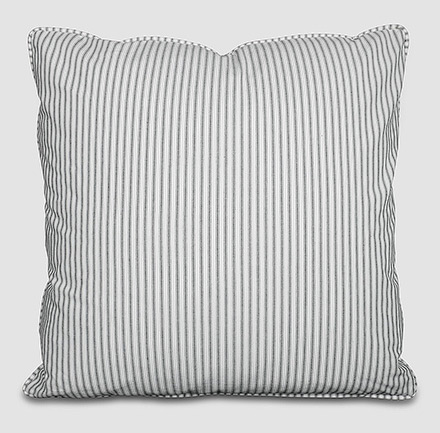 Ultimate Ticking Pillow
, $110
ACE NYC Pendleton Plaid Blanket
, $195
Area Rug, CB2 (discontinued)
Philco Radio
, $40
Our house - and frankly everything in the village of Sharon Springs - isn't particularly level. The floor in this bedroom has a noticeable slope, but the ceilings are even worse. Running wallpaper all the way up to the ceiling would emphasize the waves and slope. To avoid this and provide a level stopping point for the wallpaper, Chris applied lengths of board around the room about six inches below the ceiling. The board, wall above it, and ceiling were all painted Sherwin-Williams' Calypso to match the wallpaper.
Dealing with the walls was another challenge. Lumpy, cracked drywall, rough trim, and uneven baseboards weren't creating a welcoming space. Our solution was to add paneling to the lower half of the walls to create a shiplap look. Chris cut down four-by-eight sheets of thin plywood and fastened them to the walls with adhesive and brad nails, leaving a small gap between each piece to create interest. He added a square trim piece to provide a finished edge for the paneling and a bottom stopping point for the wallpaper. CertaPro Painters continued the work, retaping and floating the cracked walls, removing peeling paint from the windows, and adding refinement to the paneling by sealing gaps in corners, before giving everything multiple coats of paint.
Making Things Disappear
Like the ceiling, the paneling, windows, and baseboards were all painted the same color. We hated our home's ugly baseboard radiators. All of them were painted a sickly, pinkish beige, and the paint was scratched, chipped, and rusting. Charming. We had the metal covers removed and repainted to match the baseboards, effectively camouflaging the radiators.
Ceiling fans are almost always hideous, so we opted for an inexpensive model without a light that Roger spray painted to match the ceiling. Everyone ignores it, which is exactly how a ceiling fan should be treated.
After the walls were smoothed out and the paneling was painted, we enlisted the help of our friend and paper hanger extraordinaire Jim Grinchis to apply the wallpaper. Because Adelphi's papers are created using centuries-old block printing, the delicate paper needs to be trimmed to remove unprinted edges. Jim measured and pasted each drop, matching patterns perfectly. He even papered the light switch.
Bringing It Back Down
With so much color in the room, we opted for relatively neutral furniture and decor. We painted an IKEA platform bed white (and, okay, wrapped the headboard in orange fabric for a bit more color), added white side tables, placed a black and white Hardoy butterfly chair with a floor lamp, neutral bedding, and oversized ticking pillows from our line.
For artwork, we decided to create something that would appeal to one of the most likely house guests - Chris' mom Carla, a poet who often writes about crows. After finding a gorgeous photo on a stock photography site, we decided to combine eight inexpensive picture frames to create a window pane effect. Chris enlarged the image in Photoshop, mapped out the positioning of each frame to ensure the assembled image would align, and printed each panel on velvet art paper. We fastened the frames together with self-drilling screws to create a single piece, and carefully hung it above the bed. The huge piece is visible from the street when the blinds are open and definitely gets noticed.
Would this wildly colorful space be appropriate as a master bedroom? Probably not. But we wanted to give our visitors a boutique hotel experience for a few nights, and it's color and whimsy that makes those hotels so memorable. We love this colorful room, and so do our guests.
What do you think of the transformation? Have questions about the projects or where we found supplies? Share your comments and questions below!

Hot right now on Roger + Chris

How to Clean Velvet Furniture
Velvet fabric can be a bit trickier to clean than other fabrics because, in addition to removing the stain, you must take care to avoid "crushing" the nap of the fiber. Here are some tips to help you successfully remove stains without damaging your beautiful furniture.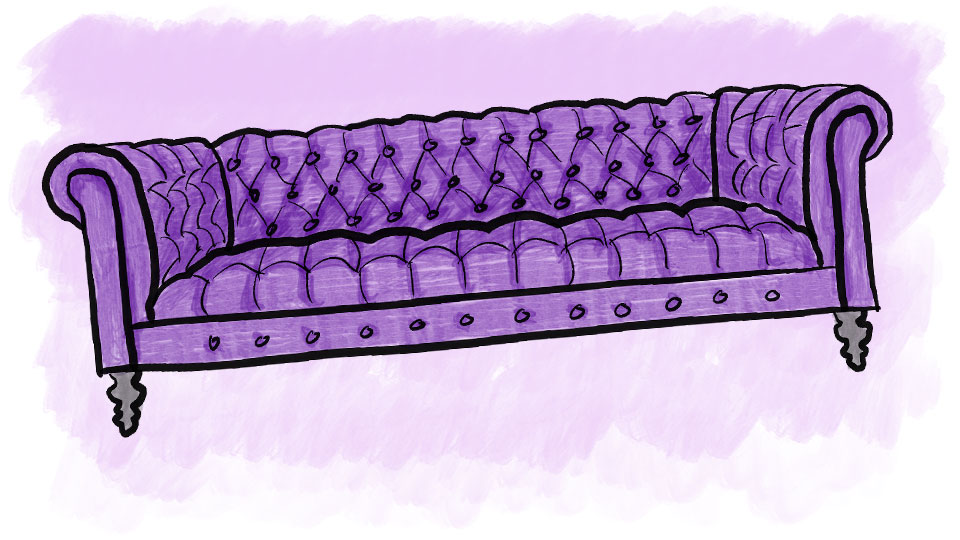 Best Blue Velvet Sofas
We've gathered some of our favorite sofas and armchairs in gorgeous blue velvets, along with design inspiration from around the web.

GUEST BEDROOM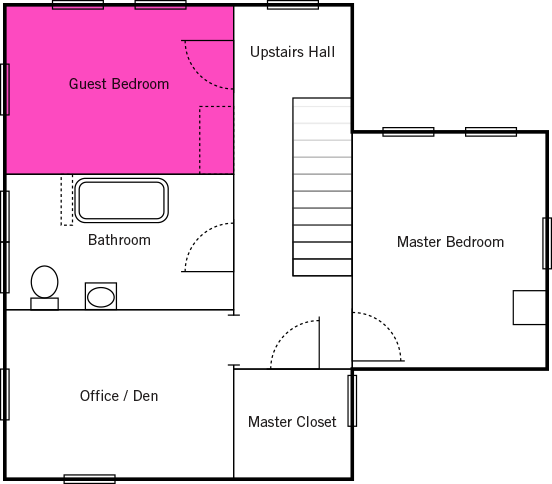 RELATED POSTS
Wee Wheels Tiny Car Show Gallery
Our village hosted the first annual Wee Wheels Tiny Car Show this past weekend. It was a huge success (well, as huge as a tiny car show can be). Here's a gallery of photos from the event.

Mastered Bedroom
Paint, lattice, and a nail gun turned this sunny but boring room into a master retreat.

It's April, Fools
What a difference a few degrees can make. The snow is retreating. Birds are chirping. The crowds have returned to the village.