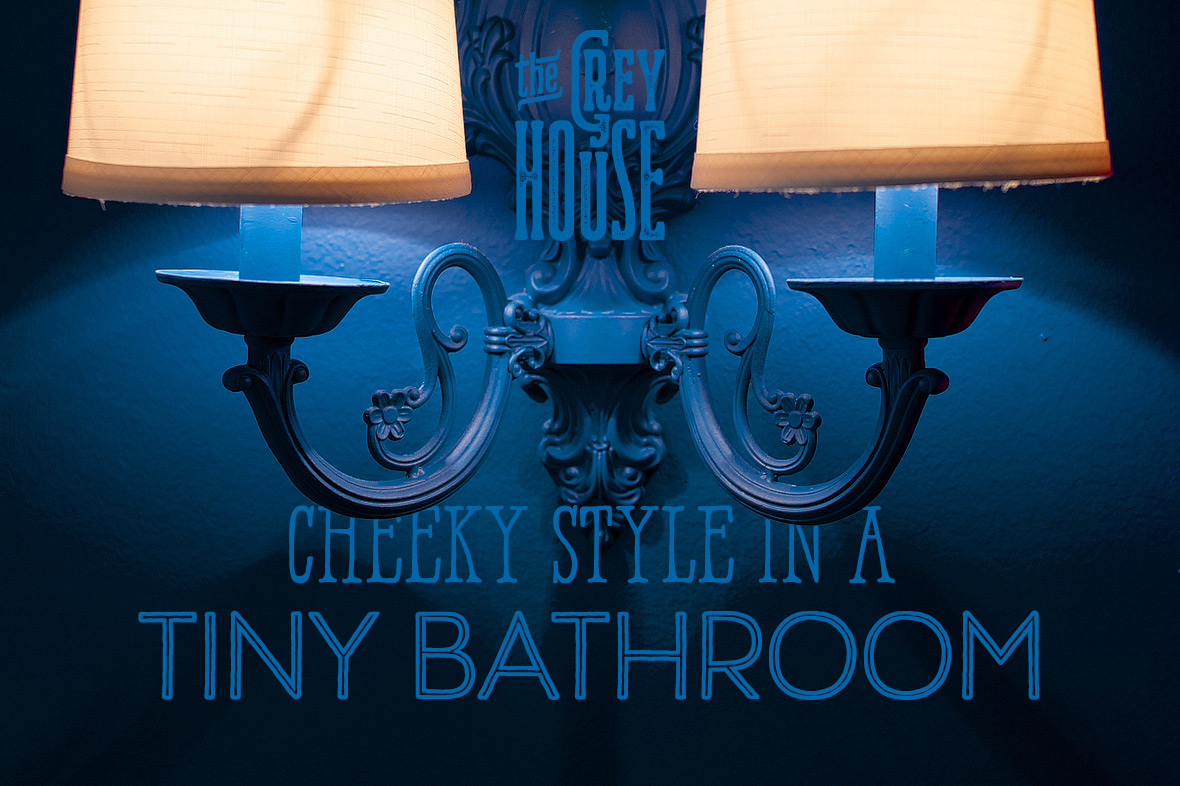 We turned a drab little bathroom into a bright and bold space on a shoestring budget.
Our 160-year old Italianate Victorian has two bathrooms - a spacious upstairs bath with a six-foot clawfoot tub that we completely renovated, and a tiny downstairs bath off the kitchen, with a utilitarian sink/toilet/shower configuration.
Likely installed in the 1940s or 50s, the bath hadn't received much attention in the ensuing years. A cute but well-used pedestal sink with separate taps, a tiled (and tiny) shower, fairly gross floor, and square tile running halfway up the walls. On the plus side, the large window brought plenty of sunlight into the space.
Our goals for this project
Spend as little as possible. This was one of the last rooms to tackle when renovating our house and, well, the budget was running out fast. We kept the tab low by working with what we had. That meant no plumbing or electrical changes.
Get rid of the floor. The wall tile seemed salvageable, but the floor wasn't. The chipped 1-inch tile with thick grout lines and grime that we couldn't ever seem to remove was unpleasant to look at and walk on.
Make it fun. The bath was utilitarian, but we wanted something everyone could love. During the day, the existing room wasn't terrible, but at night it was pretty unappealing. This is the bathroom most of our guests will use, so it needed to wow, whether day or night.
Going with color
We started by painting the walls and ceiling a bold blue. With so much of the wall space covered with tile, carrying the color to the ceiling avoided chopping up the small space any further.
Sources
Paint: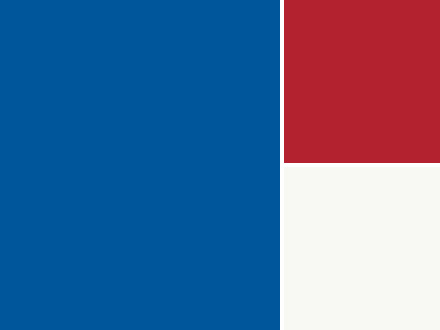 SW 6965
Hyper Blue
SW 6871
Positive Red
SW 7757
High-Reflective White
Floor: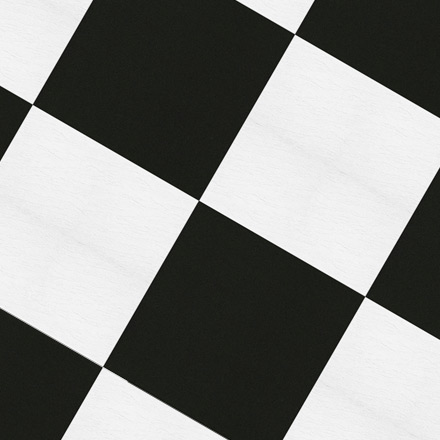 12x12 Black Gloss Tile
, $0.69/sqft
12x12 White Gloss Tile
, $0.69/sqft
Lighting: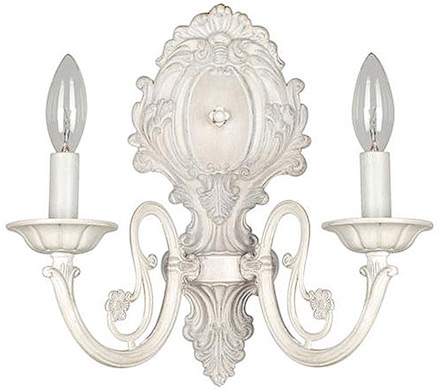 Antique White Candle Wall Sconce
, $49.98
White Chandelier Lamp Shade
, $5.97
Fabric: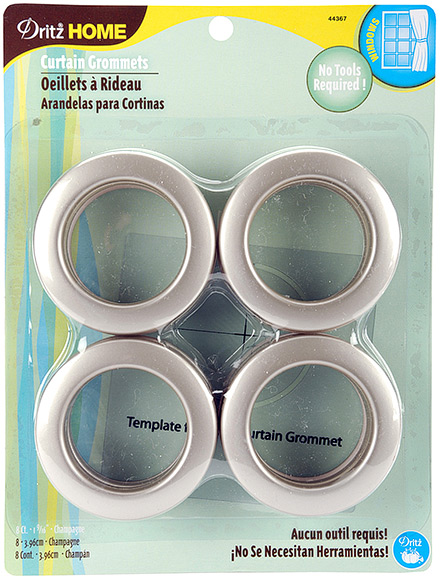 Curtain Grommets
, $12.99
Assorted home decor fabric, Jo-Ann Fabric
Toilet Seat: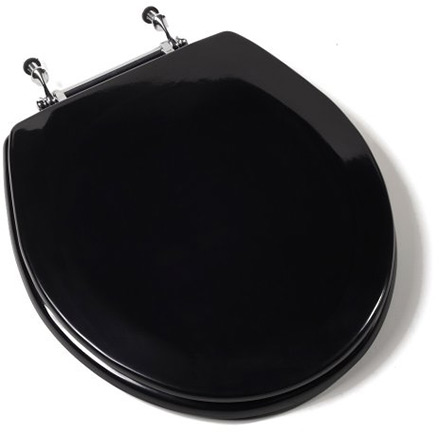 Molded Wood Toilet Seat
, $26.05
Soap: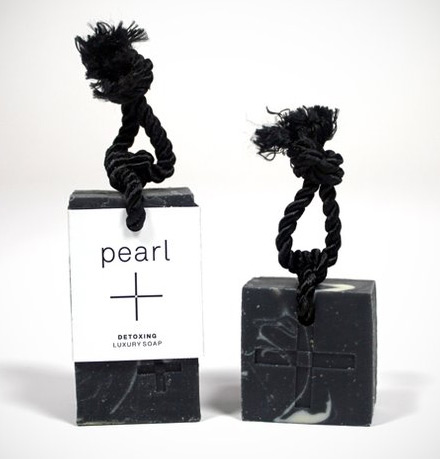 Detox Soap from Ace Hotel NYC
, $6
We covered the floor with the cheapest product we could find: vinyl peel-and-stick tile. We know what you're thinking - "Eww!" But mixing white and black tiles in a diamond arrangement and adding white painted baseboard moulding to create clean edges make the bathroom so much more pleasant. The tile feels great underfoot and is easy to keep clean - essential for our muddy region. Should a tile get damaged, replacing it is effortless and costs just 76 cents.
Tips: Lay your tile in a diagonal pattern for a more interesting look. Be sure to keep the grain running in the same direction, and keep your seams as tight as possible. Buy extra blades for your utility knife. They dull quickly while cutting the tile, leading to jagged edges. Want to run the tile under baseboard trim? Use a Fein MultiMaster tool to notch the wood to the precise height. Oh, and don't get the glue on your pants...it'll ruin them.
Roger revitalized the existing medicine cabinet, taking off decades of flaking paint and repainting it in a bold red. We wanted to replace the utilitarian sconces, but needed to keep the location. We found inexpensive replacements at one of the big box stores, but they were too shabby chic for us. We painted them the same color as the wall, added small chandelier shades, and installed a dimmer switch. They look terrific during the day and provide a cozy glow in the evening.
Hangups
We're not fond of most towel bars and hooks. They seem to multiply, particularly in small spaces, with two bars for bath towels and another for hand towels. All mounted at different levels and spread around the room. Our low-budget solution was to create one long bar that could hold everything, including a soap-on-a-rope over the sink. We used 1/2-inch pre-threaded galvanized pipe for the project, combining one long run with two 90-degree elbows, short nipples, and two floor flanges fastened to the wall. We made a matching bar for drapes, and hung the white drapes using small metal ring clips. The result is plenty of space for towels without adding clutter to the tiny room.
Tip: Want to add drapes to a window without cutting down on light? White drapes can actually increase the perceived brightness in a room. They will make the window appear larger and transfer some of the sunlight across a wider expanse. Privacy, softness, and even more light!
We fell in love with the little pedestal sink, but were less enamored with the exposed drain pipe and chipped base. Chris sewed a skirt for it out of a polka dot print, hemmed to just above the floor. Roger applied industrial strength adhesive-backed Velcro beneath the sink, and Chris sewed the other half of the Velcro into the skirt. A little bit British boutique hotel, a little bit Minnie Mouse, a lot of fun. When we get bored of the pattern, we can replace it with something new for under $20.
Because of the tight dimensions, anyone entering the bathroom walks right past the shower curtain. The uncommon size demanded a custom curtain. We wanted one that felt a little bit special and connected with the rest of the home. Black and white ticking is one of our go-to patterns for The Grey House, so it was a natural fit. We used cut-and-snap drape grommets and a tension bar; a second, waterproof curtain is mounted behind our fabric curtain.
Other little touches include a black toilet seat to play on the black-and-white floor, a funky toilet paper holder that we created by painting a wood sculpture white, a vintage oil portrait, and a black Shaker ladder-back chair that we use as a towel stand.
The downstairs bathroom of the Grey House may not be big, but its bold, cheeky style leaves our guests - and us - smiling.
What do you think of the transformation? Have questions about the projects or where we found supplies? Share your comments and questions below!