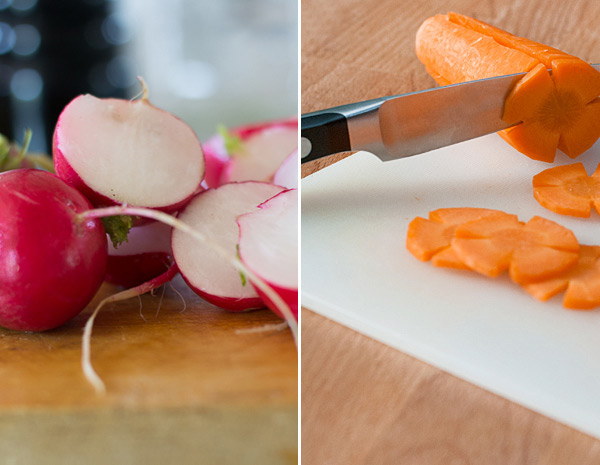 Most upholstery fabric is like a radish - it's only colorful on the outside.
Radishes are red, right? But cut a radish in half, and you'll see that it's almost entirely white, with just a thin layer of red on the outside.
Most fabric upholstery is made with textiles that are like radishes. White textile fibers receive a coating of dye on the outside. This thin coating is fragile - it can fade in the sun or be pulled off by cleaning products. Damage to the dye means the white fiber underneath begins to show through, ruining the color.
We have a superior alternative, called solution-dyed fabrics. These textiles aren't like radishes; instead, they're more like carrots - one consistent color, inside and out. This means that they don't fade in the sun and stains can be safely treated using cleaners that might otherwise bleach or discolor fabric. All that, and they have the same soft feel and style of traditional fabrics.

Our newest additions to our collection of solution-dyed fabrics come from Bella-Dura. Their Hideaway, Canopy, and Sunray lines (shown above) feature colors and textures that feel wonderful and will look great in your home for years to come. In addition to their fade and stain resistance, they boast some seriously impressive credentials:
Designed to exceed 50,000 double-rubs (This industry measurement indicates durability; 15,000 double-rubs is generally considered heavy duty, so this is some seriously durable fabric)
Stain, microbial, and mildew-resistant, water-repellant, and bleach-cleanable
100% recyclable and sustainably-made, using comparably less energy and water than competing products, from a by-product of the petroleum refining process
Oh yeah...and Bella-Dura fabrics are made entirely in the USA by a fourth-generation, family-run mill located in New Jersey. Pretty cool, huh?
Our growing selection of solution-dyed fabrics can be found in the "Colors" section of each of our furniture profiles. Look for products from Bella-Dura, Sunbrella, and Leslie Jee.

Hot right now on Roger + Chris
How to Clean Velvet Furniture
Velvet fabric can be a bit trickier to clean than other fabrics because, in addition to removing the stain, you must take care to avoid "crushing" the nap of the fiber. Here are some tips to help you successfully remove stains without damaging your beautiful furniture.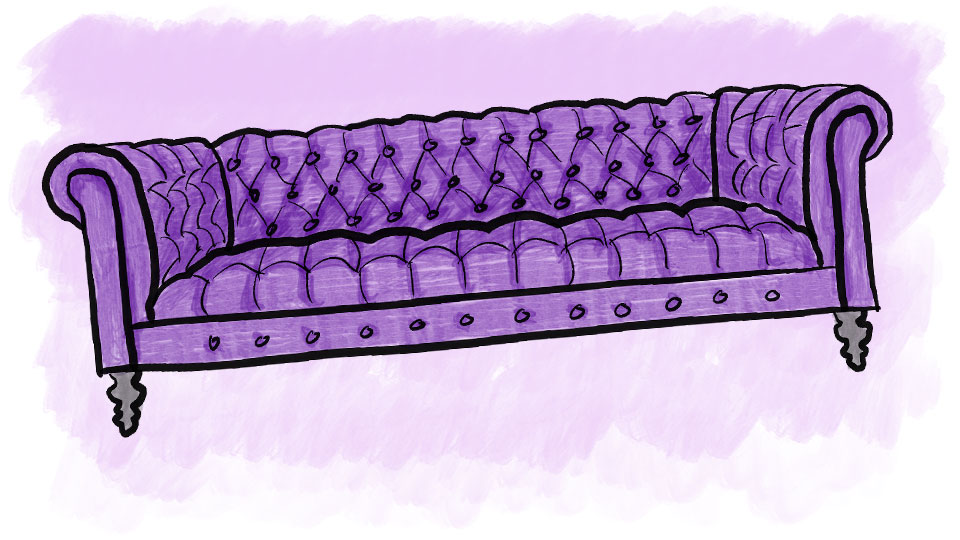 RELATED POSTS

Chesterfield Sofas: The History (Maybe...)
A probably-not-totally-fabricated history of the Chesterfield sofa: Lord Philip Stanhope, the Fourth Earl of Chesterfield (b.1694, d.1773), is believed to have commissioned the first settee that would come to be known as the Chesterfield sofa. Details are scarce, but the following is more or less the tale of how this iconic sofa came to be.