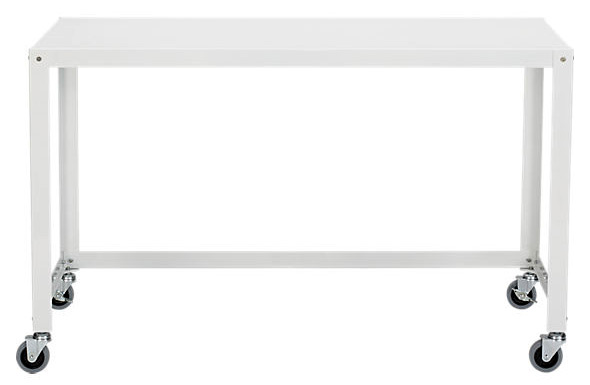 It isn't your fault you're an icy monster, desk. But you must go away now.
We bought a modern, metal desk for our home office. It has clean lines, fun casters, and looks great. We bought it last summer. I loved it. And now it's winter. And I hate it.
I hate this desk because it's cold. And my desk sits against an outside wall. So it's even colder. The surface is chilly to the touch, so my aluminum laptop is chilly to the touch, so I am chilly to the touch. And I'm wearing four shirts.
Seasons have a tremendous impact on how you live within your home, and few places more so than Sharon Springs. In the summer, we seek out cross-breezes and shade, since most of us do without central air conditioning. In the winter, we curl up near radiators. Only a handful of the houses in the village are well-insulated. We have expensive oil-burning boilers and leaky, Victorian-era windows. Drafts abound. It's dire.
I'm doing as much work as I can curled up on a sofa, but we're on the lookout for an old wooden desk. It will be warmer in both appearance and feel. I won't shiver at the idea of starting my morning sitting at it. It will make next winter just a little bit more tolerable.
And, if worse comes to worse, we can use it as kindling.