Kitchens 101: Trends and best practices in kitchen style, layout, and functionality.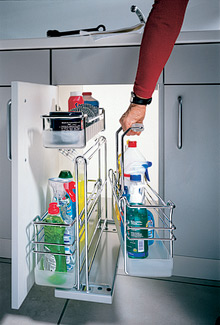 Ready to go at a moment's notice.
Many of us use our kitchen as the home for our cleaning supplies. Keeping everything in one location can make it easier to quickly locate that bottle of glass cleaner when you need it, but it can also mean a lot of running back to the kitchen for one bottle at a time.
This pull out rack features three detachable baskets that can be easily carried from room to room. An ergonomic handle keeps the basket balanced in your hand, and an impermeable plastic liner keeps chemicals from dripping and making messes.

Roger Hazard
· Founder · Roger + Chris · Sharon Springs, NY
Roger Hazard is TV's original home stager, as well as designer / producer on the international, Emmy-nominated "SELL THIS HOUSE," "SELL THIS HOUSE: EXTREME," and "MOVE THIS HOUSE." MORE ABOUT Roger Hazard
Hot right now on Roger + Chris

Restyling a Garden House: Paint It Black
A cute, 160-year old Italianate Victorian had the potential to be a stunning garden house - but only after taming the garden, adding style to the porches, and applying some unexpected new colors.

Best Blue Velvet Sofas
We've gathered some of our favorite sofas and armchairs in gorgeous blue velvets, along with design inspiration from around the web.

RELATED POSTS
Deconstructing a Kitchen: Sleek Sophistication
There's modern, and then there's MODERN. This kitchen pulls out all the stops to deliver a sleek, ultra-contemporary look. There's substance behind all that style, with clever planning that maximizes storage and work space.

Guidebook, Step Three: Identifying a Style
Step three of the design process focuses on identifying a kitchen style. Whether you're working with an interior designer or taking on the project yourself, you will need to spend some time researching your options in order to choose the look that works best for your home.