Kitchens 101: Trends and best practices in kitchen style, layout, and functionality.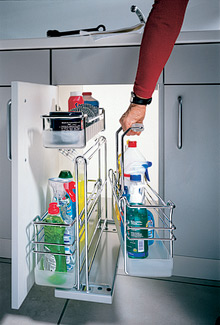 Ready to go at a moment's notice.
Many of us use our kitchen as the home for our cleaning supplies. Keeping everything in one location can make it easier to quickly locate that bottle of glass cleaner when you need it, but it can also mean a lot of running back to the kitchen for one bottle at a time.
This pull out rack features three detachable baskets that can be easily carried from room to room. An ergonomic handle keeps the basket balanced in your hand, and an impermeable plastic liner keeps chemicals from dripping and making messes.

Roger Hazard
· Founder · Roger + Chris · Sharon Springs, NY
Roger Hazard is TV's original home stager, as well as designer / producer on the international, Emmy-nominated "SELL THIS HOUSE," "SELL THIS HOUSE: EXTREME," and "MOVE THIS HOUSE." MORE ABOUT Roger Hazard
Hot right now on Roger + Chris
Best Blue Velvet Sofas
We've gathered some of our favorite sofas and armchairs in gorgeous blue velvets, along with design inspiration from around the web.



RELATED POSTS
Functionality: No Mud Room? Create an Organization Station
The kitchen is the point of entry for most homes. For those of us without mudrooms, this means the kitchen becomes the default dumping ground for jackets, shoes, hats, book bags, and purses. If you don't have space to create a mudroom or closet, a custom organization station can be a highly functional, unobtrusive alternative.

Kitchen Inspiration Pinboard: Elegant Eat-In
We often think of the dining room as the setting for formal meals, while the kitchen table takes on the far more casual day-to-day role. But why not infuse an eat-in kitchen with high-end style to create an air of elegance?

Guidebook, Step Six: Dealing With Contractors
Step six of the design process addresses working well with your general contractor. A good working relationship with your kitchen renovation contractor can be the factor that determines the success of your project. Here are seven key tips for creating and maintaining a harmonious partnership.