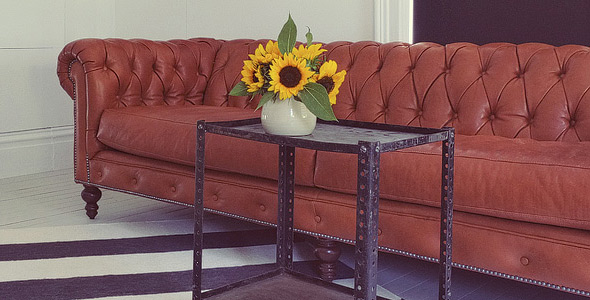 The Chesterfield: the undisputed king of sofas.
The Chesterfield sofa - one of the oldest and most desireable sofa styles - is seeing a very well-deserved resurgence in popularity. As "the king of sofas," the Chesterfield bring a huge amount of style and comfort to any home or business. Available as a sofa, sectional, armchair, or chaise, there are quite a few things to consider when picking the perfect one. Here are 10 tips that will give you a big head start on the search for your dream Chesterfield.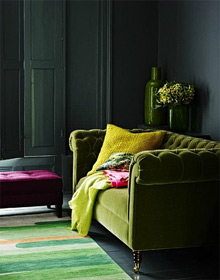 Stunning green velvet sofa. (Image via Pinterest)
1. Don't forget comfort
Buying a classic sofa decision doesn't have to mean stepping into the past in terms of comfort. We encourage you to sit in our competitors' sofas to experience how uncomfortable Chesterfields can be. Our Higgins improves upon the traditional design by integrating a subtly angled back. As opposed to the traditional vertical back, our version provides the lower back support critical for all-day comfort - without the need for throw pillows. While most of our competitors use low-grade foam, our heavy seat cushions consist of multidensity foam wrapped in a down feather blend. Substantial, plush, and durable - with the gorgeous Chesterfield lines.
2. Designing around a Chesterfield
Chesterfields make an impact - that's why we love them so much. But without balance, their massive forms and attention-grabbing tufts can steal all the attention from the room surrounding them. To balance out a Chesterfield, consider bring in some clean-lined modern elements and/or rustic forms. Integrate furniture and artwork with strong colors, and experiment with a fun area rug.
Chesterfields make an impact - that's why we love them so much.
One of the best positions for a Chesterfield is floating in the middle of a room. The distinctive rolled back rest looks great from behind (unlike the backs of many sofas) and the low profile prevents the sofa from becoming a visual barrier in the room. This is perfect for creating a conversation area within a larger space. Your Chesterfield won't block the view across the room, but will still define the space-within-a-space. This unique ability to float while adding interest is why Chesterfield sofas are so popular in the lobbies of luxurious boutique hotels and sophisticated lounges.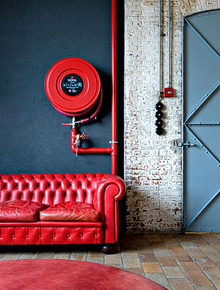 Not subtle. (Image via Pinterest)
3. Trending traditional?
Chesterfield sofas have historically been upholstered in dark velvets - gem tones like ruby red, deep blue, and emerald green, or mushroom brown. These colors, together with velvet's luxurious feel, settle perfectly into a classic study. For leather Chesterfields, dark neutrals or gem tones in distressed leathers create a classic look that ages beautifully.
4. Considering contemporary?
Placing a Chesterfield in a more modern environment may mean opting for brighter, bolder colors like orange, light blue, or bright red, or lighter neutrals like mid-tone grey, white, or linen. These lighter colors prevent the visual mass of the Chesterfield from overwhelming the room with too dark of a color - a good option for rooms without dark walls.
5. Choose your upholstery wisely
Traditional style doesn't have to come with traditional worries. A number of advanced fabrics are now available, delivering the same soft feel as woven cotton, improved durability, and exceptional stain and sun fade resistance. Living with a fabric sofa has never been easier, as worries about permanent stains can be put to rest. This is great news, since Chesterfields look great upholstered in lighter shades of fabric.
6. Respect the tufts
The chesterfield's deep tufts and generous rolled arms and back are the attention-getting features that make this sofa such a bold addition to a home. Our Higgins Chesterfield can be ordered with either our narrow tufting configuration - with buttons spaced about 5.5 inches apart - or our wider configuration - with buttons about 8 inches apart. We feel that narrow tufting provides a more traditional appearance with an ever so slightly firmer surface, while the atelier spacing works well in more contemporary spaces and is slightly plusher.
7. Leg logic
Chesterfields are typically shown with ornately-styled legs. Turned legs are the most common, followed by a variety of bun feet, some fluted, some with casters. Square tapers make occasional appearances for a more modern look. Chesterfield legs vary from around four inches tall to about six inches. We offer our Chesterfield sofas and armchairs with a variety of leg styles and colors. In addition to standard wood stain colors, we can match a specific stain or even paint the legs.
8. Sizing out the sofa
Remember that the Chesterfield couch is a substantial piece of furniture! Even though it has a relatively low back and is therefore lower-profile than many sofas, the design features prominent rolled arms and back. The arms add about eleven inches each to the length of the sofa, so remember that you will need a slightly longer sofa than you might expect to obtain your required amount of seating space. If you are looking for a tufted piece of furniture but are working with a smaller room, you may want to consider our shallower options (described below) or our Atticus sofa line.
9. Know your configuration options
Our Chesterfield sofas and sectionals can be ordered in endless configurations. In addition to the choices of upholstery, color, leg style, tufting pattern, and size (as mentioned above), we can customize details like nail heads, the seat cushion configuration, and seating depth. Seat cushions can be made as bench seats, tight seats with or without tufting, and even in our distinctive diamond stitching pattern. Our flat-back option removes the rolled back rest and is ideal for Chesterfields that will be placed against a wall in a smaller space. Our Chesterfield sectionals can be ordered in dozens of sizes and shapes, with options including chaises and matching ottomans. We can even create Chesterfield sleeper sofas!
Overwhelmed? That's understandable, and a good reason to...
10. Talk to us!
Our Chesterfield sofas, sectionals, and armchairs can be ordered with dozens of different options, leading to millions of combinations. Which, in fairness, might make your head hurt. But have no fear...the Hazards are here! Drop us a line to get some help putting together the Chesterfield sofa of your dreams. Remember that each of our Chesterfields are made in the U.S.A. and built to order; we will work directly with you to design the perfect piece for your home or business.