Kitchens 101: Trends and best practices in kitchen style, layout, and functionality.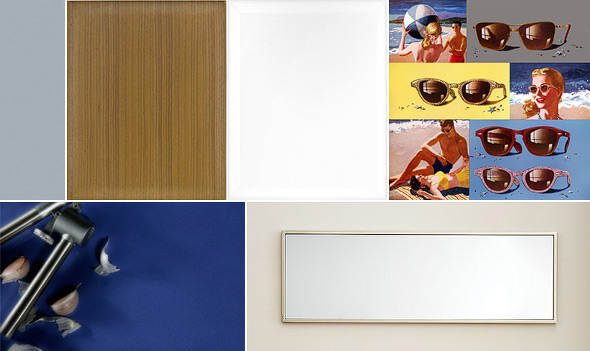 Above from top left: Affinity AF-545 "Solitude", Quarter Sawn Black Walnut cabinet door, White Gloss cabinet door, Retro Eyewear print, Metal Landscape Mirror, Silestone Blue Enjoy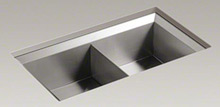 Under-Mount Double-Equal Bowl Kitchen Sink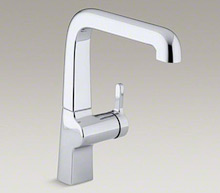 Evoke Kitchen Faucet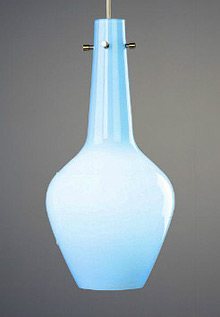 Capri Bottle Pendant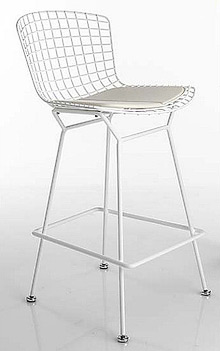 Bertoia Stool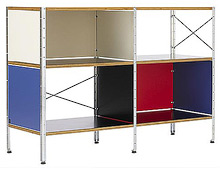 Eames Storage Unit
Modern spaces are sleek, sexy, and dramatic. But they can also be sterile and devoid of personality. In this inspiration pinboard, I introduce playful colors and lots of bright surfaces to keep the kitchen feeling friendly and happy.
Cabinetry:
Custom Cupboards Quarter Sawn Black Walnut - Fusion - 14
Custom Cupboards White Gloss - Italia - 14
These door profiles feature the luxurious, modern style of Italian designer furniture without sacrificing the practicality and durability for which Custom Cupboards is known. With the Revola line of full-access frameless cabinets, gaps between cabinet doors are virtually nonexistent, lending a slick seamlessness to the space. The Black Walnut doors are used for the base and upper wall cabinets, while the White Gloss doors are used on the oversized island.
Countertops:
Silestone White Zeus Extreme, Blue Enjoy
Gleaming white Silestone countertops bounce light around the room and balance the darker tones of the Black Walnut cabinets. The oversized island boasts a bold and unforgettable blue counter. Made from quartz, these countertops are durable and stain-resistant.
Cabinet hardware:
Elements 26SN Naples Knob, Satin Nickel, $3
Schaub & Company Italian Design Pull, satin nickel, $10
Simplicity is the goal here. Conical knobs add a modern touch without attracting too much attention, and the linear pulls offer the utmost in sleek minimalism while still delivering day-to-day functionality.
Backsplash tile:
Mod Walls 2x8-inch Subway Tile in "Milk"
The look of timeless subway tile in a less-familiar 2x8-inch configuration brings sleek modernity to a classic favorite. In white, it will extend the countertops upwards, bouncing even more light.
Sink and faucet:
Kohler Poise Stainless Under-Mount Double-Equal Bowl Kitchen Sink, $2162
Kohler Evoke Single-Hole Kitchen Sink Faucet with 9" Spout in polished chrome, $696
The sink will be located in the large island, set into the attention-grabbing blue countertop. A sleek, tailored under-mount, the Poise stainless sink features a distinctive beveled edge and crisp, 90-degree corners. The Evoke faucet provides utilitarian modernism with rounded angularity and minimalist style.
Paint:
Benjamin Moore Affinity AF-545 "Solitude"
This muted blue-gray will nicely complement the walnut cabinetry without fighting the stronger blue hues elsewhere in the room.
Lighting:
Jonathan Adler Capri Bottle Pendant in blue, $195.00
The pale blue glass of this graceful pendant echos the color of the island below it without resorting to cobalt-colored glass. A row of three pendants arranged over the island would provide a generous amount of task lighting and balance out the large island.
Accent furniture:
Herman Miller Eames Storage Unit, 2x2 in multi-color, $1,249
Without a dose of variety, modern kitchens can feel like cold commercial buildings. An Eames Storage Unit provides helpful additional storage for larger display items while introducing bright color and iconic American mid-century design.
Counter stools:
Bertoia Counter Stool with Seat Pad in white, $1,096
These beloved Bertoia stools are a joy to look at and, with seat pads, a joy to sit in. An ageless mid-century design, they help keep our modern kitchen from feeling simplistically contemporary.
Art and accessories:
West Elm Metal Landscape Mirror, $199
Plan 59 24 x 24-inch Retro Eyewear Print, $65
A large mirror in landscape orientation reflects light from the windows back into the kitchen and serves to open up the space, while a reprint from a vintage ad for sunglasses introduces more color and a lighthearted vibe.
Dinnerware:
West Elm Seedling Dinnerware Set, $20
Muted, repeating geometric patterns add subtle interest to this dinnerware set. A great design that won't upstage the food.
Area rug:
CB2 Pegboard Reversible Rug, $99
This reversible acrylic area rug is anti-microbial, anti-bacterial, and anti-static - all helpful traits for kitchen use. Moppable with soap and water, cleanup is easy too. The die-cut holes add interest and contemporary flair.

Roger Hazard
· Founder · Roger + Chris · Sharon Springs, NY
Roger Hazard is TV's original home stager, as well as designer / producer on the international, Emmy-nominated "SELL THIS HOUSE," "SELL THIS HOUSE: EXTREME," and "MOVE THIS HOUSE." MORE ABOUT Roger Hazard
Hot right now on Roger + Chris
How to Clean Velvet Furniture
Velvet fabric can be a bit trickier to clean than other fabrics because, in addition to removing the stain, you must take care to avoid "crushing" the nap of the fiber. Here are some tips to help you successfully remove stains without damaging your beautiful furniture.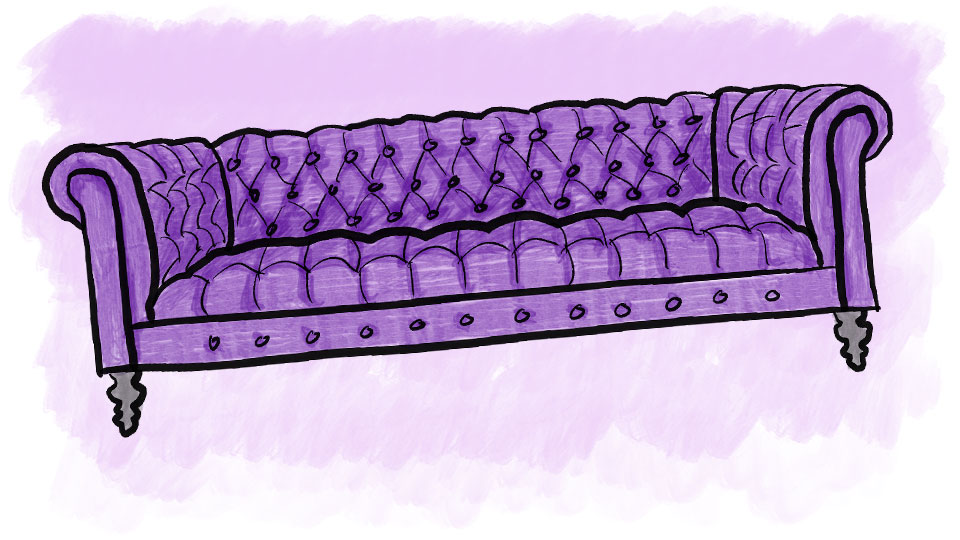 Best Blue Velvet Sofas
We've gathered some of our favorite sofas and armchairs in gorgeous blue velvets, along with design inspiration from around the web.

Restyling a Garden House: Paint It Black
A cute, 160-year old Italianate Victorian had the potential to be a stunning garden house - but only after taming the garden, adding style to the porches, and applying some unexpected new colors.

RELATED POSTS
Deconstructing a Kitchen: Hajdu Kitchen
Amy and Chris Hajdu purchased this West Austin home just over a year ago. The house, built in the early 1960s, had been well cared for but had received minimal updates over the decades. The Hajdus purchased the house from the original owner with the goal of respecting the existing architecture, while modernizing the systems and styling.

Deconstructing a Kitchen: Clarksville Bungalow
I tackled this tiny Austin kitchen in the premier episode of my TV show, "Sell This House: Extreme." In just a few days, my team and I completely renovated the kitchen ? as well as the living room, dining area, both bedrooms, and the front yard. While all of the changes we made were important to increasing the value of the home, the kitchen transformation packed the biggest punch, helping boost the asking price by $100,000.

Guidebook, Step Two: Defining the Project
After carefully considering how the layout, style, and purpose of your kitchen fits with the rest of the house, it's time to define your kitchen renovation project by assisting your unique priorities, identifying the spaces that will be impacted by the renovation, seeking opportunities to optimize your budget, and applying the information you gleaned from Step One.