Kitchens 101: Trends and best practices in kitchen style, layout, and functionality.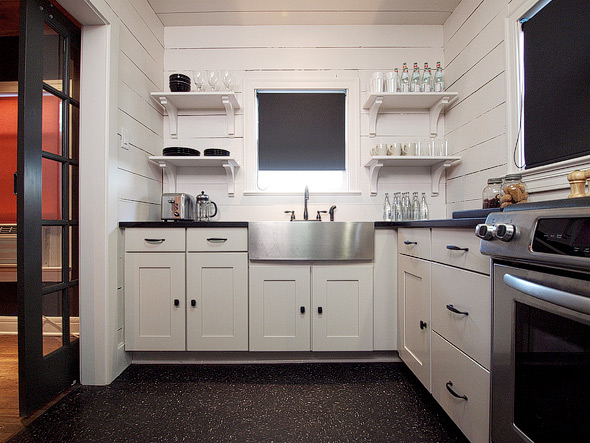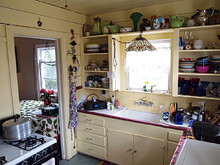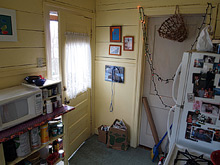 The existing kitchen was closed off and well-worn.
I tackled this tiny Austin kitchen in the premier episode of my TV show, "Sell This House: Extreme." In just a few days, my team and I completely renovated the kitchen - as well as the living room, dining area, both bedrooms, and the front yard. While all of the changes we made were important to increasing the value of the home, the kitchen transformation packed the biggest punch, helping boost the asking price by $100,000.
Open Doorways
The entrance to the kitchen from the dining room was a tight, uninteresting doorway. While I was unable to expand the footprint of the compact kitchen, opening up the wall and adding sliding French doors created an enhanced sense of space and reduced congestion between the two rooms. We also took the opportunity to relocate the range, as placing a stove alongside the most-used pathway into a kitchen isn't ideal.
Be Bold Without Being Garish
Rather than loading down this small space with bold colors that might turn off potential buyers, I opted for neutrals. But, as you know, the challenge with using neutral tones is keeping the room from feeling "blah."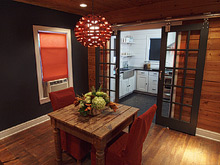 Sliding French doors open the kitchen to the dining room.
I maximized impact by selecting finishes with the maximum of contrast - bright off-white for the cabinetry, shelving, walls, and ceiling. Charcoal and black for the countertops, floor, window treatments, and French doors. I even carried this into the accessories, styling the open shelves with porcelain-white cups and black plates.
Reclaim Wall Space
This tight kitchen included a peculiar doorway into the master bedroom. While the door was never used by the owner, its placement limited available wall space in the kitchen and created furniture placement problems in the bedroom. We removed the door, allowing us to relocate the refrigerator and create more floorspace.
Texture Enhances Simple Surfaces
Not every kitchen needs to be torn down to the studs when remodeling. Retaining the distinctive character of your kitchen can make for add more impact to the finished product. Much of the charm of this small home came from the rustic construction, with rough shiplap walls and ceilings rather than the more finished look of plaster or drywall. I kept this because it was integral to the character of the home and because finishing the surfaces with tidy drywall would have turned this simple room into a forgettable box. While I did replace the worn and dated floor, I didn't make a huge departure in finishes. I replaced the chipped tiles with simple, black VCT tiles.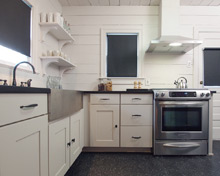 A Practical and Stylish Sink Choice
In the last few years, I have become a fan of using single-bowl sinks in my kitchen designs. While a double-bowl sink can be useful, I've found that most are too small to permit hand washing of baking sheets or large bowls. Secondly, a large single-bowl sink is narrower than a standard double-bowl sink, providing a few additional inches of counter space on either side - a precious commodity in a small kitchen. Finally, I prefer the aesthetics of a single-bowl. This is particularly true with farmhouse-style apron front sinks, like the stainless steel model used in this kitchen.

Roger Hazard
· Founder · Roger + Chris · Sharon Springs, NY
Roger Hazard is TV's original home stager, as well as designer / producer on the international, Emmy-nominated "SELL THIS HOUSE," "SELL THIS HOUSE: EXTREME," and "MOVE THIS HOUSE." MORE ABOUT Roger Hazard
Hot right now on Roger + Chris

Restyling a Garden House: Paint It Black
A cute, 160-year old Italianate Victorian had the potential to be a stunning garden house - but only after taming the garden, adding style to the porches, and applying some unexpected new colors.


RELATED POSTS
Guidebook, Step Seven: Renovation Challenges
Step seven of the design process addresses some of the challenges you may face during your renovation. While most problems can be avoided through careful planning, all kitchen renovations are bound to uncover a surprise or two. Here are a few of the most common challenges faced in kitchen renovations, and some suggestions on how to minimize them through careful planning and fact-finding.

Deconstructing a Kitchen: Bold Color
In a world filled with beige and taupe, sand and putty, I'm always excited to see a homeowner embrace bold color and take their kitchen in a different direction. This kitchen is undeniably bold, and it's fun to see a monochromatic ? though not unsophisticated ? color palette taken to an extreme. Is this right for every home? No way. Do I think the home owners love having a one-of-a-kind kitchen? You bet.