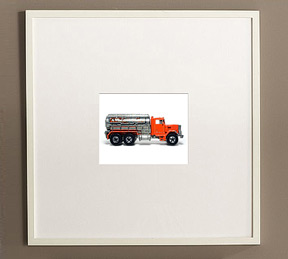 As your kid grows from infant to teenager, his or her room will have to serve different functions and appeal to evolving tastes. It makes sense to opt for affordable, do-it-yourself design projects, because your child's bedroom likely undergoes more frequent changes than any other room in the house. Here are six affordable projects that can be tailored to your kid's specific style.
Dress up a simple bed frame with a fabric-wrapped headboard. Many interior designers use beautiful upholstered headboards in children's rooms, but that beautiful upholstery won't look clean for long. As an alternative to pricey fabrics and professional upholstery, head to your local fabric store for a wide variety of fun prints and colors. Simple denims work particularly well and are very affordably priced. If you're working with an inexpensive bed with an unadorned headboard, you can apply fabric directly to the headboard by wrapping it tightly - not unlike wrapping a gift box - and affixing it on the back side with upholstery staples. If you don't have a headboard to work with, you can easily cut a sheet of plywood to fit and mount it directly to the wall behind the bed to mimic the effect.
Refinish an old dresser in chalkboard paint. Every parent's nightmare: walking into a room to find your little one scribbling on the furniture. Why not give them a safe space to express themselves by coating a worse-for-the-wear piece in a thick layer of chalkboard paint? Whether repurposing an existing - but boring - dresser or finding an affordable one at a thrift shop, this will add fun to your son or daughter's room. Get their creativity started and work on word association by drawing the name and image of the contents of each drawer.
Create zero-cost artwork by photographing beloved toys. Use your digital camera, inkjet printer, and some imagination to capture images of your child's favorite toys. Place a curved sheet of white poster board behind the toy to create a clean backdrop. Using the macro mode on your camera, capture close-up details of toy cars or spaceships. Take portraits of dolls and stuffed animals to mix in with family photos.
Embrace flexibility with art shelves. Rather than spending time hanging artwork in your child's room - only to swap it out shortly after as their interests change - install permanent art shelves. Available from many retailers, including Pottery Barn, West Elm, and Crate & Barrel, floating art shelves can be neatly installed via hidden brackets. Arranged in groups, you can create a wall of art for your son or daughter that makes alternating pieces painless. Mix up the collection with a variety of frame sizes and styles.
Use carpet tiles to create a colorful, versatile, and cleanable area rug. The idea of adding an area rug to your kid's room can be a little terrifying. One juice spill or art project accident can ruin the whole thing, and there are only so many ways to hide rug stains under furniture. Carpet tiles - like the popular Flor brand - offer an alternative. Available in dozens of styles and colors, these large tiles are designed to be joined together to create an area rug of virtually any size. Many of them are designed for hard wear, and should an accident happen on a tile, it can easily be removed from the rest of the rug and washed or spot treated. Can't get the stain out? Just swap in a replacement tile and the rug is as good as new. (Yes, you will want to buy extra tiles.)
Create a custom storage unit. Few children's bedrooms are outfitted with walk-in closets, so additional storage will be necessary for stashing away anything other than clothing. What starts as a place to stow toys will evolve into storage for books, media, and electronics. Stores like IKEA offer configurable storage systems that can be outfitted with specialized shelving. The doors on IKEA's highly-customizable Besta system can be swapped out as well, so you can start off with a brightly-colored unit and transition to more subdued hues when your teen requests a more grown-up environment.