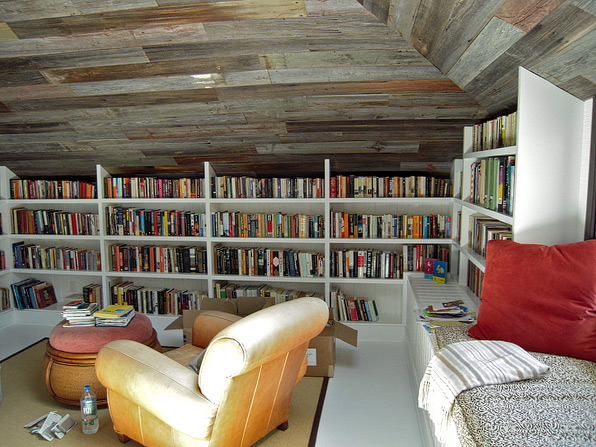 Living in a studio apartment for the first time this year, I've cultivated a deep sense of appreciation for the built-in furniture that my space, unfortunately, does not have. Built-ins, especially of the bookcase species, are architectural aspects I seek out when looking for apartments. Much to my chagrin, those apartments that feature built-ins are well above my price range.
Built-ins save space, add character, and (most importantly) reduce the amount of furniture that I need to buy to make my living area complete.
As I was browsing the web for examples, the history of built-in furniture piqued my interest. While some of the earliest examples I can find exist in Victorian homes, many more instances are to be found in the 1950s and -60s modern era. Both were periods of incredible technological advancement, centered on the Industrial Revolution and the Space Age, respectively.
While the Victorian era and the Space Age on the surface appear to have little in common, I can easily imagine that their distinct and equally immense scientific breakthroughs had great impact on the design of their living spaces. For both generations, it was fast becoming an age of convenience in which orderliness and sanitation ruled (although it is hard to fathom how a Victorian mind could look upon his or her crowded parlor and be reminded of order). Perhaps it is due to this desire for order and cleanliness that both eras feature a high concentration of built-in furniture.
House of the Future by Monsanto

Kate Allen
· Adaptive Reuse Blogger · Americorps · Seattle, WA
Influenced from a young age by the likes of Antiques Roadshow and Architectural Digest, Kate's interests lie in historic preservation, adaptive reuse, and a lot of cheap stuff from thrift stores. MORE ABOUT Kate Allen
Hot right now on Roger + Chris
How to Clean Velvet Furniture
Velvet fabric can be a bit trickier to clean than other fabrics because, in addition to removing the stain, you must take care to avoid "crushing" the nap of the fiber. Here are some tips to help you successfully remove stains without damaging your beautiful furniture.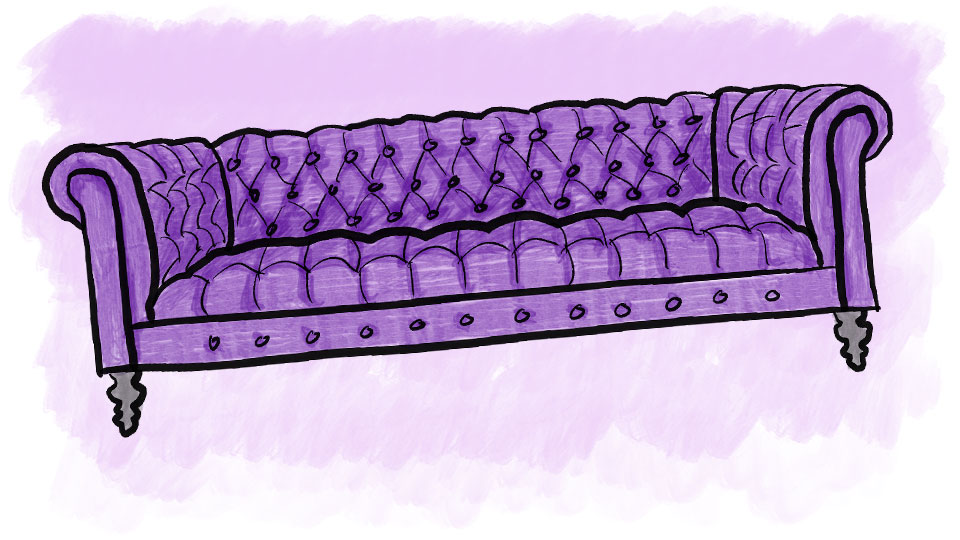 Best Blue Velvet Sofas
We've gathered some of our favorite sofas and armchairs in gorgeous blue velvets, along with design inspiration from around the web.

Restyling a Garden House: Paint It Black
A cute, 160-year old Italianate Victorian had the potential to be a stunning garden house - but only after taming the garden, adding style to the porches, and applying some unexpected new colors.

RELATED POSTS
2014 Design Trends
We're in the midst of some significant changes in the interior design landscape. Trends that have dominated home style for the past decade or longer are beginning to fade, to be replaced by new looks paired with beloved classics. Here's where we feel home design is headed in 2014.

Chesterfield Sofas: The History (Maybe...)
A probably-not-totally-fabricated history of the Chesterfield sofa: Lord Philip Stanhope, the Fourth Earl of Chesterfield (b.1694, d.1773), is believed to have commissioned the first settee that would come to be known as the Chesterfield sofa. Details are scarce, but the following is more or less the tale of how this iconic sofa came to be.