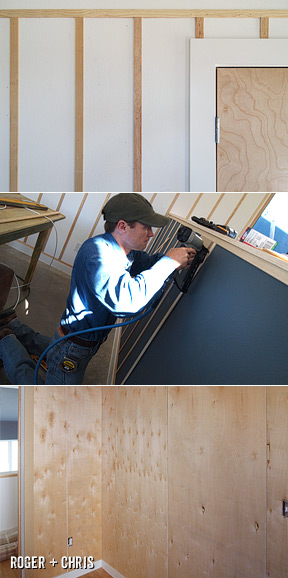 One of the most striking changes we made during the Modern Farmhouse renovation was to the walls. Our carpenter applied lattice - thin wood pieces - to the walls, giving them a board-and-batten appearance. Board-and-batten, a type of siding that alternates vertical boards and narrow wooden strips, is often seen in old homes. We selected this look because it evokes a farmhouse, and because a similar treatment was already in place on the exterior of the home.
While real paneling can be expensive and labor-intensive to install, the installation of lattice over the existing sheetrock was a relatively quick job. The low cost of lattice and small quantity required for this look meant that our materials expenses were minimal; the majority of the cost of installing this treatment went to labor for our carpenters and the cost of painting over the lattice (although the walls were slated to be repainted anyway).
Adding this effect to the walls provided us with opportunities for playing with color. Throughout the house - where all but one room received the treatment - the board-and-batten is painted white. Above that, though, things get interesting. We have pale blues and charcoals on the upper walls and ceilings, and even plaid wallpaper in the guest bathroom. By taking the treatment up high on the wall, it effectively raises the already-high ceilings and provides a dramatic grid for light to play off of throughout the day.
And that one room that didn't receive the board-and-batten effect? The office walls were instead covered with quarter-inch plywood, rough side out with a quarter-inch gap between panels. It's a subtle effect, but it makes this unique room feel like a converted barn.