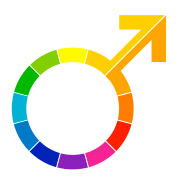 Roger,

I have been researching color schemes in search of something to make a room appear more masculine. It seems that all the suggestions I've found are based on a brown/wood color scheme. Are there any other colors that could make a room more masculine?

Dennis J.
Fort Lauderdale, FL
Dennis,

Just about any color can be used in a masculine way. However, it's easiest to classify colors into "cool" and "warm." Warm colors have a red base and cool colors have a blue base. Colors that have a red base - and therefore would be considered warm - will appear more masculine. This includes but definitely is not limited to browns. Your local paint store can show you difference between warm and cool colors.

Roger
Don't forget: Submit your question to Roger and he will answer it in an upcoming post.

Roger Hazard
· Founder · Roger + Chris · Sharon Springs, NY
Roger Hazard is TV's original home stager, as well as designer / producer on the international, Emmy-nominated "SELL THIS HOUSE," "SELL THIS HOUSE: EXTREME," and "MOVE THIS HOUSE." MORE ABOUT Roger Hazard
Hot right now on Roger + Chris


Best Blue Velvet Sofas
We've gathered some of our favorite sofas and armchairs in gorgeous blue velvets, along with design inspiration from around the web.

RELATED POSTS
Overcome Hurdles To Creating A Beautiful Home
Applying style from our fantasy house to our actual residence with the limitations presented by our budget, practical needs and the structure of the house itself can be a source of frustration.

Kitchen Inspiration Pinboard: Funky City Loft
Lofts in cities like New York and Chicago bring comforts to industrial spaces. Cavernous spaces, huge windows, and great surfaces like old wood floors, brick walls, and exposed-beam ceilings create an environment perfect for fun, funky colors and interesting layouts. Here?s a concept for a wild kitchen tucked into a small space.

Our Latest Renovation Project
We just completed a whole-house renovation project, and wanted to share some photos of the project. This project was for a family in Austin, TX who had recently purchased a fifty year old house.