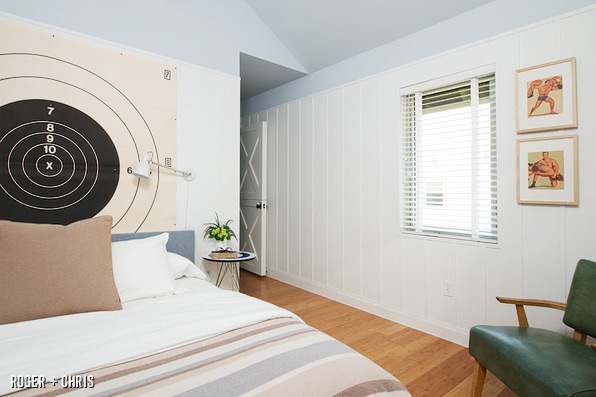 The Modern Farmhouse's master bedroom suite includes a high pitched ceiling in pale blue, a private balcony with views of downtown Austin, and carbonized bamboo floors. The focal points of the room are unquestionably the huge artillery target over the bed and the rusty metal military shelving unit filled with our collections.
VIEW MASTER BEDROOM PHOTO TOUR
Sources:
Hardware

Georgian doorknob in aged bronze (Schlage)
Stable door latch and heavy-duty hinges (The Home Depot)

Surfaces

Carbonized bamboo flooring
Door cut in half and cross pattern applied to create stable door
Board-and-batten effect created with strips of wood lattice

Colors

Sherwin-Williams "Hinting Blue" above board-and-batton and on ceiling
Gallery white on board-and-batten
Gallery white on trim

Furniture

Malm bed frame with headboard wrapped in denim fabric. We actually like the lines of the Malm, and most modern bed frames are quite expensive despite not offering much in terms of interesting design. Chris wrapped the headboard in a washed denim, folding the ends like you would wrap a gift, pulling it tight, and stapling the fabric into the back of the headboard with an upholstery stapler. (IKEA)
"Hockey Night In Canada" wood-and-Formica side table designed by Chris' favorite author Douglas Coupland
White bent-wire side table (BoConcept)
Metal Army machine shop shelving unit that we modified (Austin Antique Mall)
Vintage vinyl arm chair (Hogg Wild Austin)

Lighting

Industrial sconces (West Elm)

Textiles & Window Treatments

Wool area rug. We didn't want to spend the money for a larger rug, as most of it would be hidden beneath the bed. So we bought a smaller rug and cut it in half with a carpet knife, hiding the edges a few feet in from each side of the bed. Half the price! (Pottery Barn)
White sheets and pillow cases (Bed, Bath & Beyond)
Thomas O'Brien throw pillow (Target)
Wool blanket (Pendleton)
2" wood blinds with white fabric tape (3 Day Blinds)

Artwork & Accessories

Vintage paper artillery target (Stag Menswear, Austin)
Chris' collection of cameras (gathered from family and antique shops around the country)
Antique glass bottles (flea markets)
Moose antlers (flea market)
Mounted insects (The Evolution Store, NYC)
Model One table radio (Tivoli)
Vintage postcards (Uncommon Objects)
Porcelain jar (West Elm)
Old pheasant from Chris' family's ranch in South Dakota
1950s professional wrestler illustrations (gift from Chris' brother)
Chicken figure (flea market)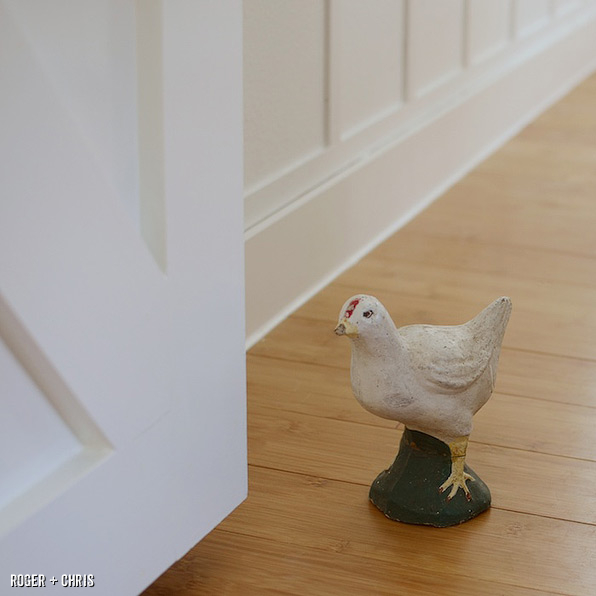 If you are interested in discussing a similar transformation to your own home, contact us for a consultation.