Last weekend, Roger and I found a mid-century Cole-Steel stenographer's chair at a little vintage shop in Wimberley, Texas. It was in good shape and had the original red vinyl seat, but the base was badly scuffed and rusted. We were planning for a staging project and were on the hunt for a chair to use at a desk. The compact chair seemed like a good fit, and the price was right - $45 - so we picked it up.
After we got it home, we realized that the chair was a bit dingier than we'd initially thought. We work hard to make sure our staging projects stand out from the crowd. The furniture and artwork we use is unique; the polar opposite of "safe" staging. This chair had potential, but we needed to transform it into something special.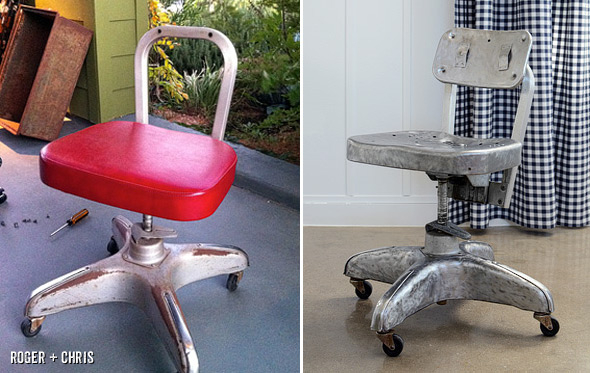 Roger had seen a similar metal office chair with a drastically different finish. Instead of aging vinyl, chipped paint, and rust spots, this chair had been stripped down to bare metal and given a brushed look. It was shiny, attention-grabbing, almost influenced by a World War II fighter plane - but unfortunately priced at hundreds of dollars. We decided to try to accomplish the same look on our chair for just a few dollars in supplies.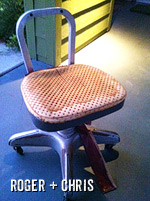 I'm going to step through how I created this look. You might want to try this if you have an older piece of metal furniture in need of a bit of a facelift. Chairs or smaller objects are going to be the easiest to take on; desks and tables will probably require professional equipment. For this project, we used:
Protective eye wear, a mask, and neoprene gloves (Believe me, you'll want these)
Rags and drop cloths for the workspace
Plastic paint scraper
Sand paper, a sanding sponge, and steel wool
My trusty and much-loved Makita drill
Clear spray enamel or clear paste furniture wax
Step One: The Teardown. I started by disassembling the chair. I removed the backrest and the back support bar. I disassembled the backrest in order to peel off the vinyl, and had to tear away the vinyl from the seat. I didn't really know what the chair was going to look like without the vinyl or whether it would make for an attractive chair afterwards, so this was a leap of faith.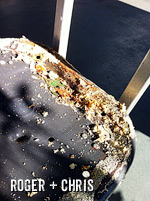 Underneath the vinyl (which was held in place with some very old but stubborn glue) was some foam padding. I tore that apart and had to use a few scrapers to remove the last of it. You know how, when you bake a cake, there's that little bit of cake left in the pan that you have to scrape out? It looked exactly like that. Pretty sure it wouldn't have tasted as good, though.
Step Two: The Paint Removal. I lucked out on a few parts of the chair. The backrest pieces were unpainted steel, so they were ready to be polished with no further work. I was hoping that, under the vinyl, the seat would also be unpainted, but no such luck. It had a thick coat of industrial gray paint that had to be removed.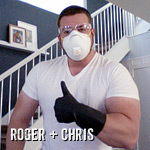 I'm going to say this again: It's really important that you wear protective gear for these next steps. The chemicals used for removing paint can do a lot of damage, and the paint itself could contain lead or other hazardous ingredients. Use thick gloves resistant to the paint stripper, a mask to keep out the dust, and goggles to protect your eyes from debris.
After cleaning off the painted surfaces of dust, foam bits, and glue residue, I used a fast-acting, spray-on paint stripper. It creates a foam coating on the painted surface and is supposed to take about ten minutes to soften the paint, after which you can remove the paint with a plastic scraper.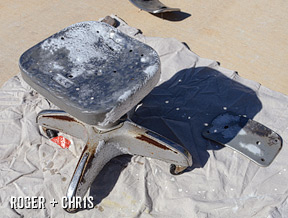 My experience with the paint stripper wasn't exactly as advertised. The plastic scraper was only helpful in removing the leftover foam. I then tried steel wool and had better luck getting the paint to come off on some, but not all, of the surfaces. I then did another coat of stripper and left it on a bit longer. This time, I got the majority of the seat cleared of paint and made a little bit of progress on the base of the chair.
Step Three: The Brushing. I used a variety of techniques to sand down the metal and give it the shiny, brushed look we wanted. I started out on some of the smaller areas using sandpaper and a sanding sponge. Then, for the larger areas and the still-painted base, I used my drill with the wire brush bit. The drill did a great job of removing the remaining paint, pulling off any rust, and giving the entire chair an even, shiny finish. I constantly changed the angle of the drill as I worked on the chair. By mixing up the direction and angle, I was able to create the consistent brushed metal look I wanted.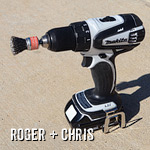 A couple of suggestions for those trying this at home: Make sure you're using a powerful drill; if it's battery powered, it needs to be a quality one with a backup battery. Running a drill continuously on high speed (which works better than low speed) is going to drain your battery very rapidly. If I were doing this again, I would get another brush bit with a larger surface area - this small brush was great for detail work but took too long to cover the larger surfaces.
Step Four: The Sealing. Because bare metal is prone to rust, it's a good idea to protect the finish with some sort of coating. Options for this include a spray-on coating like Rustoleum's Crystal Clear Enamel or a clear furniture wax like Briwax.
The finished product hits the mark: it's attention-getting, retro, and full of character. Even better, we didn't have to spend hundreds to get it. If you have questions about doing a similar finish on your own furniture, ask us on Facebook.

Hot right now on Roger + Chris
Restyling a Garden House: Paint It Black
A cute, 160-year old Italianate Victorian had the potential to be a stunning garden house - but only after taming the garden, adding style to the porches, and applying some unexpected new colors.

Best Blue Velvet Sofas
We've gathered some of our favorite sofas and armchairs in gorgeous blue velvets, along with design inspiration from around the web.


RELATED POSTS
Guidebook, Step One: Understanding the Big Picture
Successful kitchen designs stay in harmony with the rest of the house. What's the first step when planning a stylish, functional, enjoyable kitchen? Most people would start by creating a wish list, compiling clippings of design ideas, or perhaps establishing a budget. While these are all great ways to get your kitchen remodel rolling, I believe it's important to back up and look at the big picture. Let me explain.