The Christmas tree is the centerpiece of holiday decorations in many homes, but there are reasons one might not be in your plans this year. In smaller homes and apartments, a tree can be unwieldy and require furniture rearrangement. Those of us on a budget might balk at the annual expense, and those from colder climates could feel a little silly decorating it while wearing shorts. Families with small children or pets might be worried about a tree toppling over. If you travel frequently like I do, you might not even be home during the holidays to enjoy it.
Finally, after a summer of tragic wildfires, maybe it just doesn't feel right to cut down another tree for your living room.
Whatever the reason, here are a few suggestions for adding holiday spirit to your home with or without a tree using items that are either inexpensive or already on hand.
I decorated an area of my house to show how easy changes can bring the holiday spirit into your home. This small seating area is one of the first things visitors see when coming through my front door, so it's an ideal place to start decorating. For colors, I've chosen to emphasize the traditional red, a shade of brown that always reminds me of "brown paper packages tied up with strings," and just a touch of bright green.
Add spirit and whimsy to your existing decor. My antique deer evokes a winter setting as it is, but he's even more festive with a hand-knitted scarf. Few Austin homes have a fireplace mantel for hanging stockings. Instead, hang them from dresser or cabinet knobs. If you have tree ornaments you've used in the past, try arranging them in a large bowl and using that as a table centerpiece.
Focus on holiday memories. I find Christmas to be an especially nostalgic time of year, so I added a few items that remind me of childhood. I've added a bow tie made from red ribbon to an old teddy bear to dress him up for the occasion.
I added boots to this scene because it reminded me of placing boots beside the fire to warm them during cold winters.
Trade out pillows and textiles. Most of the year, a Mexican blanket and two coordinating pillows sit upon the chaise. For the holidays, I replaced the blanket with a charcoal, wool Army surplus blanket that I bought here in town for about $25. I found a brown pillow with red stripes in the linen closet - perfect for my color palette. I had purchased the red plaid pillow last January during a post-holiday sale; it's an ideal touch here.
Keep arrangements fresh and simple. Even without a tree, a little bit of evergreen is essential at Christmas. I replaced a bronze horse figure with a casual arrangement I created using a ceramic pitcher filled with evergreen cuttings from the yard. I added just one branch of artificial berries that I purchased on sale - a little bit goes a long way. Remember that many natural berries are toxic, so if you have pets either use artificial versions or make sure the arrangement is kept out of reach.
Get your wrapping done early. Consider setting out a few gifts in advance, provided your house is free of anybody who might be tempted to peek at presents. If you put time and care into wrapping gifts like I do, it's rewarding to be able to enjoy them for a few weeks before your hard work gets torn apart. I wanted these gifts to look stylish but simple, so I alternated between two types of paper - one plain and brown, the other semi-gloss and bright green. For one, I reused some red cloth ribbon, simply wrapping it around the box and avoiding any complicated bows. I wrapped the larger box numerous times with simple twine I had in my junk drawer, and then tucked a small evergreen cutting into the top.
It might seem simplistic, but little touches like these really do make a difference.
Without consuming much cash or time, your home can feel like a festive retreat without being over the top. This holiday, be creative, make use of what's on hand and have fun.

Roger Hazard
· Founder · Roger + Chris · Sharon Springs, NY
Roger Hazard is TV's original home stager, as well as designer / producer on the international, Emmy-nominated "SELL THIS HOUSE," "SELL THIS HOUSE: EXTREME," and "MOVE THIS HOUSE." MORE ABOUT Roger Hazard
Hot right now on Roger + Chris

How to Clean Velvet Furniture
Velvet fabric can be a bit trickier to clean than other fabrics because, in addition to removing the stain, you must take care to avoid "crushing" the nap of the fiber. Here are some tips to help you successfully remove stains without damaging your beautiful furniture.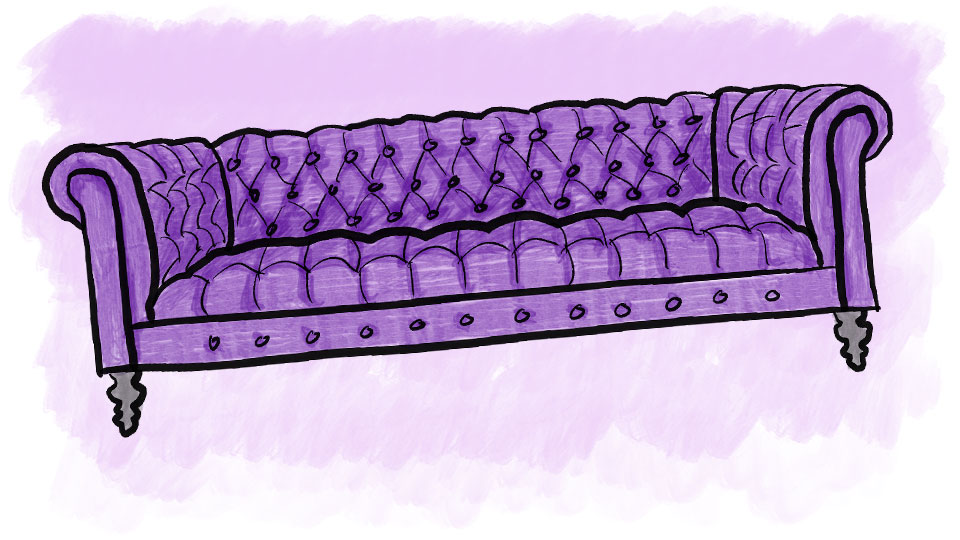 Best Blue Velvet Sofas
We've gathered some of our favorite sofas and armchairs in gorgeous blue velvets, along with design inspiration from around the web.

RELATED POSTS
Every 'Awkward Space' Is A Huge Opportunity
You can call me a floor plan optimist. While straightforward, rectangular rooms are easy for homebuyers to visualize filled with furniture, it's the unusual spaces that become my favorites.

The Ten Minute Tidy Just Might Save Your Sanity
Often I show houses and think, "Whoa, is this house really on the market?" There are dishes in the sink, unmade beds, clothes in hampers that are sitting in playrooms and bedrooms, all sorts of things piled on the stairs, carpets that need to be vacuumed, bathrooms with wet floors - and tons of apologies from the owner! Then I think, "Well, they must have never heard of the Ten Minute Tidy."

Radishes, Carrots, And Your Sofa
Radishes are red, right? But cut a radish in half, and you'll see that it's almost entirely white, with just a thin layer of red on the outside. Most fabric upholstery is made with textiles that are like radishes.