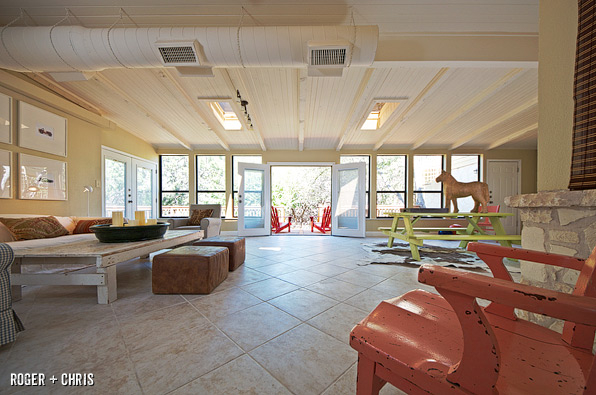 "It's a beautiful house, but there are some rooms that are a little confusing."
I was on the phone with my friend and frequent collaborator, Robert Peoples. Robert and his wife, Julie, own Peoples Signature Flooring, one of Austin's largest flooring companies. They had installed new flooring in a Hill Country home that was about to be placed on the market. Robert recommended us to the home owner to stage the vacant house, and now he was prepping me on what to expect.
Robert described the layout to me, explaining that a large porch at the back of the house had been enclosed to create a sunny game room looking out onto the greenbelt behind the property. It was a big space, but it didn't make a lot of sense when vacant.
Another awkward space was an unusual nook in the hall bathroom. The nook had a unique skylight above it and was placed half a step up from the floor of the bathroom. Robert was worried that it might turn off buyers.
You can call me a floor plan optimist. While straightforward, square rooms are easy for homebuyers to visualize filled with furniture, it's the unusual spaces that become my favorites.
When we met the homeowner Justin and toured the house, I immediately came up with a game plan. Justin had done a fantastic job preparing the home for sale; he had updated flooring and carpeting, installed an attractive new kitchen, painted the walls and exterior, and more. No potential buyer would have trouble visualizing how to make use of these rooms. That meant that we could focus on just the spaces that caused confusion: the large game room, the hall bathroom with the unusual nook, and an office space off of the kitchen.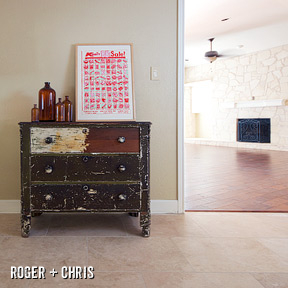 The bulk of our effort was put into staging the game room. We configured the large space as multiple functional areas. A couch, two armchairs, two ottomans, and a huge coffee table created a comfortable, casual seating area. A painted picnic table, cowhide rug, and accessories became a perfect spot for playing a board game. Two fire engine red adirondack chairs on the deck highlighted the wall of windows and beckoned visitors out to the private back yard.
After filling the game room with large furniture, it became even more obvious how enormous this space was. While the rest of the home is very tastefully updated, this sunny, casual space is unquestionably my favorite part of the house. I'm hopeful that potential homebuyers will take away a clear understanding of the advantages to such a versatile room.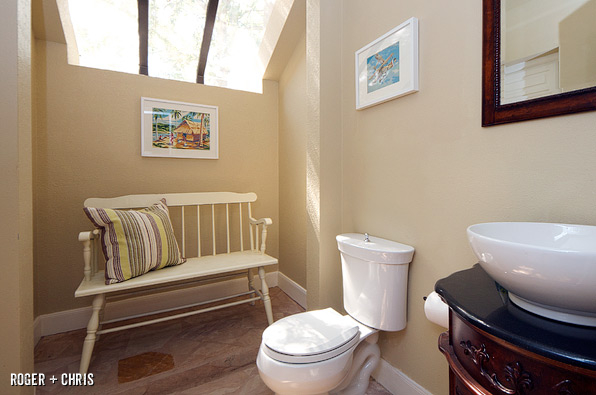 Roger Hazard
· Founder · Roger + Chris · Sharon Springs, NY
Roger Hazard is TV's original home stager, as well as designer / producer on the international, Emmy-nominated "SELL THIS HOUSE," "SELL THIS HOUSE: EXTREME," and "MOVE THIS HOUSE." MORE ABOUT Roger Hazard
Hot right now on Roger + Chris
Best Blue Velvet Sofas
We've gathered some of our favorite sofas and armchairs in gorgeous blue velvets, along with design inspiration from around the web.

Restyling a Garden House: Paint It Black
A cute, 160-year old Italianate Victorian had the potential to be a stunning garden house - but only after taming the garden, adding style to the porches, and applying some unexpected new colors.

10 Design Tips for Picking the Perfect Chesterfield
The Chesterfield sofa - one of the oldest and most desireable sofa styles - is seeing a very well-deserved resurgence in popularity. As "the king of sofas," the Chesterfield bring a huge amount of style and comfort to any home or business. Available as a sofa, sectional, armchair, or chaise, there are quite a few things to consider when picking the perfect one. Here are 10 tips that will give you a big head start on the search for your dream Chesterfield.

RELATED POSTS


Five Tips For Taking Dog Pics Worth Wagging About
Our pets are part of our family, so adding photos of them to your home can be a fun way to personalize your decor. But if you think getting good photographs of your kids is difficult, you'll soon find that dogs are an even greater challenge. Here are five tips that will give you a better shot at capturing great images of your furry friends.