The most common color question I am asked: "Do dark colors make rooms look smaller?" My answer - the one that nobody seems to want to hear - is that it depends on how you use them.
Is it possible for a room to appear smaller after painting it a dark color? Absolutely. But I can point to just as many examples of light, neutral rooms that look small in part because of the lack of color.
The one thing I can guarantee is that color makes a room more interesting. When I'm working on a small room that lacks architectural interest, I might use bold colors to add drama. Every trick in the designer's book can only add so much perceived space to a room, but if you focus instead on making every inch of it compelling, even a tiny room can generate a massive reaction.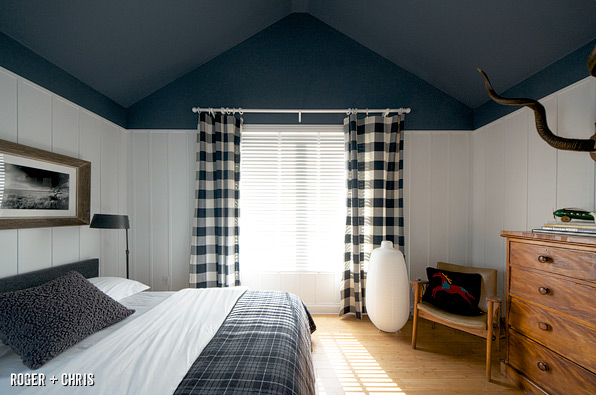 The guest bedroom pictured above measures ten feet by thirteen feet - not huge by most standards. The biggest feature is its vaulted ceiling which rises from average height at the sides to fourteen feet at the center.
I chose to highlight this feature by painting the ceiling a cool neutral charcoal color - Sherwin-Williams' "Cyberspace" (SW7076). It extends down onto the walls about one foot where it meets up with the high-waisted batt and board paneling effect we created with inexpensive wood lattice. CertaPro painted the ceiling, walls, and trim.

As you can see, even a dark color like Cyberspace doesn't make this small bedroom feel small. In fact, the darker color recedes from the eye, pulling the night-sky ceiling up and making the white walls look taller.
Even better, by placing the color on the element with architectural interest, we call attention to it. After redecorating this room, friends asked if we had vaulted the ceiling ourselves. Despite having seen the room before, the white color on the unique ceiling had downplayed the feature and they hadn't remembered it. No one forgets the ceiling now!
Another take away from this room: using bold colors can be effective, but you needn't cover every surface with them. The concept of an accent wall is well-known at this point but, as you can see above, there are additional options for using multiple colors in a room. Consider painting a ceiling or dividing your walls with paneling. Use bold colors, but keep the look light with whites or light neutrals.