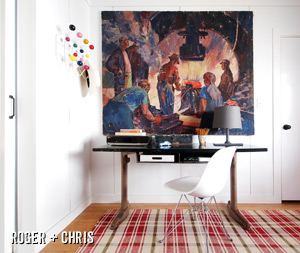 Hooray! The kids are finally out on their own and out of your hair. Now what?
The prospect of redecorating a home can prove daunting for empty nesters. Families tend to expand to fill their house, so the sudden reduction in people and possessions within the family home is often jarring. How should these newly emptied rooms be repurposed?
The first step to any redecorating project - particularly when the number of people living in the home has changed - is assessing how the house is used. Most families make use of every bedroom, so common areas are forced to play multiple roles. Mom's home office might be a desk tucked into a corner of the dining room, and Dad's TV might be perfect for game day but spends the rest of the time looming over guests in the living room. With one or more bedrooms freed up, you now have the luxury of assigning some of these functions to a dedicated space. This will allow you to improve both spaces with each change; for example, Mom will have a dedicated home office and the dining room will be a more functional space for entertaining.
Establish a functional home office. A growing number of Americans work from a home office, and many people do at least some work from home. Whether this is composed of true business dealings, household tasks like sorting through incoming mail and managing finances, or even crafts or other hobbies, any home office requires open work surfaces, generous storage spaces, comfortable seating and ample lighting.
Office spaces carved out of a shared living space rarely address these requirements sufficiently, and the clutter that comes along with them brings a sense of chaos and stress.
Repurposing an open bedroom as a dedicated office will allow you to contain your business mess in one space, making it easier to enjoy the rest of your home as a retreat from work.
Consider adding shelving to the closet to create out-of-sight storage space for files. Get the look of pricey built-in bookcases for less by running a row of inexpensive, configurable bookshelves side-by-side along one wall. The cost of storage accessories can add up quickly, so hunt for containers on sale or look for boxes and canisters that can be repurposed as storage. Keep these containers from being perceived as clutter by staying within the same family of colors, perhaps even spray painting them all white for a clean, tailored look.
Create a dedicated TV room. Today's super-sized flat screen televisions and home theater components might provide a theater-class experience, but often do so at the cost of living room aesthetics. Consider converting a bedroom into a dedicated media room and reclaim your living room for socializing that doesn't revolve around the TV.
Because most bedrooms are rectangular, it will be easy to position seating to face the screen and configure your sound system to deliver convincing surround sound. Add blackout curtains to windows to control incoming sunlight and provide a more authentic theater experience. You can find a set of curtains designed for use in media rooms online for around $60, or you can make your own by sewing fabric in the pattern of your choice to a blackout liner and hanging with ring clips or snap-in grommets. After moving your large television to its own space, you can rethink the furniture layout in your main living space. Arrange seating to allow for conversation, create a reading nook in a corner and bring in some fun new artwork. You can even reintroduce a smaller TV into the living room - trust me, they still make them in compact dimensions - that serves its purpose without dominating the space.
Finally, a real guest room. Families with a full house are often forced to improvise when guests visit, asking them to stay in a kid's room or even a hotel room. Your guests will no longer have to share a room with Betsy Wetsy or Godzilla. An empty nest has the space to host your guests in comfort and style.
Remember three words when creating a guest bedroom: accommodate, pamper and thrill. Accommodate the needs of house guests by providing them with space to stash their luggage, a closet with room for hanging garments (don't forget to provide nice wood clothes hangers), and open outlets and extension cords for charging cellphones and other electronics.
Pamper them with crisp, clean, comfortable bedding, a few extra pillows in the closet, luxurious white towels and perhaps even a bathrobe.
A guest bedroom isn't going to be used every day, and your guests will only be staying with you for a short while - hopefully. Take the opportunity to experiment with the room, and thrill your guests with style that's a little more adventurous than what you might use in your own bedroom. Step out of your comfort zone with color, window treatments and light fixtures. Introduce funky vintage furniture and artwork. Your guests will love having a fun space all their own.