"The wait for a table on the patio will be about 20 minutes, but we can seat you inside immediately."
If you have visited any Austin restaurant in the past month, you've likely heard something similar. When the weather is this beautiful, Austinites want to maximize their time outdoors and flock to the charming, intimate patios of restaurants, coffee shops and bars.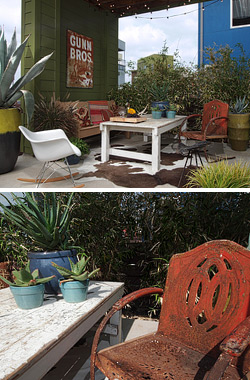 Today I am going to share some tips for bringing the unique style of Austin's hippest outdoor spaces to your own backyard. With creativity and good planning, you can create an amazing outdoor room that is affordable, low-maintenance and environmentally friendly.
Expand your furniture options. There's no rule that says you have to buy the same outdoor dining set everyone on your block owns. As an alternative, look for rustic wood tables and old metal chairs. They will bring an interesting, eclectic edge to your space, and additional weathering will only contribute to their patina.
Vintage furniture has another benefit: It's greener because no additional materials or energy went into its manufacture.
Keep your furniture's existing colors or try one of the many paints designed for outdoor use. Paint in a hot color like red or orange can transform a garage-sale find into an expensive-looking attention-getter.
Go with textured, natural fiber pillows and blankets to soften surfaces and add color. (Don't worry about exposing these objects to the elements; keep reading for information on how to protect them.) A cowhide or rug designed for outdoor use makes the space feel more like an extension of your interior and breaks up expanses of concrete or wood decking. Inspiration: Hotel St. Cecilia
Bring art outside. Old signage, metal sculpture or found objects can make amazing outdoor artwork. To prevent your unique find from looking like a "pile of junk in the corner," hang it as you would a framed painting in your living room. Position it to be seen from inside your home as well. Don't go overboard on signage - a little bit goes a long way. Inspiration: Spider House
Use walls of green to create intimacy. Restaurants and hotels make clever use of trees, shrubs and bamboo to enclose their patios from surrounding businesses and streets. In your backyard, you can use the same techniques to provide privacy from neighboring houses, reduce direct sunlight in seating areas and create an intimate, defined space within a larger yard. Plant close to the seating area and use varied species to make the space more intriguing. Inspiration: Hotel San Jose
Add interest, color and softness with container plants. Look for smaller succulents, grasses and heat-tolerant flowering plants. Austin has numerous sources of colorful, affordable pottery; mix sizes and colors to keep things from appearing too "matchy matchy." Arrange in groupings in corners, on your table and near entrances. Inspiration: Shady Grove
Set the mood with lighting. Use landscape up-lights to highlight your trees and shrubs. Instead of harsher wall sconces, look into globe string lights like those strung across bars and cafes; commercial-grade versions are water-resistant, are designed to be permanently mounted and give off a romantic, warm glow. Liberal use of inexpensive candle lanterns around seating areas will wow guests. Inspiration: Icenhauer's and Lustre Pearl
There will be dust. And rain. And wind. And bird droppings. If you decide to use vintage wood and metal furniture - and I strongly encourage you to do so - you can extend the life of your pieces by spraying them with a weather sealer. Check your local hardware store to find solutions for wood, metal and fabrics. Avoid glossy varnishes that could change the appearance. Outdoor-specific pillow inserts will last longer than standard indoor inserts. Even when treated, blankets and pillows might not be able to endure all weather conditions; consider keeping some items out of the elements when not being used. They will last longer and require less cleaning.
Build in versatility. The rooms inside your house often serve a single function, but your outdoor room will at different times play the roles of lounge, play area, casual dining room and workspace. A large table slightly taller than a typical coffee table can be a surface for dishes, a laptop or even your feet. A variety of easy-to-move seating options lets you and your guests reposition chairs as needed. By avoiding furniture sets and instead building your own eclectic collection, you can give your outdoor furniture a wider range of uses.