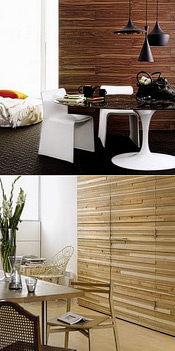 Roger,

I am a big fan and live in Austin. I have lived in a large traditional home in the suburbs for the last 17 years and plan to down-size in the next 18 months. We have a large upstairs game room/media room that still has one wall with nice paneling and moulding. Should we paint it or keep it as is? Most people who see it for the first time like it. I think if this was our forever house we would update it to a wall unit with built in TV/storage. I don't think I can afford that type of update.

Nan H.
Austin, TX
Dear Nan,

Paneling is all the rage now in home and commercial design. If the paneling is in good shape and is getting a positive reaction, I think it would be a mistake to paint it. So many homes have walls that are nothing but featureless sheetrock. I think we are going to see an increased interest in homes with unique surfaces that introduce texture and color into the space.

People often resort to painting or removing paneling because they feel it makes a room too dark. Keep this in mind as you prepare your home for sale. The careful selection of accent colors, lighter window treatments, and lighting will keep the room nice and bright.
Best of luck!

Roger
Dealing with your own design hazards? Submit your question to Roger and he will answer it in an upcoming post.

Roger Hazard
· Founder · Roger + Chris · Sharon Springs, NY
Roger Hazard is TV's original home stager, as well as designer / producer on the international, Emmy-nominated "SELL THIS HOUSE," "SELL THIS HOUSE: EXTREME," and "MOVE THIS HOUSE." MORE ABOUT Roger Hazard
Hot right now on Roger + Chris
Best Blue Velvet Sofas
We've gathered some of our favorite sofas and armchairs in gorgeous blue velvets, along with design inspiration from around the web.


Restyling a Garden House: Paint It Black
A cute, 160-year old Italianate Victorian had the potential to be a stunning garden house - but only after taming the garden, adding style to the porches, and applying some unexpected new colors.

RELATED POSTS
Creating Cooler Kids' Rooms
Decorating your child's bedroom is no easy task. While it can begin as an opportunity for self-expression for your son or daughter, the project can quickly grow into a conflict between fun and function. We transformed two bedrooms in two days with CertaPro painters and some simple DIY projects. Here are some guidelines for creating a fantastic-looking bedroom that meets your child's needs, and the specific touches we added to these two rooms.