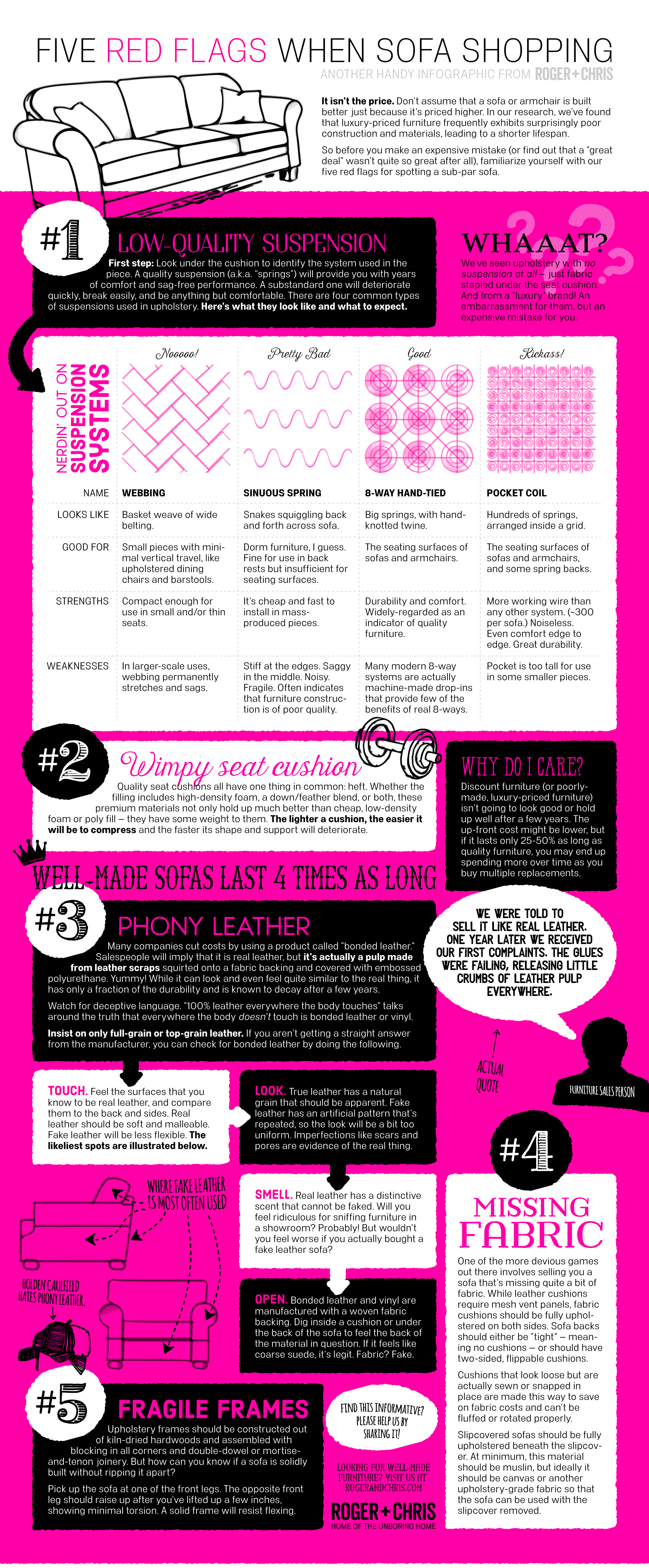 FIVE RED FLAGS WHEN SOFA SHOPPING another handy infographic from It isn't the price. Don't assume that a sofa or armchair is built better just because it's priced higher. In our research, we've found that luxury-priced furniture frequently exhibits surprisingly poor construction and materials, leading to a shorter lifespan. So before you make an expensive mistake (or find out that a "great deal" wasn't quite so great after all), familiarize yourself with our five red flags for spotting a sub-par sofa. NAME LOOKS LIKE GOOD FOR STRENGTHS WEAKNESSES WEBBING Basket weave of wide belting. Small pieces with minimal vertical travel, like upholstered dining chairs and barstools. Compact enough for use in small and/or thin seats. In larger-scale uses, webbing permanently stretches and sags. SINUOUS SPRING Snakes squiggling back and forth across sofa. Dorm furniture, I guess. Fine for use in back rests but insufficient for seating surfaces. It's cheap and fast to install in mass- produced pieces. Stiff at the edges. Saggy in the middle. Noisy. Fragile. Often indicates that furniture construction is of poor quality. 8-WAY HAND-TIED Big springs, with hand- knotted twine. The seating surfaces of sofas and armchairs. Durability and comfort. Widely-regarded as an indicator of quality furniture. Each spring tied with twine, creating potential for failure. Labor cost can lead to cost-cutting elsewhere. POCKET COIL Hundreds of springs, arranged inside a grid. The seating surfaces of sofas and armchairs, and some spring backs. More working wire than any other system. (~300 per sofa.) Noiseless. Even comfort edge to edge. Great durability. Pocket is too tall for use in some smaller pieces. Kickass! Good Pretty Bad Nooooo! LOW-QUALITY SUSPENSION First step: Look under the cushion to identify the system used in the piece. A quality suspension (a.k.a. "springs") will provide you with years of comfort and sag-free performance. A substandard one will deteriorate quickly, break easily, and be anything but comfortable. There are four common types of suspensions used in upholstery. Here's what they look like and what to expect. #1 Wimpy seat cushion Quality seat cushions all have one thing in common: heft. Whether the filling includes high-density foam, a down/feather blend, or both, these premium materials not only hold up much better than cheap, low-density foam or poly fill they have some weight to them. The lighter a cushion, the easier it will be to compress and the faster its shape and support will deteriorate. #2 WHAAAT? We've seen upholstery with no suspension at all just fabric stapled under the seat cushion. And from a "luxury" brand! An embarrassment for them, but an expensive mistake for you. WHY DO I care? Discount furniture (or poorly- made, luxury-priced furniture) isn't going to look good or hold up well after a few years. The up-front cost might be lower, but if it lasts only 25-50% as long as quality furniture, you may end up spending more over time as you buy multiple replacements. phony leather Many companies cut costs by using a product called "bonded leather." Salespeople will imply that it is real leather, but it's actually a pulp made from leather scraps squirted onto a fabric backing and covered with embossed polyurethane. Yummy! While it can look and even feel quite similar to the real thing, it has only a fraction of the durability and is known to decay after a few years. Watch for deceptive language. "100% leather everywhere the body touches" talks around the truth that everywhere the body doesn't touch is bonded leather or vinyl. Insist on only full-grain or top-grain leather. If you aren't getting a straight answer from the manufacturer, you can check for bonded leather by doing the following. #3 Touch. Feel the surfaces that you know to be real leather, and compare them to the back and sides. Real leather should be soft and malleable. Fake leather will be less flexible. The likeliest spots are illustrated below. Look. True leather has a natural grain that should be apparent. Fake leather has an artificial pattern that's repeated, so the look will be a bit too uniform. Imperfections like scars and pores are evidence of the real thing. Smell. Real leather has a distinctive scent that cannot be faked. Will you feel ridiculous for sniffing furniture in a showroom? Probably! But wouldn't you feel worse if you actually bought a fake leather sofa? OPEN. Bonded leather and vinyl are manufactured with a woven fabric backing. Dig inside a cushion or under the back of the sofa to feel the back of the material in question. If it feels like coarse suede, it's legit. Fabric? Fake. We were told to sell it like real leather. one year later we received our first complaints. The glues were failing, releasing little crumbs of leather pulp everywhere. Furniture sales person fragile frames Upholstery frames should be constructed out of kiln-dried hardwoods and assembled with blocking in all corners and double-dowel or mortise- and-tenon joinery. But how can you know if a sofa is solidly built without ripping it apart? Pick up the sofa at one of the front legs. The opposite front leg should raise up after you've lifted up a few inches, showing minimal torsion. A solid frame will resist flexing. #5 holden caulfield hates phony leather. Missing fabric One of the more devious games out there involves selling you a sofa that's missing quite a bit of fabric. While leather cushions require mesh vent panels, fabric cushions should be fully upholstered on both sides. Sofa backs should either be "tight" meaning no cushions or should have two-sided, flippable cushions. Cushions that look loose but are actually sewn or snapped in place are made this way to save on fabric costs and can't be fluffed or rotated properly. Slipcovered sofas should be fully upholstered beneath the slipcover. At minimum, this material should be muslin, but ideally it should be canvas or another upholstery-grade fabric so that the sofa can be used with the slipcover removed. #4 where fake leather is most often used actual quote looking for well-made furniture? visit us at ROGERANDCHRIS.COM find this informative? please help us by sharing it!

Hot right now on Roger + Chris
Restyling a Garden House: Paint It Black
A cute, 160-year old Italianate Victorian had the potential to be a stunning garden house - but only after taming the garden, adding style to the porches, and applying some unexpected new colors.

Best Blue Velvet Sofas
We've gathered some of our favorite sofas and armchairs in gorgeous blue velvets, along with design inspiration from around the web.

How to Clean Velvet Furniture
Velvet fabric can be a bit trickier to clean than other fabrics because, in addition to removing the stain, you must take care to avoid "crushing" the nap of the fiber. Here are some tips to help you successfully remove stains without damaging your beautiful furniture.