Lord Philip Stanhope, the Fourth Earl of Chesterfield (b.1694, d.1773), is believed to have commissioned the first settee that would come to be known as the Chesterfield sofa. Details are scarce, but the following is more or less the tale of how the iconic Chesterfield sofa came to be.
The Chesterfield Sofa is Invented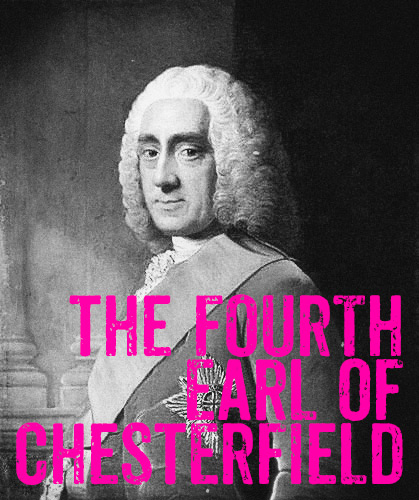 Lord Philip Stanhope, the Fourth Earl of Chesterfield.
The Earl - a politician, writer, and known trendsetter - commissioned a local craftsman to build a piece of furniture that enabled a gentleman to sit upright without wrinkling his clothing, while delivering the utmost of comfort. The unnamed craftsman utilized deeply-tufted upholstery, generously-proportioned rolled arms, and an equal back and arm height to facilitate the Earl's request. Nail head trim and bun legs were added to complete the piece. Lord Stanhope's sofa epitomized aristocratic refinement.
On March 24th, 1773, Lord Stanhope lay on his deathbed. He was accompanied by his butler and his godson, a young diplomat by the name of Mr. Dayrolles who had visited to inquire about the Lord's health. With Stanhope's last breath, he directed his butler to, "Give Mr. Dayrolles a chair."
The butler complied, and an undoubtedly distraught and possibly confused Mr. Dayrolles carried a heavy, leather, deeply-tufted armchair outside and presumably found someone to transport home. Some godfathers left fortunes or homes to their godsons. The Earl gave his godson a chair.
The Chesterfield Sofa Spreads
After mourning his godfather's passing and probably stewing a bit over his unconventional inheritance, Mr. Dayrolles came to appreciate the distinctive piece of furniture. A stunning and attention-grabbing chair clad in rich brown leather, adorned with large, deeply-set buttons and brass nail heads. Over its years of service, wear had somehow added to the armchair's character, becoming a truly timeless masterpiece. His friends and acquaintances admired the chair and many commissioned copies. It spread. An enduring style was established.
Signature characteristics of Chesterfield sofas:
all-over deep button tufting on back, arms, and seat rail
seat either tufted or loose
back and arms of equal height, resulting in a relatively low back and high arms
large rolled arms
bun, turned, or fluted caster feet
typically upholstered using fine leathers or luxurious velvets in rich or bold colors, or optionally with linen or canvas in more neutral colors
This ageless style continues to thrive today. For a look at the latest configurations and colors, check out our USA-made, fully customizable leather Chesterfield sofas and armchairs.