Grey House: Renovating a 160-year old Victorian.
I have a favorite replacement toilet handle. How weird is that?
Here it is, in all its glory:

It's the "Plumb Pak Stylewise Universal Toilet Handle," henceforth referred to as "P.P.S.U.T.H." from The Keeney Manufacturing Company.
What's so special about it?
I just wrote an entire blog post extolling the virtues of a piece of plumbing hardware, just in case you were wondering how exciting winter in a tiny village is.
It's nice. It feels like it's made of actual metal, because it mostly is. It has weight and substance and doesn't feel like a piece of weak plastic that will break after two weeks. Which brings me to...
It doesn't break after two weeks, which seems to be sort of a regular thing among typical replacement handles.
It's tremendously adjustable. Most universal replacement handles are at best universalish. But the P.P.S.U.T.H. has a maleable brass trip lever that can be bent or even cut to make it work with most toilets. Our downstairs bathroom has a toilet with a small tank and a front-mounted handle. The P.P.S.U.T.H. fit with minimal fiddling. Upstairs, our toilet has a frankly obnoxious angle-mounted handle. Why obnoxious? Because finding a replacement part without resorting to original equipment is tough. The P.P.U.T.H. fit with two bends of the trip lever. Magic.
It's spring-loaded. Most toilet handles are dumb. They rely on gravity and the flush valve to pull the lever back to its normal resting position. But if your toilet isn't working perfectly (and nothing in our house seems to be working perfectly, friction at the handle or valve can be sufficient to keep the valve open just a bit. And what do you get when the flush valve doesn't close all the way? A constantly running toilet and a large water bill. The P.P.S.U.T.H.'s handle works differently. When you press down on the handle, the lever is raised; when you release to handle, the spring pushes the handle and lever back into their resting position, minimizing running toilets.
What's the downside of this amazing device? Well, it costs a lot, compared to its lesser rivals. Instead of around $8 for a "dumb" replacement handle, the P.P.S.U.T.H. costs up to $18 at your local big box hardware store. But the quality and performance makes it worthwhile. I promise!
I just wrote an entire blog post extolling the virtues of a piece of plumbing hardware, just in case you were wondering how exciting winter in a tiny village is.

Hot right now on Roger + Chris
How to Clean Velvet Furniture
Velvet fabric can be a bit trickier to clean than other fabrics because, in addition to removing the stain, you must take care to avoid "crushing" the nap of the fiber. Here are some tips to help you successfully remove stains without damaging your beautiful furniture.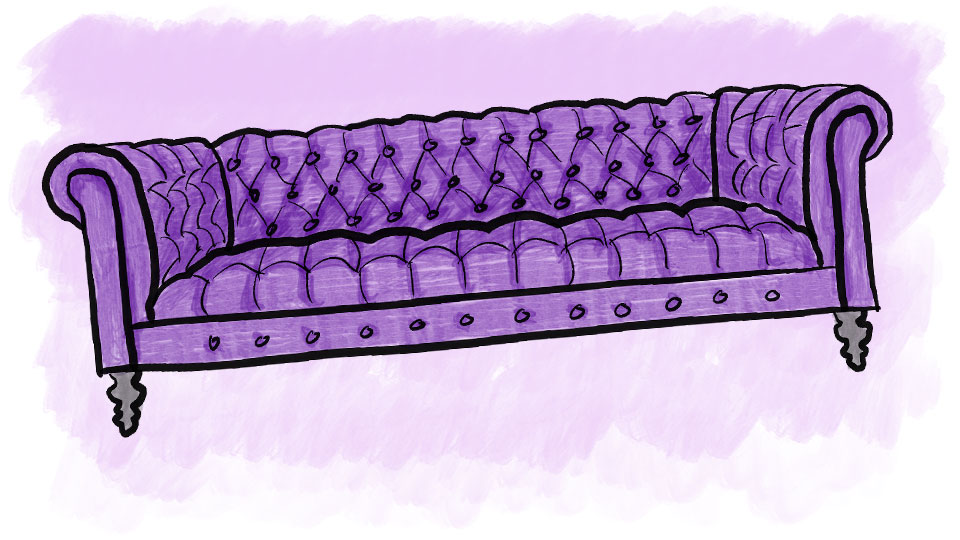 DOWNSTAIRS BATHROOM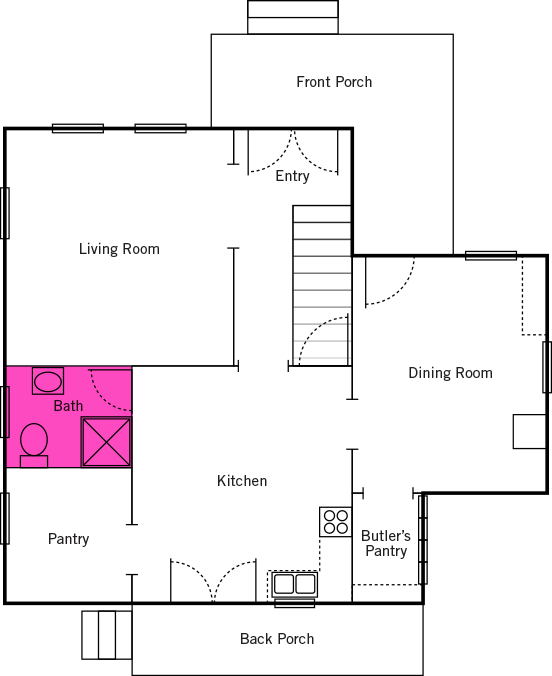 MORE FROM THIS ROOM

RELATED POSTS

Recalibrating Focus
After doing a goat photo shoot (goatoshoot?) that involved chasing a tiny baby goat around the village and taking somewhere in the range of 600 exposures, I discovered that my camera's autofocus system was out-of-whack.

Living Room Lightbox
What started as a boring living room turned into a Scandinavian-inspired light box with unique paneling, bold industrial furnishings, and a huge DIY floor mirror.