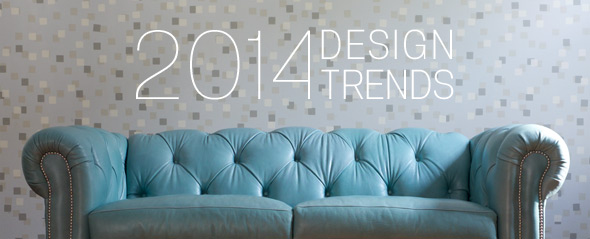 The future of design looks more varied, more personal, and more exciting than ever.
We're in the midst of some significant changes in the interior design landscape. Trends that have dominated home style for the past decade or longer are beginning to fade, to be replaced by new looks paired with beloved classics. Here's where we feel home design is headed in 2014.
In summary...
American Mid-Century Modern on the wane
Cozy Scandinavian sees mainstream growth
"Brown Fatigue" drives push towards true neutrals
Punchy accent colors, bold wall coverings, and personalized furniture
New references
The Gen-X obsession with all things Mid-Century becomes stale...
Modern interiors will continue to soften, as the Gen-X obsession with all things Mid-Century becomes stale. Signature pieces from historically significant designers will continue to have a place in homes, but comfort, practicality, and individuality will dominate. Look for a revival of naturalistic Scandinavian aesthetics paired with classic styles and vintage Americana. The Scandinavian look in particular touches key desires among style-forward homeowners, by fusing the familiarity of traditional furniture pieces with the edge of modern accents and lighting, all presented in bright, happy spaces.
Functional upholstery
Upholstery will be expected to bring presence and sophistication, while still delivering all-day lounging comfort. More homeowners will seek alternatives to leather upholstery, citing reasons including comfort, cost, and animal welfare. They'll miss the practicality and durability of leather, though, so they will embrace options like stain-proof acrylics and substantial hemp weaves.
Wallpaper on a roll
A mixture of nostalgia and "sheetrock boredom" will drive growth in wall coverings.
Wall coverings - wallpaper, textured surfaces, paneling - will grow in popularity as these enduring staples of ultra-luxury design make their way back into the mainstream. A mixture of nostalgia and "sheetrock boredom" will drive growth in coverings. This time around, wallpaper and paneling will be used selectively as luxury upgrades, not to cover every wall in the house. Look for hand painted and block printed papers to grow, eschewing mass production and emphasizing individuality and luxury, and for homeowners to turn to professional installers to avoid the mess and drama that comes with paper hanging.
More color, more pattern, no more beige
Patterns will find their way onto new surfaces.
Color palettes will embrace a variety of bold, punchy accent colors, but the more interesting transformation is what we're seeing in neutrals. After decades of warm neutrals dominating interiors, the seismic shift away from browns and beiges is underway. Bright, gallery whites and truly neutral greys are moving from their previous realm of modern design into all styles of design as designers and homeowners alike suffer from what I call "brown fatigue." This impacts all areas of interior design - the growth of painted kitchen cabinetry, changing tastes for flooring, and of course wall colors. Innovations in paint products will lead to more durable dark colors and better surface adhesion. Expect to see more painted wood floors. Patterns will continue to play a tremendous role in interiors, and will find their way onto new surfaces, like case goods and kitchen cabinetry.
Taking it personally
The personalization of products is well underway in many industries. We all carry cellphones with customized background images and protective cases. We drive cars that are available with endless options that allow us to tailor them to our personality. Homeowners have always expressed themselves through their homes, but that will only grow. They will embrace furniture and accessories that are custom made or limited run, built by small teams domestically using new technology that eliminates the requirement massive production facilities.
In home design, "keeping up with the Jonses" has morphed into "being different from the Jonses," and that impetus is expressing itself in fascinating ways. The future of design looks more varied, more personal, and more exciting than ever.