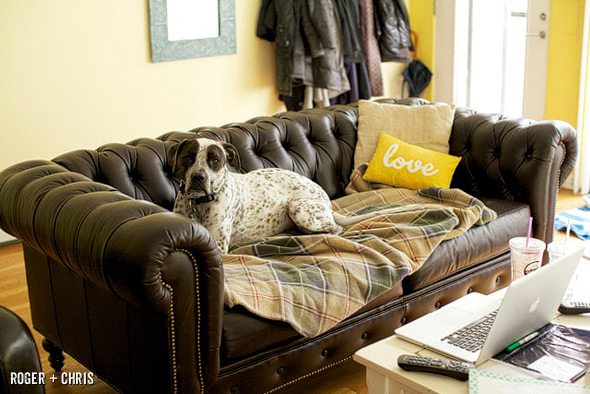 We wanted to share this photo from our customer Liz. She and her husband added this beautiful Higgins Chesterfield to their home. Their dog, Parker, isn't supposed to be up on the sofa, but we all know how that goes...

Roger Hazard
· Founder · Roger + Chris · Sharon Springs, NY
Roger Hazard is TV's original home stager, as well as designer / producer on the international, Emmy-nominated "SELL THIS HOUSE," "SELL THIS HOUSE: EXTREME," and "MOVE THIS HOUSE." MORE ABOUT Roger Hazard
Hot right now on Roger + Chris


Best Blue Velvet Sofas
We've gathered some of our favorite sofas and armchairs in gorgeous blue velvets, along with design inspiration from around the web.

RELATED POSTS

Five Tips For Taking Dog Pics Worth Wagging About
Our pets are part of our family, so adding photos of them to your home can be a fun way to personalize your decor. But if you think getting good photographs of your kids is difficult, you'll soon find that dogs are an even greater challenge. Here are five tips that will give you a better shot at capturing great images of your furry friends.

Kitchen Inspiration Pinboard: Happy Modern
Modern spaces are sleek, sexy, and dramatic. But they can also be sterile and devoid of personality. In this inspiration pinboard, I introduce playful colors and lots of bright surfaces to keep the kitchen feeling friendly and happy.