Kitchens 101: Trends and best practices in kitchen style, layout, and functionality.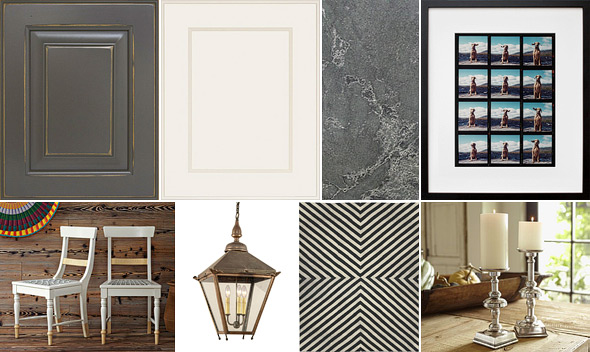 Above from top left: Custom Cupboards' Chisholm Beaded Door in Alder with Smokehouse finish, Vallejo Mission Door in Chambray painted finish, Brazilian Soapstone, "Fay on the Dock" Print, Antique Pewter Pillar Candleholders, Black Bridget Kilim Rug, Antique Copper Lantern Pendant, Source Dining Chair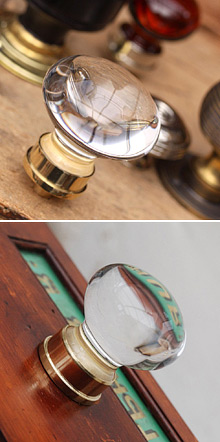 Clear Glass Cabinet Knob, in Brass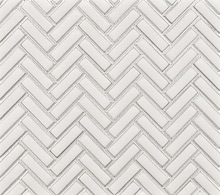 Ann Sacks 5/8" x 1-7/8" Herringbone in Ricepaper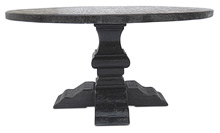 Round Pedestal Dining Table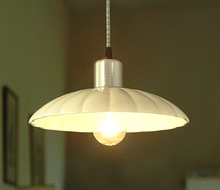 Lyon Pendant Light
We often think of the dining room as the setting for formal meals, while the kitchen table takes on the far more casual day-to-day role. But why not infuse an eat-in kitchen with high-end style to create an air of elegance?
Cabinetry:
Custom Cupboards Chisholm Beaded Door in Alder with Smokehouse finish
Custom Cupboards Vallejo Mission Door in Chambray painted finish
These classic door profiles help give our kitchen a timeless feel. Bright, off-white doors in the Vallejo Mission profile keep our upper cabinets from overpowering the room, while the detailed Smokehouse finish on Chisholm Beaded doors bring a formal feel softened by the hand distressing.
Countertops:
Soapstone is a truly enduring natural surface for luxurious kitchens. The varied coloring, interesting veining, and honed finish creates a graceful, timeless surface that creates harmony between the dark and light surfaces in this kitchen.
Cabinet hardware:
Large Clear Glass Cabinet Knob in Brass, £21.00
Clear Glass Cabinet Knob in Brass, £11.75
For cabinet hardware, this kitchen will benefit from using a single style of hardware throughout. These clear glass knobs with brass bases are manufactured by a British company and have just the right touch of formality to dress up our cabinetry. While I wanted to stay consistent in style for all of the cabinets, I do think it's important to introduce a little variety. Larger drawers will receive the large knob to provide visual balance and offer a slightly larger grip.
Wall tile:
Ann Sacks 5/8" x 1-7/8" Herringbone in Ricepaper
While this tile from luxury tile vendor Ann Sacks isn't as attention-grabbing as their other lines, the uncommon herringbone configuration - an age-old pattern frequently found on men's suits - will make a striking backsplash even in its muted "ricepaper" color.
Furniture:
Round Pedestal Dining Table, $3,975.00
Source Dining Chair, $159.00
I'm a fan of pedestal tables, particularly in spaces where chairs may get repositioned frequently. The center pedestal is far less limiting than four table legs in dictating the number and placement of chairs. This chunky table has a huge presence in the kitchen and provides a stately appearance mixed with a slightly rustic edge in terms of finishes. This is a great way to combine a high-end look with day-to-day practicality and durability. The Source dining chairs contrast the dark table - mimicking the light/dark scheme of the cabinetry - and boast handwoven leather seats.
Lighting:
Antique Copper Lantern Pendant, $2,750.00
Lyon Pendant Light, £45.00
This stunning and generously-proportioned antique lantern will hang prominently over our dining table. To add a sense of intimacy and drama, we'll hang it a bit lower than typical, bringing it closer to the table surface and letting everyone enjoy it fully. The simple but cultured Lyon pendant will look great in multiples. I would place three over a large island to deliver ample lighting and place a focus on the island.
Art and accessories:
"Fay on the Dock" by William Wegman, framed 30"x24" limited edition print, $2,400.00
Antique Pewter Pillar Candleholders, $79.00 and $89.00
Black Bridget Kilim Rug 8x10, $995.00
A large, limited-edition print of William Wegman's "Fay on the Dock" helps bring some interest and levity to the kitchen. A pair on chunky pillar candleholders offer the start of a table centerpiece. And the Kilim rug from Jonathan Adler continues our light/dark interplay while evoking the herringbone pattern of the tile backsplash.

Roger Hazard
· Founder · Roger + Chris · Sharon Springs, NY
Roger Hazard is TV's original home stager, as well as designer / producer on the international, Emmy-nominated "SELL THIS HOUSE," "SELL THIS HOUSE: EXTREME," and "MOVE THIS HOUSE." MORE ABOUT Roger Hazard
Hot right now on Roger + Chris
How to Clean Velvet Furniture
Velvet fabric can be a bit trickier to clean than other fabrics because, in addition to removing the stain, you must take care to avoid "crushing" the nap of the fiber. Here are some tips to help you successfully remove stains without damaging your beautiful furniture.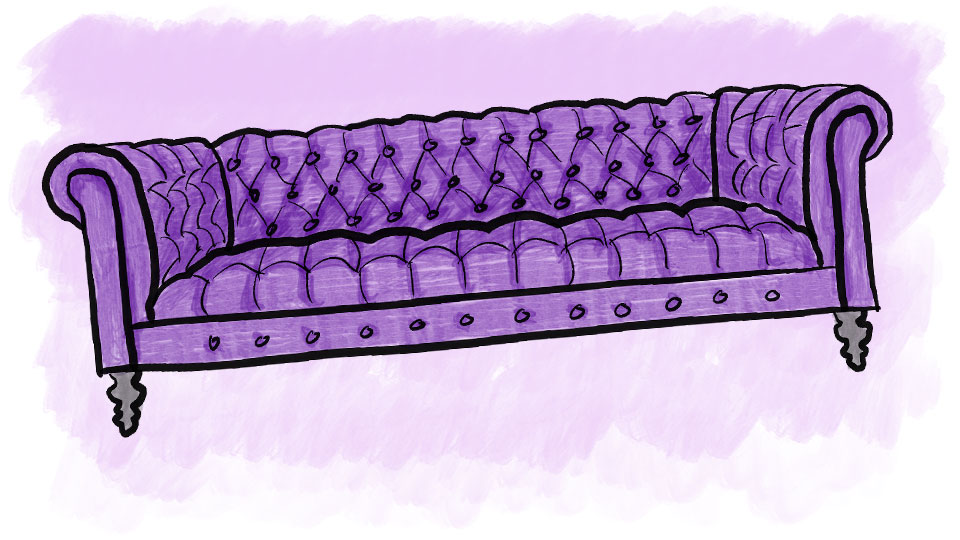 Best Blue Velvet Sofas
We've gathered some of our favorite sofas and armchairs in gorgeous blue velvets, along with design inspiration from around the web.

RELATED POSTS
Functionality: No Mud Room? Create an Organization Station
The kitchen is the point of entry for most homes. For those of us without mudrooms, this means the kitchen becomes the default dumping ground for jackets, shoes, hats, book bags, and purses. If you don't have space to create a mudroom or closet, a custom organization station can be a highly functional, unobtrusive alternative.

Guidebook, Step Six: Dealing With Contractors
Step six of the design process addresses working well with your general contractor. A good working relationship with your kitchen renovation contractor can be the factor that determines the success of your project. Here are seven key tips for creating and maintaining a harmonious partnership.

Deconstructing a Kitchen: Bold Color
In a world filled with beige and taupe, sand and putty, I'm always excited to see a homeowner embrace bold color and take their kitchen in a different direction. This kitchen is undeniably bold, and it's fun to see a monochromatic ? though not unsophisticated ? color palette taken to an extreme. Is this right for every home? No way. Do I think the home owners love having a one-of-a-kind kitchen? You bet.