Kitchens 101: Trends and best practices in kitchen style, layout, and functionality.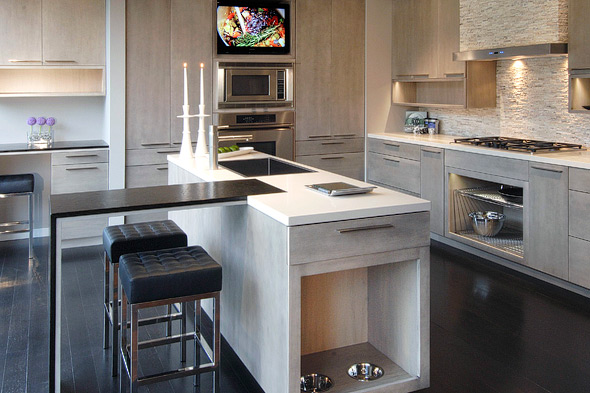 There's modern, and then there's MODERN.
This kitchen pulls out all the stops to deliver a sleek, ultra-contemporary look. There's substance behind all that style, with clever planning that maximizes storage and work space.
Like many contemporary spaces, the kitchen adopts a subtle, monochromatic color scheme. The frameless cabinetry is finished with coloring that makes the wood almost look like stone - which appropriately plays off of the actual stone used on the backsplash and vent hood surround. White countertops extend the white walls, while touches of black counter complement the ebony wood flooring.
Lighting is neatly integrated into the cabinetry. Each cubby is set aglow with invisible fixtures, while a single pendant (not pictured) hangs over the island wearing a large drum shade.
The minimalist cooktop and vent hood feel like a seamless part of the cabinetry.
Appliances are integrated without drawing too much attention. The minimalist cooktop and vent hood in particular feel like a seamless part of the cabinetry. Note the clever alternative to a hanging pot rack below the cooktop. This large space allows storage for a variety of pots and pans, and the wire racks permit light to shine through and illuminate the lower shelf. Clever, convenient, and attractive.
This design integrates an eating area in the island, but does so in a particularly clever way. The visually-heavy portion of the island is kept shallow - just deep enough for the large, square sink and a dishwasher. Rather than adding depth across the length of the island to accomodate side-by-side seating, an eating surface juts out perpendicularly. This accommodates two counter stools and provides an opportunity to balance the substantial island with a elegant, visually-light surface in a contrasting color.
This thoroughly modern kitchen delivers an ultra-sleek space but still brings the day-to-day functionality every homeowner needs.
An in-kitchen office is conveniently placed just outside of the busiest areas. Note that, like the eating surface, the office uses a contrasting countertop. This color scheme establishes that, while this kitchen may serve multiple purposes, areas with white countertops are dedicated to food preparation while those with black counters are for dining, socializing, and other tasks that fall outside of the traditional uses for a kitchen.
Do you despise tripping over dog dishes or trying to find a location to tuck them away? Instead of hiding them, this kitchen features them, giving the dog's water and food bowls premium real estate by recessing them into one end of the island.
Many people appreciate modern spaces but associate them with the notion of form over function. This thoroughly modern kitchen delivers an ultra-sleek space but still brings the day-to-day functionality every homeowner needs.

Roger Hazard
· Founder · Roger + Chris · Sharon Springs, NY
Roger Hazard is TV's original home stager, as well as designer / producer on the international, Emmy-nominated "SELL THIS HOUSE," "SELL THIS HOUSE: EXTREME," and "MOVE THIS HOUSE." MORE ABOUT Roger Hazard
Hot right now on Roger + Chris
Restyling a Garden House: Paint It Black
A cute, 160-year old Italianate Victorian had the potential to be a stunning garden house - but only after taming the garden, adding style to the porches, and applying some unexpected new colors.


How to Clean Velvet Furniture
Velvet fabric can be a bit trickier to clean than other fabrics because, in addition to removing the stain, you must take care to avoid "crushing" the nap of the fiber. Here are some tips to help you successfully remove stains without damaging your beautiful furniture.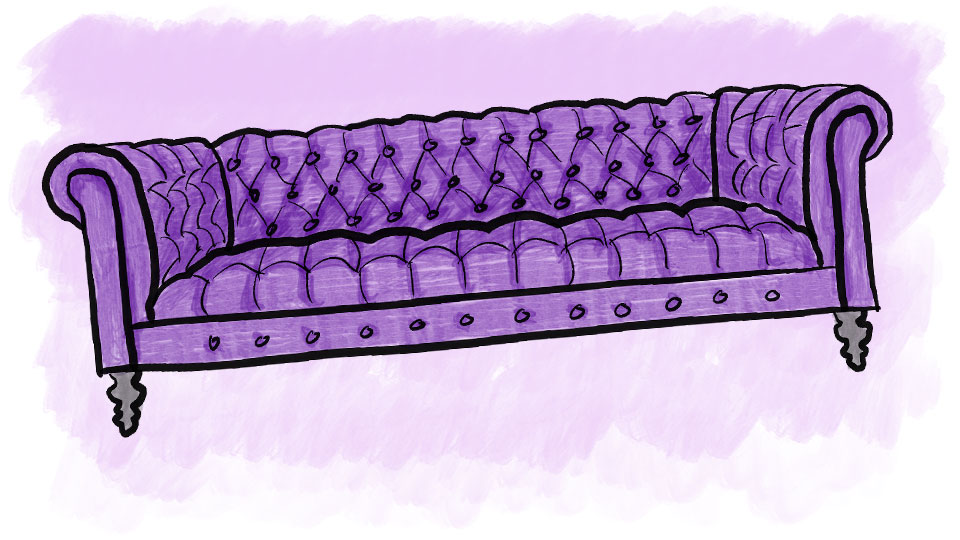 RELATED POSTS
Kitchen Inspiration Pinboard: Happy Modern
Modern spaces are sleek, sexy, and dramatic. But they can also be sterile and devoid of personality. In this inspiration pinboard, I introduce playful colors and lots of bright surfaces to keep the kitchen feeling friendly and happy.