Kitchens 101: Trends and best practices in kitchen style, layout, and functionality.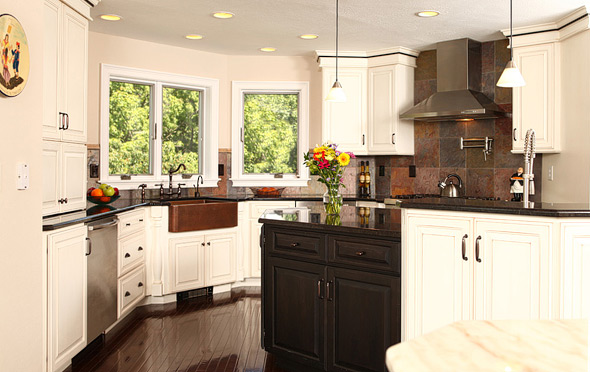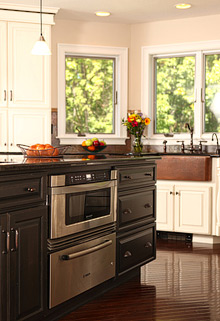 An under-cabinet microwave frees up counter space.
This kitchen design takes advantage of an irregularly-shaped room to provide ample work surfaces and lots of visual interest.
Style
I recommend that homeowners start their kitchen design decisions with the floor. This home's attention-grabbing cherry floors are beautiful, but they also limit the colors that can be used in the kitchen. This design is effective because it embraces the reddish hues of the floor by bringing hints of the color up onto the walls with subtly off-white paint, muted warm-toned tile, and a lovely copper sink.
Rather than introducing additional colors to the environment, the cabinetry, countertops, and wood trim stick to neutral tones. Neutral needn't mean boring, however, with bright off-white cabinets and trim playing off a bold, dark island. Mixing cabinetry colors is one of my favorite ways to make a kitchen feel more special.
Cabinet hardware is kept consistent throughout, with a thoughtful mixture of knobs, bar pulls, and cup pulls to maximize functionality and add interest. While some kitchens can benefit from a mixture of door styles between the wall cabinets and island, I appreciate this design's consistency throughout.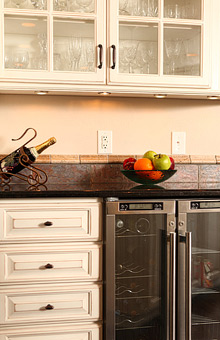 The integrated wine bar includes a sleek cooler.
The timeless and elegant door profile is well suited to the style of home and will age gracefully. Note the black line in the crown molding. It echos the horizontal line of the dark countertops and pulls the dark island color across to the wall cabinets. Small touches like this are low-cost ways to add sophistication and cohesiveness to the room.
Functionality
This kitchen successfully combines an abundance of storage with convenient, high-end appliances. To retain the openness that makes this space so enjoyable, a few clever appliance decisions have been made. Essential refrigerated items are stored in an under-counter drawer refrigerator placed neatly between the sink, cook top, and microwave. To supplement this, a larger fridge is placed outside of the most active work areas, while a beverage fridge is placed on the opposite wall.
A pot filling faucet is conveniently place over the professional range top, which is surrounded by cleverly-disguised pull-out spice racks. Opposite the range, in the island, you will find a built-in drawer microwave stacked above a convenient warming drawer. The built-in microwave frees up counter space, and the drawer configuration provides more convenient access than a traditional door microwave.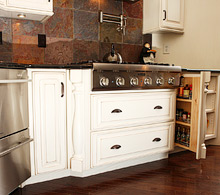 A pot filling faucet is located above the range top.
The cabinetry choices maximize utility, provide visual interest, and prevent the space from feeling closed-in. Shallower glass-front cabinets are used for storing barware, avoiding the "wall-of-wood" look that often occurs with a row of upper cabinets. Open shelving is mixed in to provide a spot for unique accessories. Lighting is kept simple to avoid overpowering the space. Ample can lights, a couple of clean, tasteful pendants, and extensive under-cabinet light strips supplement the natural light streaming in to the space.
This kitchen design succeeds by doing many things well. I'm particularly impressed by the pairing of neutrals with the often-tricky cherry floor. The end result is a luxurious space that boasts all of the latest toys without ignoring the fundamentals of smart, efficient kitchen design.

Roger Hazard
· Founder · Roger + Chris · Sharon Springs, NY
Roger Hazard is TV's original home stager, as well as designer / producer on the international, Emmy-nominated "SELL THIS HOUSE," "SELL THIS HOUSE: EXTREME," and "MOVE THIS HOUSE." MORE ABOUT Roger Hazard
Hot right now on Roger + Chris


How to Clean Velvet Furniture
Velvet fabric can be a bit trickier to clean than other fabrics because, in addition to removing the stain, you must take care to avoid "crushing" the nap of the fiber. Here are some tips to help you successfully remove stains without damaging your beautiful furniture.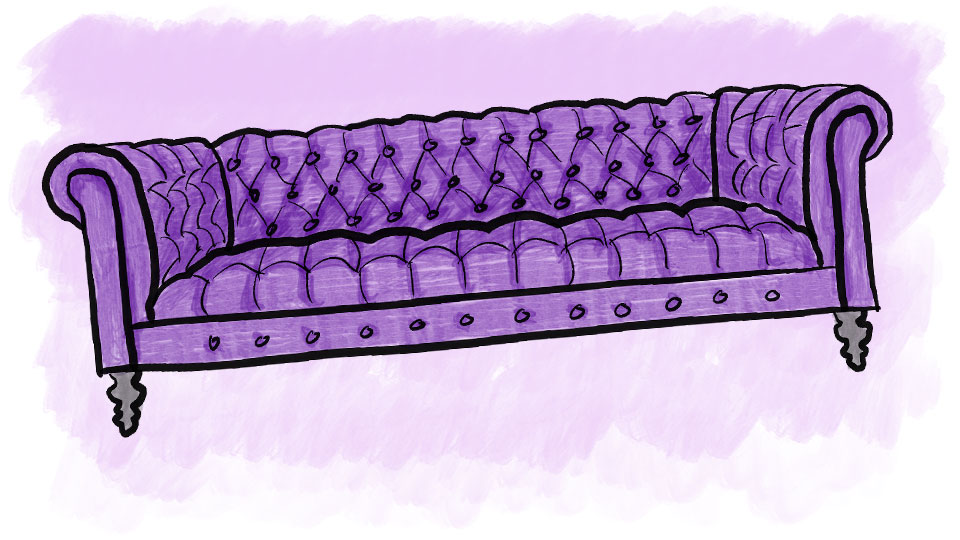 RELATED POSTS
Guidebook, Step Seven: Renovation Challenges
Step seven of the design process addresses some of the challenges you may face during your renovation. While most problems can be avoided through careful planning, all kitchen renovations are bound to uncover a surprise or two. Here are a few of the most common challenges faced in kitchen renovations, and some suggestions on how to minimize them through careful planning and fact-finding.

Guidebook, Step Five: Making Informed Budget Decisions
Step five of the design process addresses working within your budget and making informed decisions. After you've spent some time working out the scope of your renovation and begun consulting with a designer to get a better feel for the overall cost, it's time to lock down your budget and put together a plan that gives you the kitchen you need without breaking the bank.