Kitchens 101: Trends and best practices in kitchen style, layout, and functionality.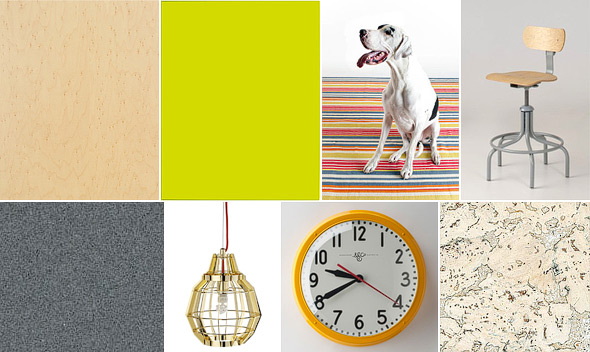 Above from top left: Custom Cupboards' Exotic Birdseye Maple and Custom Color Match cabinet doors, Spinnaker Woven Cotton Rug, Drafting Chair, Cork Tiles, Schoolhouse Clock, Cage Brass Pendant Lamp, Caesarstone Concrete 2003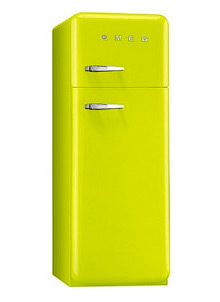 Smeg Refrigerator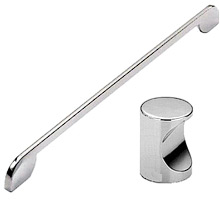 Cabinet Hardware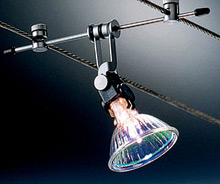 Spot Fixtures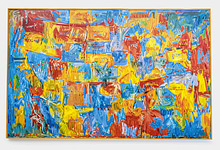 Jasper Johns "Map" Framed Print
Lofts in cities like New York and Chicago bring comforts to industrial spaces. Cavernous spaces, huge windows, and great surfaces like old wood floors, brick walls, and exposed-beam ceilings create an environment perfect for fun, funky colors and interesting layouts. Here's a concept for a wild kitchen tucked into a small space.
Appliances:
Smeg FAB30VE750 refrigerator in lime green
Sometimes a design starts with a single object. This compact, 50's style retro refrigerator is coated in jaw-dropping lime green paint. It's crazy and unusual - and a perfect starting point for our funky loft kitchen.
Cabinetry:
Custom Cupboards Exotic Birdseye Maple - Metro
Custom Cupboards Custom Color Match - Contempo III
Birdseye maple is a beautiful, exotic wood that brightens up any space with its cheerful tones. Custom Cupboards can perform color matching from physical samples or to color systems like paint chips or Pantone books. The custom lime green paint will be an exact match to our Smeg fridge and make for a one-of-a-kind kitchen. I've selected modern, slab doors for the cabinetry to keep the space clean and modern. Custom Cupboard's Revola line of full-access frameless cabinets will make the space seamless. The maple doors will be used for base cabinets and the island. The lime green doors will be used sparingly as upper cabinets.
Countertops:
Caesarstone Concrete 2003
Dramatic concrete-colored Caesarstone countertops unify the kitchen and complement both the lime green and maple cabinets.
Cabinet hardware:
Schaub Profile Pull in Polished Chrome, $9.25
Omnia 9153 Knob in Polished Chrome, $5.02
These bright polished chrome pulls and knobs are simple, modern, and evocative of the hardware on our focal piece: the fridge.
Wall tile:
AmCork Cork Tiles in Blizzard, $3.03 / sqft
This pale natural cork will make an amazing surface above the countertops. Tons of texture, interesting patterns, and beautifully soft colors.
Lighting:
CB2 Cage Brass Pendant Lamp, $119
Bruck Calo Spot II Cable Fixture in Matte Chrome, $80 per unit, plus cable and transformer costs
The CB2 Cage's tough industrial form is rendered in prim-and-proper brass. This pendant will add interest above the island, particularly when suspended from the high loft ceilings. Speaking of high ceilings, track lighting mounted all the way up on the ceiling in our loft will be ineffective. A stylish and modern alternative is a low-voltage suspended cable system. The Bruck Calo Spot system includes highly-configurable, minimal light fixtures that will add dazzling spot accents throughout the kitchen.
Counter stools:
Schoolhouse Electric Drafting Chair, $288
Designed after early 20th century originals found in art studios and classrooms, these stools will be perfectly at home in an industrial loft. The maple seat and grey finish pair well with the kitchen cabinets.
Art and accessories:
MoMA Jasper Johns "Map" Framed Print, $200
Schoolhouse Electric Clock in Yellow, $275
Jasper Johns' colorful "Map" adds abstract Americana to the walls. This print is laminated and floated in a 2-inch deep stained ash frame, which will pair nicely with the other elements in the space. A bold industrial clock doubles as a minute timer with its unmissable second hand.
Area rug:
Dash & Albert Spinnaker Woven Cotton Rug (6' x 9'), $208
Dynamic, colorful, and affordable, this area rug will add lots of interest to the floor in our funky city loft kitchen. I'm a big fan of these rug's reasonable prices and durability. They're also reversible, should an accident occur.

Roger Hazard
· Founder · Roger + Chris · Sharon Springs, NY
Roger Hazard is TV's original home stager, as well as designer / producer on the international, Emmy-nominated "SELL THIS HOUSE," "SELL THIS HOUSE: EXTREME," and "MOVE THIS HOUSE." MORE ABOUT Roger Hazard
Hot right now on Roger + Chris

Best Blue Velvet Sofas
We've gathered some of our favorite sofas and armchairs in gorgeous blue velvets, along with design inspiration from around the web.

Restyling a Garden House: Paint It Black
A cute, 160-year old Italianate Victorian had the potential to be a stunning garden house - but only after taming the garden, adding style to the porches, and applying some unexpected new colors.

RELATED POSTS
Guidebook, Step Five: Making Informed Budget Decisions
Step five of the design process addresses working within your budget and making informed decisions. After you've spent some time working out the scope of your renovation and begun consulting with a designer to get a better feel for the overall cost, it's time to lock down your budget and put together a plan that gives you the kitchen you need without breaking the bank.

Guidebook, Step One: Understanding the Big Picture
Successful kitchen designs stay in harmony with the rest of the house. What's the first step when planning a stylish, functional, enjoyable kitchen? Most people would start by creating a wish list, compiling clippings of design ideas, or perhaps establishing a budget. While these are all great ways to get your kitchen remodel rolling, I believe it's important to back up and look at the big picture. Let me explain.