Kitchens 101: Trends and best practices in kitchen style, layout, and functionality.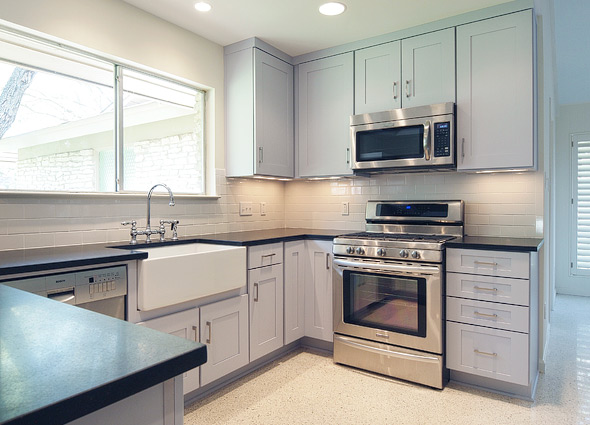 Amy and Chris Hajdu purchased this West Austin home just over a year ago. The house, built in the early 1960s, had been well cared-for but had received minimal updates over the decades. The Hajdus purchased the house from the original owner with the goal of respecting the existing architecture, while modernizing the systems and styling.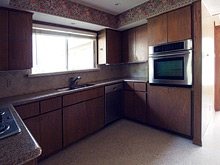 Prior to the renovation.
Footprint
The Hajdus were happy with the original floor plan, with a few exceptions. Our budget prevented us from moving exterior walls, and the position of the kitchen within the floor plan made extending into adjacent rooms impossible. We resolved to use a number of subtle tweaks to the layout to provide a more spacious feel.
Problems
The existing kitchen was tucked into a somewhat constrained U-shape. The homeowners disliked the gloomy atmosphere caused by dark wood cabinetry and a single window overlooking a shady area of the yard. The kitchen felt claustrophobic, due in part to the narrow pathways into the room and the prominent furdowns that lowered the perceived ceiling height and ate away at available storage space. Add bad lighting, insufficient quality counter space, limited utility of storage spaces, and dated, mismatched styling to the list of problems, and it was obvious that this kitchen demanded a complete rewrite.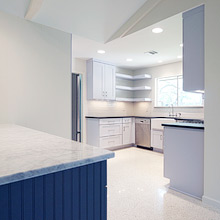 Looking into the kitchen.
Functionality
The new homeowners were entering this house with a different set of needs and priorities. Their young daughter needed a place to sit an eat breakfast in the kitchen space. Amy needed a more effective pantry area. Chris, at over six feet tall, needed more headroom.
Settling on the functional needs of the Hajdu family was straightforward. We removed furdowns and vaulted a section of the ceiling to match the family room and permit us to run cabinetry all the way to the ceiling. We opened passages to allow easier flow in and out of the space. We demolished the outdated bar and pushed its replacement slightly into the family room, gaining a few critical inches. Similarly, we altered the wall behind the refrigerator to free up enough space to move the fridge deeper into its cutout and out of a key pathway.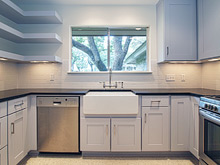 Open shelving enhances the space.
Style
While functionality decisions were simple, choices of style proved more challenging. We wanted to the new kitchen to reflect the lifestyle and personality of the Hajdus, but it isn't always easy to articulate your tastes.
As a jumping-off point, I started selecting cabinet and countertop colors by studying which colors Amy and Chris wore most frequently. Amy favored stylish outfits in blues and whites. Chris was partial to dark suits combined with crisp white shirts. We matched hues from the existing terrazzo floors, pulling out light and dark blues, black, and white.
Amy's career in the jewelry industry provided us direction for cabinet hardware a fixtures. We sought out classic forms with the look of polished silver: the can-do-no-wrong cabinetry equivalent of your favorite necklace.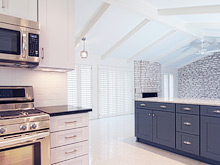 Looking into the family room.
Tricks for Maximizing Space
To keep the space from feeling tight, we designed floating shelves that met in one corner. Ideal for storing items that receive frequent use - glasses and dishes - this critical break in the wall of cabinetry prevents the kitchen from feeling boxed in.
We made the most of the available space by adding a tall pull-out pantry, spaces for tray and cooking sheet storage, and a dedicated spice rack. Running the upper cabinets to the ceiling provided a substantial boost in storage space for less frequently needed items.
As mentioned above, we created a linear breakfast bar to replace the previous L-shaped bar. Placing it at counter height made for a more practical setup for their young daughter and her friends. Moving it into the family room could have felt strange had we continued the same cabinet color and countertop. Instead, we chose to apply bead board, use a darker shade of blue, and switch to a carrera marble countertop. This created a bar that felt more like a piece of furniture than a section of the kitchen, easing the transition into the family room.

Roger Hazard
· Founder · Roger + Chris · Sharon Springs, NY
Roger Hazard is TV's original home stager, as well as designer / producer on the international, Emmy-nominated "SELL THIS HOUSE," "SELL THIS HOUSE: EXTREME," and "MOVE THIS HOUSE." MORE ABOUT Roger Hazard
Hot right now on Roger + Chris

How to Clean Velvet Furniture
Velvet fabric can be a bit trickier to clean than other fabrics because, in addition to removing the stain, you must take care to avoid "crushing" the nap of the fiber. Here are some tips to help you successfully remove stains without damaging your beautiful furniture.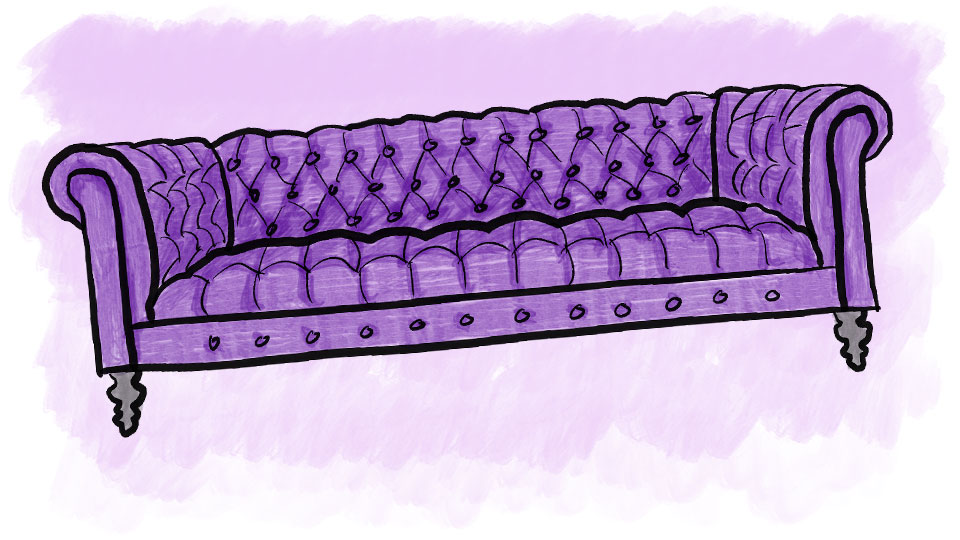 RELATED POSTS
Guidebook, Step Seven: Renovation Challenges
Step seven of the design process addresses some of the challenges you may face during your renovation. While most problems can be avoided through careful planning, all kitchen renovations are bound to uncover a surprise or two. Here are a few of the most common challenges faced in kitchen renovations, and some suggestions on how to minimize them through careful planning and fact-finding.


Kitchen Inspiration Pinboard: Funky City Loft
Lofts in cities like New York and Chicago bring comforts to industrial spaces. Cavernous spaces, huge windows, and great surfaces like old wood floors, brick walls, and exposed-beam ceilings create an environment perfect for fun, funky colors and interesting layouts. Here?s a concept for a wild kitchen tucked into a small space.