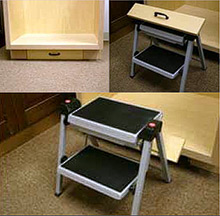 Reach those upper cabinets with this stowable step stool.
Do you have tough-to-reach shelves and cabinets in your kitchen? Are you sick of climbing on dining chairs or digging your step stool out of a closet every time you need to grab a pot or pan?
A hidden step stool is a clever solution, giving you a conveniently-located stool that's ready in a moment's notice. Instead of taking up valuable space in your pantry or mudroom, the hidden step stool reclaims otherwise unused space beneath a base cabinet. Disguised as a small drawer, the stool's facade attracts little attention when it's stowed. Just grab the handle, pull it out, and swing the stool open. It collapses and tucks away just as easily.
The collapsed unit is just 3 and 3/4 inches tall and needs only 1/4 inch of clearance to slide under a cabinet.
For more information on this clever option, visit www.customcupboards.com.