Kitchens 101: Trends and best practices in kitchen style, layout, and functionality.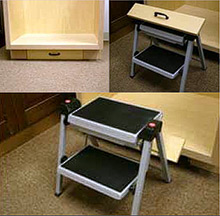 Reach those upper cabinets with this stowable step stool.
Do you have tough-to-reach shelves and cabinets in your kitchen? Are you sick of climbing on dining chairs or digging your step stool out of a closet every time you need to grab a pot or pan?
A hidden step stool is a clever solution, giving you a conveniently-located stool that's ready in a moment's notice. Instead of taking up valuable space in your pantry or mudroom, the hidden step stool reclaims otherwise unused space beneath a base cabinet. Disguised as a small drawer, the stool's facade attracts little attention when it's stowed. Just grab the handle, pull it out, and swing the stool open. It collapses and tucks away just as easily.
The collapsed unit is just 3 and 3/4 inches tall and needs only 1/4 inch of clearance to slide under a cabinet.
For more information on this clever option, visit www.customcupboards.com.

Roger Hazard
· Founder · Roger + Chris · Sharon Springs, NY
Roger Hazard is TV's original home stager, as well as designer / producer on the international, Emmy-nominated "SELL THIS HOUSE," "SELL THIS HOUSE: EXTREME," and "MOVE THIS HOUSE." MORE ABOUT Roger Hazard
Hot right now on Roger + Chris

Restyling a Garden House: Paint It Black
A cute, 160-year old Italianate Victorian had the potential to be a stunning garden house - but only after taming the garden, adding style to the porches, and applying some unexpected new colors.


RELATED POSTS

Kitchen Inspiration Pinboard: Funky City Loft
Lofts in cities like New York and Chicago bring comforts to industrial spaces. Cavernous spaces, huge windows, and great surfaces like old wood floors, brick walls, and exposed-beam ceilings create an environment perfect for fun, funky colors and interesting layouts. Here?s a concept for a wild kitchen tucked into a small space.

Kitchen Inspiration Pinboard: Elegant Eat-In
We often think of the dining room as the setting for formal meals, while the kitchen table takes on the far more casual day-to-day role. But why not infuse an eat-in kitchen with high-end style to create an air of elegance?